One of the oddest things about running SpaceCadet is the unseasonality of it.  What I mean is, yesteday morning when I got up, it was 16 degrees Farenheit outside and, yet, one of my jobs for the day was to plan out our spring yarns.  I was supposed to concentrate on soft spring colours, light textures, and lacy patterns…  my head filled with those gentle spring breezes and the smell of new grass, baby bunnies and flower buds.  All while the vicious winter wind whipped around outside and relentlessly pushed a creeping chill in from the window panes.
I couldn't do it.  Instead of thinking about warm days, I found myself wanting to curl my hands around a steaming cup of tea and wrap up in something thick and woolly.  Something very thick and very woolly.  Who can possibly think of spring in these depths of winter?  I know I'm supposed to, but I'd much rather think about the lovely, smooshy, warm yarn that we'll dye for our new SpaceMonsters members.  Or cast on a quick and chunky knit with some of the gorgeous yarn we just sent our SpaceMonster members this past season.  I mean, it just feels right when it's this unforgivingly cold outside.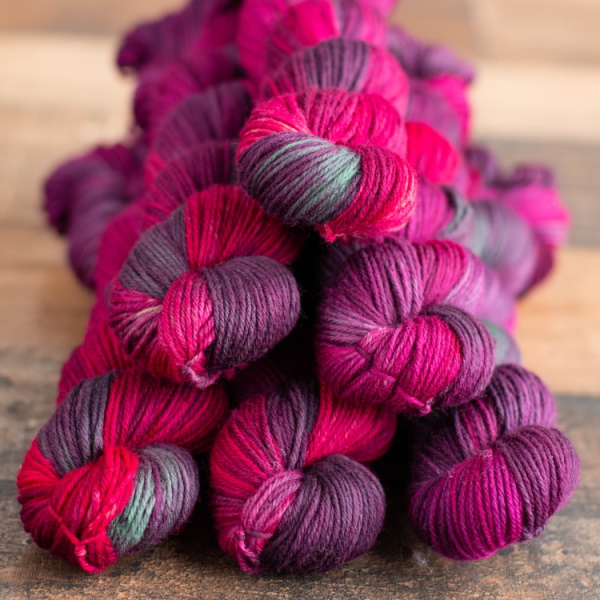 Mirror Mirror, the SpaceMonsters Coordinating Colourway Oct 2019
So you know what?  I did made that cup of tea.  And pulled on a pair of cosy socks (with cashmere, thank you very much) and warm shawl around my shoulders.  And then, as I sat looking out at the winter-barren scene outside, I whipped out my phone and checked the weather forecast: it's going to warm up over the weekend (to a balmy 40-something).  I think about spring then!
---

Susan Pierce at Shinywear makes fabulously adorable knitting familiars — everything from t-shirts and totes to pins, stickers, and even flasks ("I drink, therefore I tink").  I love them all but I think my favourites are her Octopus (product knitter) and her Sloth (process knitter).  I mean, we all know exactly where we are on that spectrum, right?  :cough: teamsloth :cough: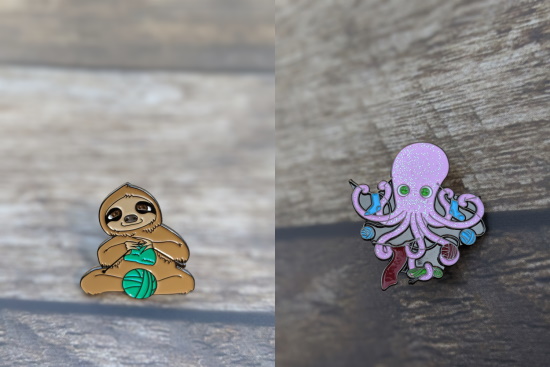 Images © Shinywear, used with permission
Garter stitch is usually the first stitch a new knitter learns and then is quickly abandoned for more "real" knitting.  But of course garter is real knitting and I loved this article from Interweave that outlines five useful ways to use garter stitch.  My favourite is number four, which shows a really clever way to incorporate garter into ribbing.
Sheep and goats are the original weedwackers — they have been used for that purpose for millenia — and some cities in California are  incorporating this "unconventional fire prevention method" to help control the threat of wildfires.  Goats are being deployed to control vegetation, especially in areas with hilly or difficult terrain. A bonus: the animals eat invasive plants and grasses while only minimally grazing on native plants.  This article was an interesting read.
Imagine you join a local knitting group to make friends and socialise, a group which makes hats to sell and to donate to charity.  And one day, a rather famous chap named Archie wears one of your hats and suddenly sales shoot through the roof because the whole world seems to want one.  That's exactly what happened to Make Give Live, a group based in New Zealand, when the Duke and Dutchess of Sussex (that's Harry and Meghan) showed off their son in his adorable (double pom-pommed!) hat.  Read more and see pictures here.
---

The SpaceMonsters Club is OPEN!
The best part about opening the SpaceMonsters Club last week was seeing how many of our current members renewed their subscriptions — and so many did so fast!  That means so much because it tells me they love being part of the club!
And when we're dyeing yarn as gorgeous as the latest colourway (below) and giving gifts as awesome as that adorable phone/tablet holder, why wouldn't they?!?  But there's nothing like being able to welcome new members to the club and renewing members back to make it all worthwhile.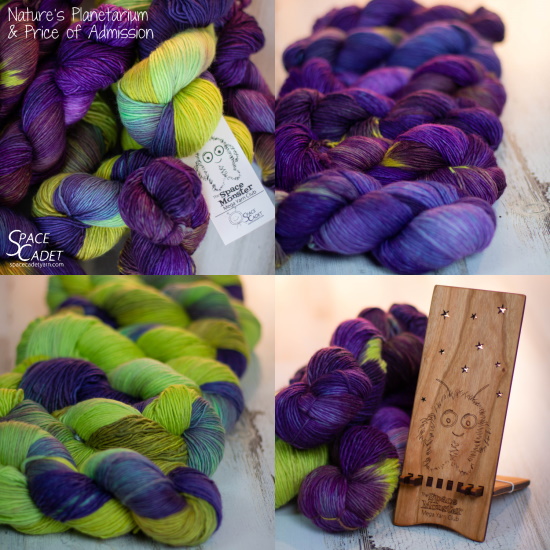 SpaceMonsters Colourways and gift from Dec 2019
The SpaceMonster Mega Yarn Club focuses on big, smooshy wosted and bulky weights in gorgeous colours, and the story behind their inspiration. Plus we create an optional coordinating colourway and there's a fabulous gift every season (those are so much fun to come up with!).
If you're thinking about joining in the fun, now is the time!  The club is open for new subscription only for a limited time.  So click here to learn more and jump aboard!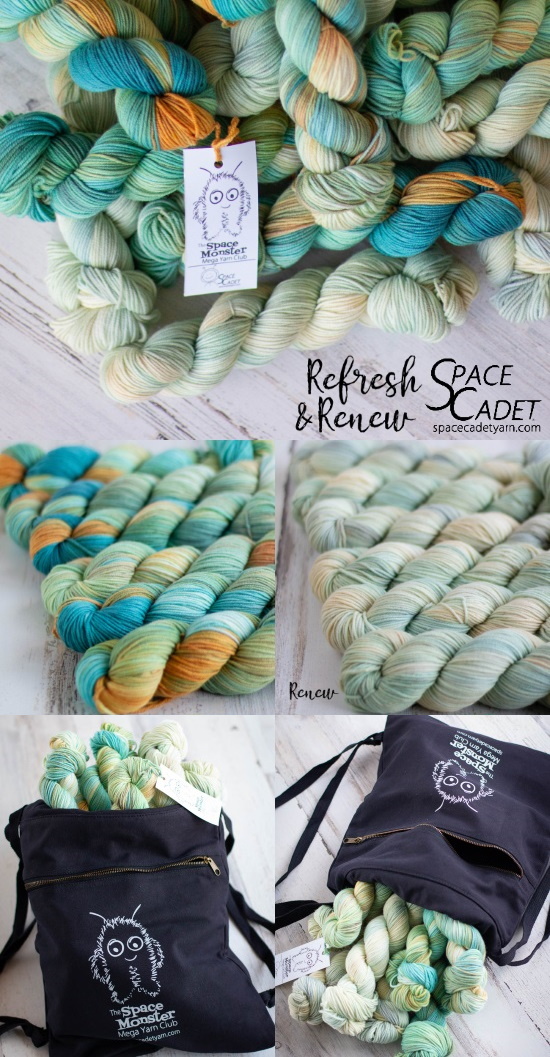 SpaceMonster Colourways and gift from June 2019
---

Bloom by Melissa Thibault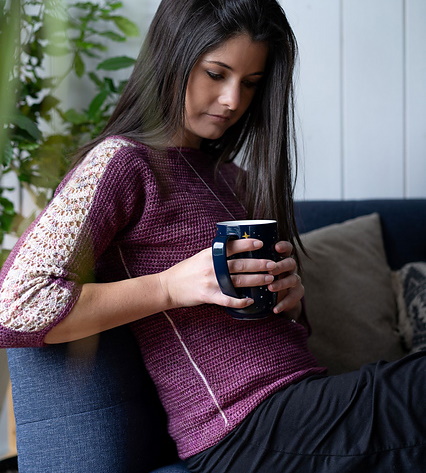 This gorgeous sweater has two things I absolutely love: unexpected design details and the clever combining of variegateds and semi-solids.  The lace panel along the sleeves is delightful and that contrast line along the side seam finishes it off perfectly.  Even better, it's sized all the way up to a 4XL so there's an option for everyone.  Designed in fingering, I would crochet in Oriana (for that drape!) in Feather and Nine Stones, Drizzle and Fathoms Down, or Oxblood and Everything Was Better in Black and White.
Epone (sweater and cardigan) by Mélina Hami
It was the split cables laid sideways that made this sweater jump out at me.  I just really like the pattern they create.  But then, I read a little more detail about Mélina's approach to sizing and I was really intrigued: each size comes with three bust measurements, what she calls a "triple bust option", for a more customised fit (read more here).  Plus, this pattern includes a cardigan version as well!  Designed in sport, I'd knit it in Lyra in Stroppy or Thrive.
The Rebels' Last Stand by Emily Ringelman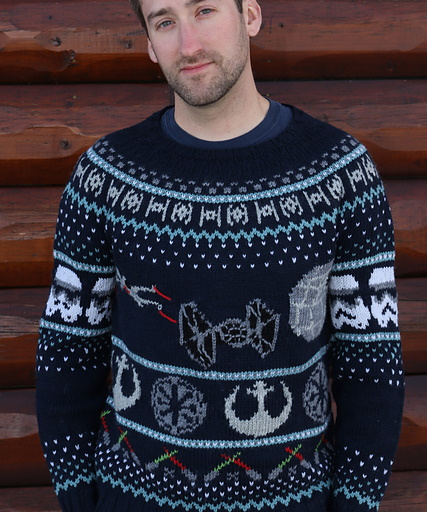 I had to include this — I just had to!  Inspired to create a "better quality ugly Star Wars Christmas sweater" (is that a thing…?  is it a… compliment?), the result is somehow downright glorious. And if you love it too but think it might be a bit overwhelming, I think I might be inclined to modify it by doing the colourwork on just the yoke, for an oh-so-subtle hint of Star Wars styling.
Images © the respective designers, used with permission
---
Ok, I'd better finish this tea and get back to work.  I hope you've got a wonderful day planned full of yarny goodness (and tea! and warm socks!).  And until next time, all my best!