I'm going to share with you a little saga, because this week didn't start out as planned…
The plan on Monday was to pack and ship the parcels for one of our clubs. With piles and piles of yarn all twisted and tagged and ready to be go in their boxes, I imported the club members' addresses into our postage-printing software, got the label printer loaded, and hit print. And…. the software crashed.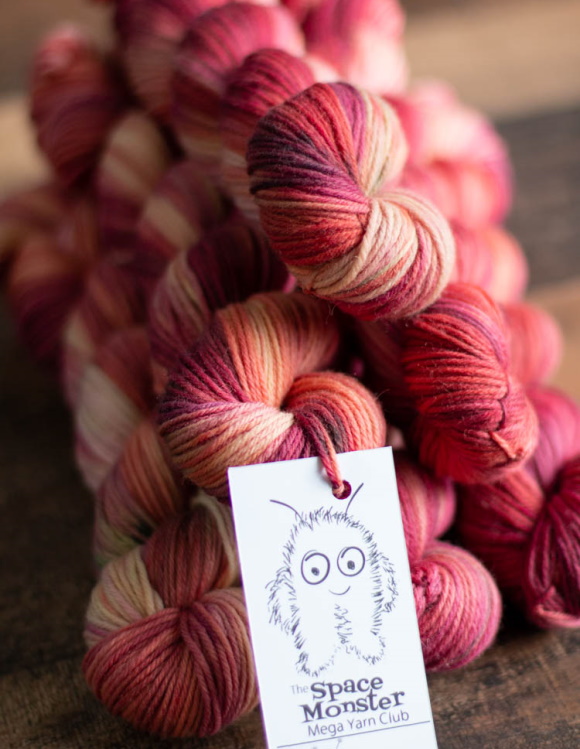 this is a pretty harrowing tale — let's soften it a bit by looking at lovely yarn, shall we?
this is the SpaceMonsters Club exclusive colourway, Oct 2019
And when I say "crashed", well, I mean not so much crashed as spontaniously burst into flames, burned with the heat of thousand suns, melted into an oozing puddle at the bottom of the computer casing, and then cooled hissing and popping as it slowly hardened into a charred rock. Metaphorically speaking. The computer was fine, the printer was fine, but the software that was going to allow us to print labels for the scores and scores of club parcels that we needed to ship that day was utterly beyond saving.
I called the help desk and, to cut a very very long story short, it appears my computer had gotten stuck on an older version, which had been slowly growing more and more corrupt over time. David, the Tier 1 help desk guy had never seen anything like it. He passed me onto Carlos, the Tier 2 guy, who had also never seen it before but we got to work on it. He dialed in to my computer and we uninstalled the software, reinstalled it, moved to a different computer, came off wifi, tried a hotspot, hardwired it, went back on wifi, created a new profile, installed again… Everything we could think of and, all the while, he kept putting me on hold so he could check with his colleagues for more ideas (the hold music was Vivaldi's Spring, which I love, but it was on a loop that repeated every 5 minutes and, by the time the whole ordeal was over, I would've gladly paid a month's wages to never. hear. it. again).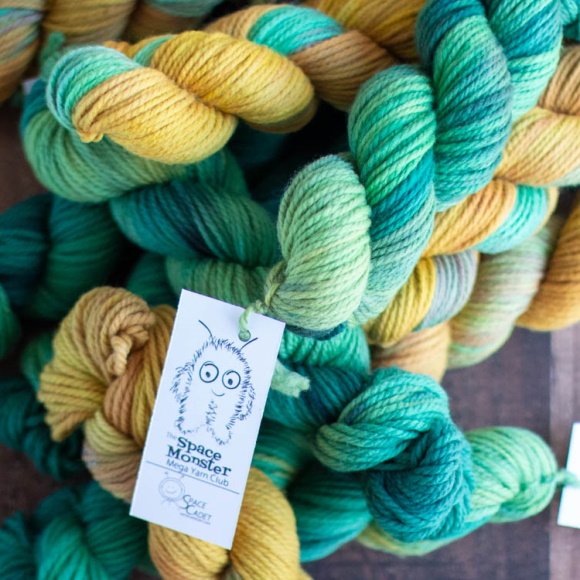 SpaceMonsters Club exclsuvie colourway, Sept 2019
It took hours and hours. I mean, I had to find a cable recharge my phone twice during the call. At one point, Carlos and I got cut off and instead of calling him right back before he got stuck on another call, I took a huge risk and… used the bathroom, just because it had been that long since I'd been able to get away! Luckily, I got him again when I called back and we were able to pick up where we left off.
At long (long) last, we got the software running and we began running test labels. We checked every setting, one at a time, and ran new labels to test each one, choosing names at random from the list of club members whose parcels were still waiting to go out. Carlos chose a name, then I chose one, then he chose one… He was asking what kind of club it was and I was pointing out which club members had been with us the longest or shared the most awesome projects with us. And the software, thank goodness, just kept producing the labels.
He and I finally decided we were done. To be honest, I'm not sure the software is fixed, per se, but it is working and that was good enough for me and Carlos. It was 9:30pm, I'd missed my dinner and he'd stayed over the end of his shift by 30 minutes, but my computer was finally able to print labels again! After all that time, it was actually a little weird to say goodbye to Carlos. "We made a good team!" he said, and he was right — it felt like a real accomplishment.
SpaceMonsters Club exclusive colourway, April 2019
After we hung up, I looked at my phone's call log: all together, I'd been on the phone for seven hours and fifty-five minutes. An entire work day!  I was exhausted. But I went to bed knowing the software worked and the labels were printing!
The next morning, I printed out all the shipping labels for the club parcels that should have gone out the day before, and it worked beautifully. As the printer happily spit them out, I rolled them up tightly as I sipped a calming cup of tea. Then, I casually clicked over and checked my email.
And there was a message from a club member letting me know the label I'd just printed for her had her old address and asking if we could send her parcel to her new address. But how did she know I'd just printed her shipping label…? And there at the bottom of her email was an automatic shipping notification sent by the postage-printing software — something it's never done before and which I'd never asked it to send! And I suddenly thought back to all those test labels we'd printed the night before… so many of them using real customer addresses…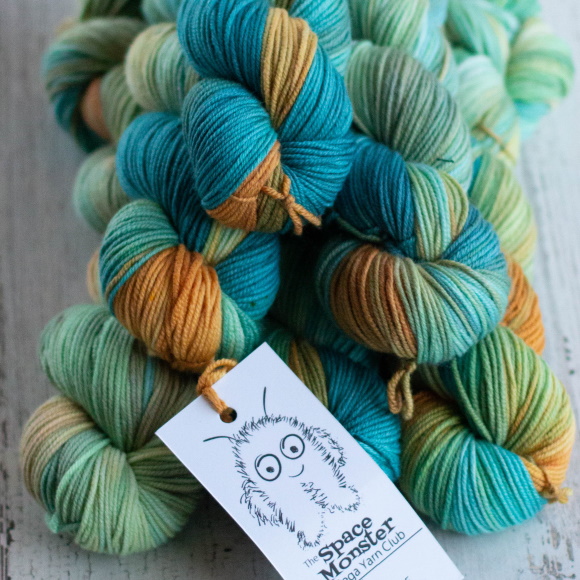 SpaceMonsters Exclusive colourway, June 2019
Sooooooo if, by chance, you recieved some mysterious shipping notifications from SpaceCadet earlier in the week… say, I don't know, half a dozen in very quick succession… and you're wondering what the heck was going on, please allow me to apologise. You were one of the club members that Carlos and I picked. I probably told him what a great club member you are, or about a project you'd shared with us. And then he and I hit print and print and print, without realising we were filling your inbox up with notifications. I'm so sorry.
I haven't yet figured out how to control when those notifications go out and, after having logged eight hours on the phone with the help desk already, I haven't had the energy to phone them and find out. I will — I just needed a little time first. But, in the meantime, if you get a strange shipping notification that looks different from what you usually receive, at least you'll know what's going on!
---
After all that, it was such a relief to get back to yarn. Lovely lovely yarn that's smooshy and warm and cosy and nothing at all like software problems. So let's leave all that nonsense behind and grab a nice cup of tea and dive into a big pile of yarny news and updates. Are you ready?

The SpaceMonsters Club Closes Tomorrow
Speaking of clubs, if you've been wanting to join in the fun of the SpaceMonsters Mega Yarn Club, there are only a couple of days left to join! And I always say that dyeing for our clubs feels more like dyeing for friends than for customers, and it's so true — as my even conversations with Carlos demonstrated!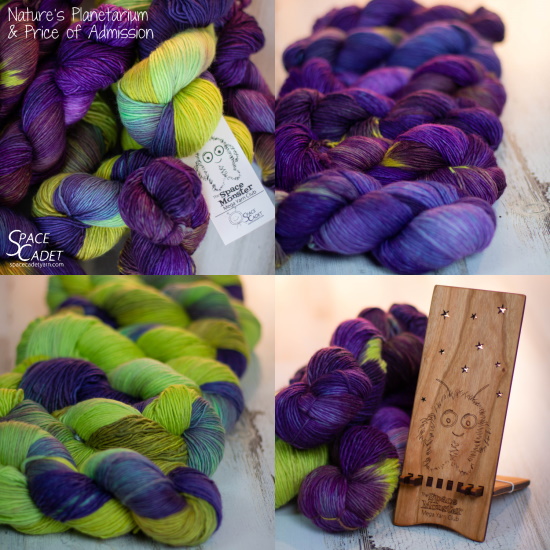 SpaceMonsters Colourways and gift from Dec 2019
The SpaceMonster Mega Yarn Club focuses on big, smooshy wosted and bulky weights in gorgeous colours, and the story behind their inspiration. Plus we create an optional coordinating colourway and there's a fabulous gift every season (those are so much fun to come up with!).
I love designing colourways for the SpaceMonster Club, because the big, smooshy, worsted and bulky yarns we dye for it take colour in completely different ways than thinner yarns. So click here and join in on all that smooshy, colourful fun!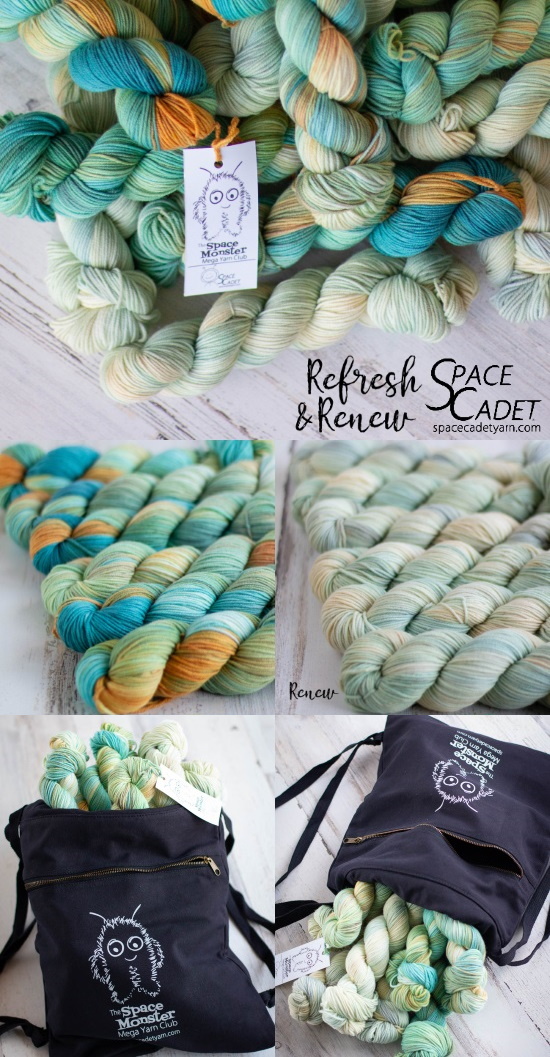 SpaceMonster Colourways and gift from June 2019
---

Images ©LuciaKnit, used with permission
These adorable itty-bitty amigurumi have completely blown my mind and I can't stop going back and looking at them. They're crocheted with sewing thread and a .35mm hook (that's so tiny!) and, one presumes, some steely determination (though Lucia says they are easy to make). Are you up for a challenge? Grab some magnifying glasses and give them a try!
I came across this graphic illustrating "Knitters Knitcabulary" the other day and it made me smile. If you've ever heard a group of knitters chatting and someone said something that made no sense to you at all, your answer may be on there. There are a couple that were new to me!
As knitters and crocheters, we don't take our clothes for granted the way other people do — we notice little construction details and complex stitches, even in store-bought clothes. But I have to admit, I've never thought much about zippers (maybe because I've never tried to make one from scratch?!?), so I found really interesting this article giving the history of the zipper's invention. I had no idea that something so ubiquitous had such a rocky start. Fascinating!
Scroll down and you'll find one of my pattern picks this week is a gorgeous pair of socks that use stranded knitting throughout. If that technique is a little intimidating to you (whether for socks or one of those gorgeous colourwork yoked sweaters), you'll find this video tutorial an invaluable resource for a simple and easy way to catch those floats (no stopping to move balls of yarns around! wooot!)

Whoops a Daisy socks by Stone Knits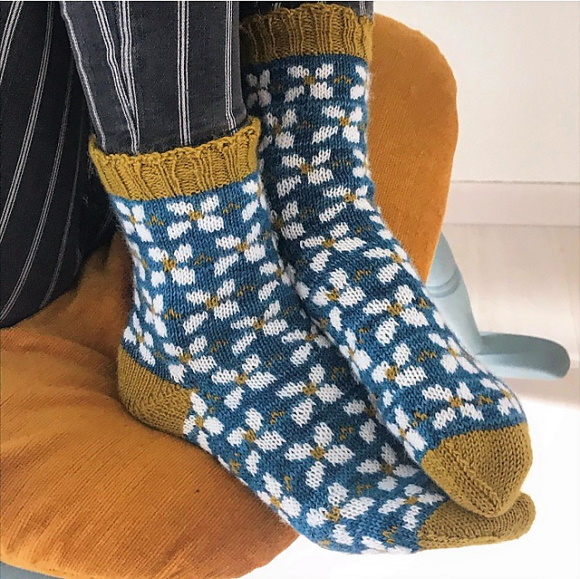 I know this pattern is called Whoops a Daisy but I have to admit that, when I look at it here in the depths of midwinter, I see snowdrops. And that's actually perfect because, by incorporating stranded colourwork throughout, the pattern will produce the kind of toasty warm fabric that's just right for this time of year. Worked cuff-down in fingering, thesee sweet socks would be great for using up some of our Multicolour Minis or scraps from your other projects. Be quick and you'll get 15% off if you buy it before the end of January!
Reflector by Allison O'Mahony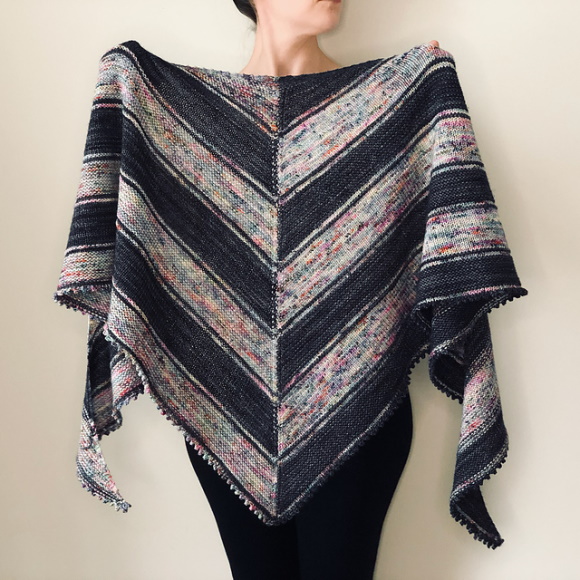 This may look like a standard triangle shawl… until you look a little closer and realise that the colour changes on either side of the spine. Designed the show off the pairing of a variegated yarn and a coordinating semi-solid (if you're in our Yarn Alliance or SpaceMonster Clubs, you've got plenty of those!), but I think it could also look amazing incorporating our Ombre&Gradient Mini-Skeins. And if you've never worked intarsia, the simple join at the spine gives a nice introduction to the technique without being overwhelming. Pick up the pattern with an introductory 15% off if you get it before the end of Saturday!
Daydream Shawl by Toni Lipsey
You can never have enough cosy wraps (hello, subfreezing temperatures here in Pittsburgh!) and I love the gorgeous texture and fabulous fringed edge of this one (seriously, all winter wraps should have fringes, right?). Crocheted in heavy weight yarn, it's a quick and easy way to use up those wonderfully chunky SpaceMonsters skeins you've collected!  Find it on Ravelry here or for free on Toni's website here.
Images © the respective designers, used with permission
---
Ok, well, my tea is all gone and it's time I got today started.  I hope you've got a warm and cosy day planned, with lots of yarny breaks (…and no software problems!).  So, until next time, all my best!