As we enter the sixth month (…more?  …less?) of this pandemic, I find the impact manifests itself in unexpected ways.  I am less focused, oddly jumpy, often tired, and yet sometimes wildly creative, but in a strangely undisciplined way.  I try to remember that these are unprecidented times and to cut myself some slack …but it's not always easy to keep that perspective.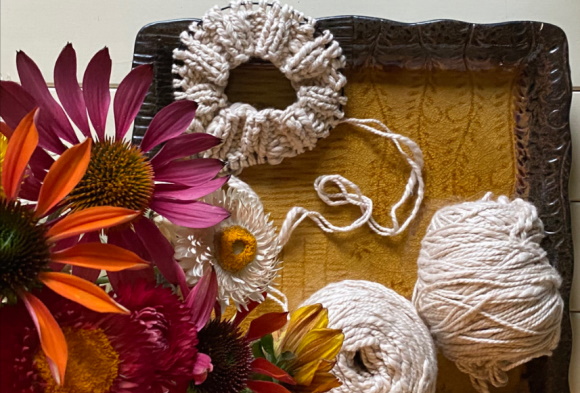 So when my friend Melissa told me that she was making a concerted effort to be driven by intentionality, I was all ears.  Mel is particularly good at that:  she sees the little details, slows herself down, and takes deep breaths — in a way I've always admired. And in sharing that with others, she builds communities of supportive people who also appreciate her approach to intentionality.
A few months ago, she came to me with a exciting idea that's all about intention too, and one that we'll be sharing with you soon.  And because this is what she does so well, in the meantime, she's put together a community event that I think sounds absolutely wonderful, something she's calling A Better Week Challenge.  It's ten days to encourage people during these tough times, to bring us together and create purposeful connections…  all through the power of knitting and community.
Now in truth, the event started yesterday so I'm a wee bit late in sharing it with you but that's of no matter, I promise.  Mel told me she hopes you'll join her regardless — and I do too!  I honestly can't imagine anything more calming and lovely and needed at the present moment than to pick up one's needles — and find encouragement and intentionality — amongst a community of friends.  Can you?

---

If the words "provisional cast-on" don't fill you with confidence, I love this video from designer Laura Nelkin that walks us through not one, not two, but three different ways of creating a provisional cast-on.  So useful!
As you may know, there's been a lot of heated discussion in the knitting and crochet worlds around the level of pattern support that designers provide to their customers.  And over the course of those discussions, I've watched as quite a few indie designers re-evaluated the viability of the current set-up and their roles within it. Designer Kristen Jancuk of MediaPeruana Designs has written several interesting blog posts contemplating these issues, including this one exploring the ways expanded patterns impact designers, and this one examining how lower pattern prices may promote exclusion.  And the bittersweet result of all this contemplation is announced in this blog post captioned "Hello, Goodbye".
It's always entertaining to see knitting and crochet portrayed in the media by non-knitters and non-crocheters.  Who hasn't laughed at knitting needles held like chopsticks or crochet hooks carefully placed in pairs next to yarn?  The latest in this illustrious genre is a Geico ad featuring John Stamos and had me rewinding to check that he'd said he was knitting "reverse garter stitch".  Heh heh!  It sounds impressive…  I might try it next time I want to do something fancier than plain garter!
It feels ridiculous to be thinking about Halloween (so… don't, but stash this away for whenever you're ready) but I came across these sweet little knitted Halloween decorations and I just love them (I think my favourite is the black cat, which of course lends itself to non-Halloween knitting with a simple colour change).  A great way to use up ends and leftovers, if you find you've got more fingering than DK, just hold it doubled to get gauge and simultaniously create beautiful marled colour!
---

Thebe in Honey, Headstrong, and Feather
---

Upcoming Virtual Shows
Ok, I need your help.  We've had a family situation recently and I haven't been able to spend as much time as I'd like o preparing for our upcoming virtual shows.  I've never done a virtual show before and, if I'm honest, I'm not quite sure how to do it — that is, what to do on camera, what to talk about, what to share…  So I'm hoping for your help: if you've attened virtual shows recently that you've enjoyed, please do send an email and let me know what you liked most.  I'd be so grateful for your insight!
Shenandoah Valley Fiber Festival Virtual Show
Sept 25-27
SVFF is such a lovely show… I'll miss standing in the lovely Shenandoah autumn breezes but we're going to bring all that same festival spirit!
Indie Untangled Everywhere
Oct 15-17
The amazing before-Rhinebeck trunk show has gone virtual, and the vendors are as exciting this year as ever. Tickets available now — click here to reserve yours!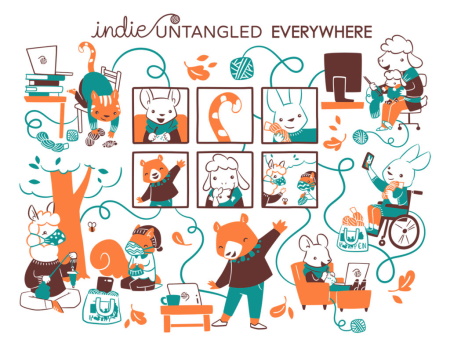 ---

True Colours Scarf by Mary W Martin
(Ravelry link)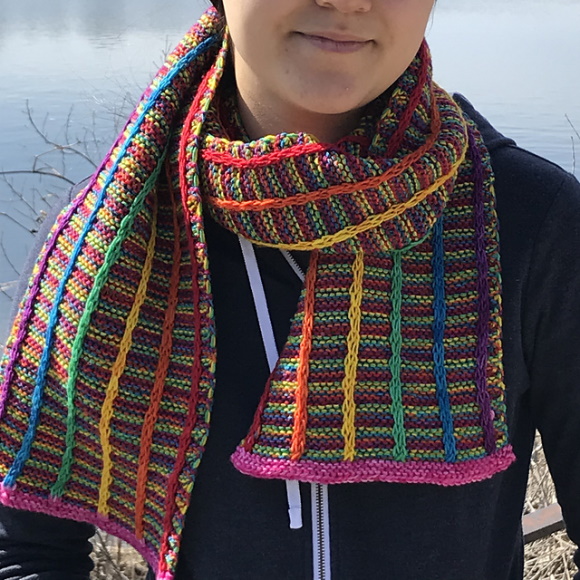 Ok, wait, don't be freaked out by the fact that you'll be working with six colours to create this beautiful scarf…  The surprisingly simple design uses an easily memorised three row repeat and the yarn held double for super-fast results.  And those results are awesome: a scarf with eye-catching reversible rainbow coloured stripes running along its length, and all proceeds donated to the LGBT Youth Line through the end of 2021.  A perfect project for your stash of SpaceCadet Mini-Skeins, don't you think?
Luna Moth Shawl by Kulli Maslova
(Ravelry link)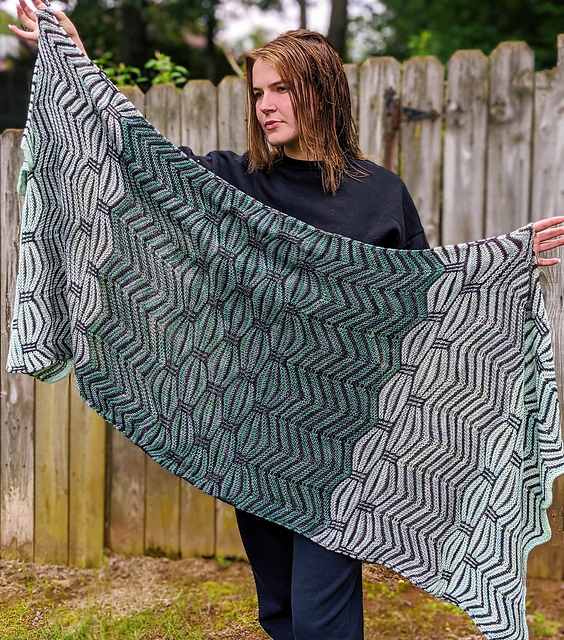 Combining chevron stripes with a slipped stitch motif, this beautiful shawl promises to be both relaxing and intriguing to knit.  Designed to use four shades of fingering yarns, its shown here in lovely neutrals but has so many colour possibilities!  I can see it knit in three brights against grey, or perhaps in four shades of cool sea-greens and -blues, or even using our Minis for an ombre fade against a solid background.  How would you work it?
Gridlock by Rebecca Velasquez
(Ravelry link above; non-Ravelry option here)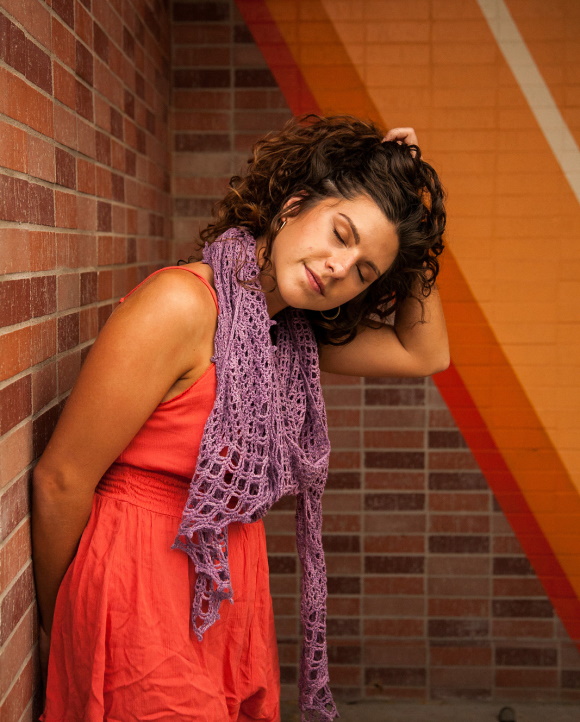 There's still plenty of warm, lazy evenings to fill and nothing I can think of better to fill them than working up this beautiful shawl.  Worked from the top and then shifted to work along the curve, it uses easy techniques and basic stitches, with results that are nothing short of spectacular.  I'd crochet it in SpaceCadet Thebe for silk/linen luxury — perhaps in Honey, How Dare You!, or Blood Moon for a lovely autumn look, or Feather, Sage, or Breathless for a cooler vibe.
all images © the respective designers, used with permission
Ok, it's been so lovely hanging out with you this morning, and now it's time I got my work day started.  I hope you've got a great stuff planned for today too, whether you're going out or staying in, and with plenty of time for a little knitting or crocheting built in too.  And so, until next time, all my best!