Before we jump into our usual newsletter, I have something to share with you that I am so excited about.  Have I told you before that my favourite colour is blue?  It is.  I mean, sometimes I start to think it might be purple…  but the truth is that I always find myself coming back to blue.
I think it's because blue such a soothing colour — it's the clear sky on crisp autumn day, the icy edges of a frozen pond, the rolling waves breaking on a tropical beach, the hottest flame of a cosy winter fire.  Now, blues can be tricky to dye reliably and even harder to photograph but blue is a colour we've been longing to explore more deeply so, earlier in the year, we went into the studio and dyed a collection of brand-new blues that I just love and am simply delighted to share with you!  Here are our six gorgeous, new shades of blue that work so beautifully together… and also blend into the other blues in the SpaceCadet palette.
Before we bring these lovely new colourways in the shop, we're introducing them with a special Blues Dyeing Day to give you the chance to get your order in the dyeing queue before anyone else!  Pre-orders are open now until October 18.  Choose one or combine them all — the colour possibilities are just so exciting!


Oooh, wait, can I just tell you how much fun this photoshoot was?!?  Along a lovely tree-lined lane on a breezy autumn day, with those beautiful blue skeins piled upon the back of a bicycle, the sun suddenly decided to burst out from behind the clouds and it just made my job as photographer so much easier!  A couple of goofy moments from my model, not so much (ha!), but it was honestly one of the most fun photoshoots I've ever done.
Also, did you see we called one of them "Hello, My Name is Indigo"?  I'll be honest, not everyone I showed it to got the reference (which blew my mind a little) so, to the first person who places an order for it with a comment on the order correctly guessing why we named it that, well, they'll get a little something extra into their parcel just because they deserve it!
Ok, enough of all that… it's time to dive into the world of fiber news!  Got a cuppa?  Great, let's get started…

Some styles are perhaps meant to be beyond fashion, but does fashion always realise that?  The traditional Aran sweater may be an example: when Taylor Swift released her most recent album and wore an Aran sweater in the promo photos, she started a fresh trend for a look that's never really out of style.  This interesting article from Irish broadcaster RTE tracks the fashionable (or not) history of the traditional Aran.
In sad news, the knitting world lost two greats to cancer this past month: Cat Bordhi and Annie Modesitt.  Both were designers, teachers, and innovators who revolutionised knitting in their own ways and created the knitting world in the process.  Read Cat's obituary here and a lovely tribute to Annie here.
This took me by surprise when I saw it, but I think it's a fantastic idea: Pantone, the world's leading colour experts, has launched a new shade of red in a campaign to end the stigma around women's periods.  Called simply "Period" and described by Pantone as "an active and adventurous red hue", the colour draws attention to the campaign created in conjuction with healthcare brand Intimina's Seen+Heard campaign, with the aim of creating conversation around menstruation. Read more here.
There's a lot to be stressed about right now so, instead, take a few minutes and watch this sheep discover the joys of jumping on a trampoline.  I promise it will make your day brighter!
---

Upcoming Virtual Shows
In my last newsletter, I asked for your suggestions and insights into making a success of virtual shows and, you guys!, your answers were amazing and soooo helpful!  Thank you so much.  I'm excited (and a little nervous still but really excited) about next weekend…
Indie Untangled Everywhere
Oct 15-17 (next weekend!)
The amazing before-Rhinebeck trunk show has gone virtual, and the vendors are as exciting this year as ever. Tickets available now — click here to reserve yours!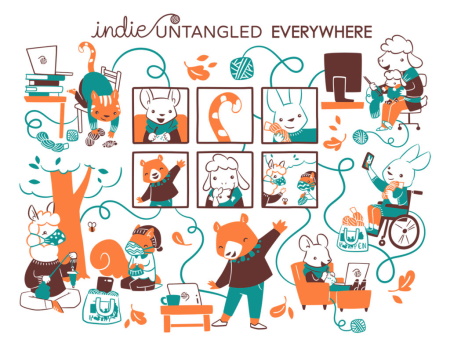 ---

Elysian Shawl by Knitting Expat Designs
(Ravelry link)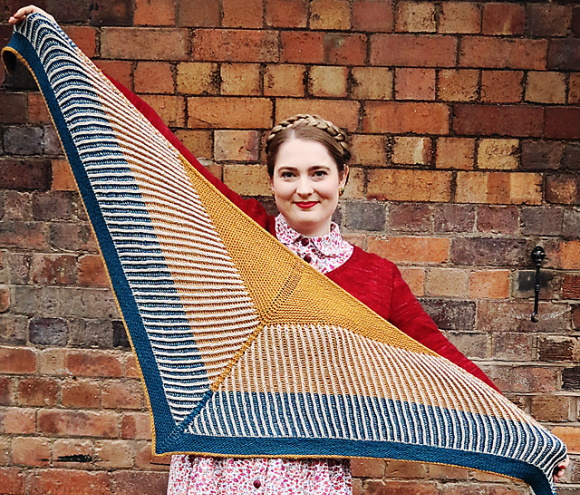 Mina's lovely shawl caught my eye first because of its interesting colourwork: she says it's "the perfect introduction to Two Colour Fisherman's rib creating a brioche fabric without the fear of brioche (not that you should be scared of brioche)."  But I have to admit that I immediately thought how lovely it would be in a trio of blues from our new collection!  Personally, I'd go for Frigia, Zoot, and Sea Emerald, but if the weather has you in the mood for something more muted, how about Feather, Classic, and Dark Matter?

Either way, be sure to check out Mina's Knitting Expat podcast while you're knitting, where she has cronicled her life as a knitter in Dubai, Bahrain, New York, and now London.  Doesn't that sound like fun?!?
Hex It Shawl by Mary Renji
(Ravelry link)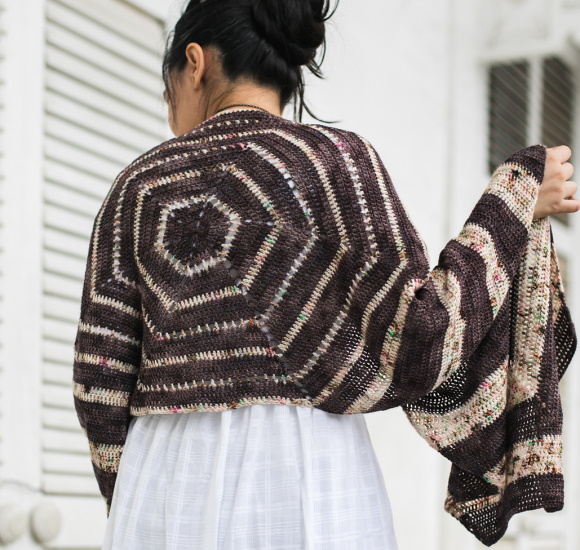 You know what?  I just love the construction of this shawl — it would simply be so much fun to crochet!  The stripes, which get wider as you work your way out to the edges, give you the chance to do some really fun things with colour.  Whether you use two semi-solids (try Sea Emerald and Hello My Name Is Indigo), or go for a pair one with a variegated, or dive into your Mini-Skein Club stash and work your way through a colour progression, this lovely shawl has a ton of possibilities!
Karamella by Linnea Ornstein
(Ravelry link)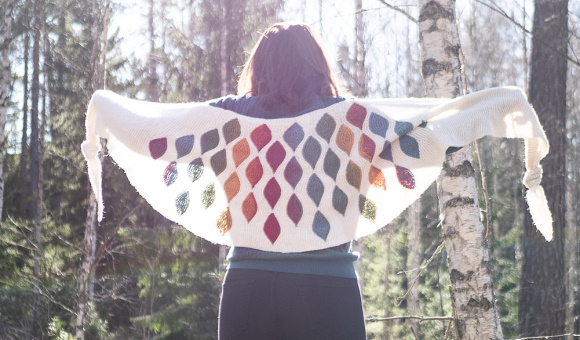 Speaking of your Mini-Skein Club stash, I'm always looking for great designs to give our club members a chance to show off their stashes and this one might just be perfect!  Designed in sport, you'll want to check your gauge and then hold your fingering skeins doubled, which will allow you to create stunning marled colours.  And as much as I like the sample here, click through and check out how beautiful it looks when paired with a grey for the main colour.
images: © the respective designers, used with permission
Ok, well today I'm heading down to the studio to set up my virtual booth for Indie Untangled Everywhere next week.  It's going to feel so weird to set up a show booth after so long(!) but I'm really looking forward to it.  I hope you have a lovely day ahead of you too and, until next time, all my best!