A couple of weeks ago, I had a little revelation.  Well, not so little really — when the thought popped into my head, it actually felt quite earth-shattering and I found myself nodding vigorously and thinking, "Yes, that's it!"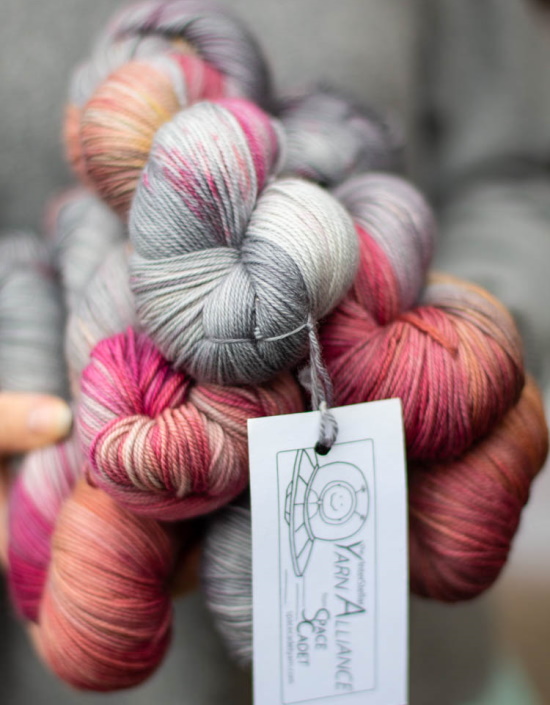 The Yarn Alliance exclusive colourway for Sept 2020
It was as I was setting up for a recent virtual show and, while we had a whole bunch of wonderful small batch colourways, the disruptions of this year meant that we didn't have a whole lot of our standard colours.  And that was making me feel worried …and, well, pretty harsh on myself.
But then I looked around at the piles and piles of glorious yarn around me — small batches of unique colourways that we'd poured our hearts into creating — and realised that the knitters and crocheters that I love most are yarn adventurers who embrace exactly these kinds of colour explorations.  They get us… and we get them.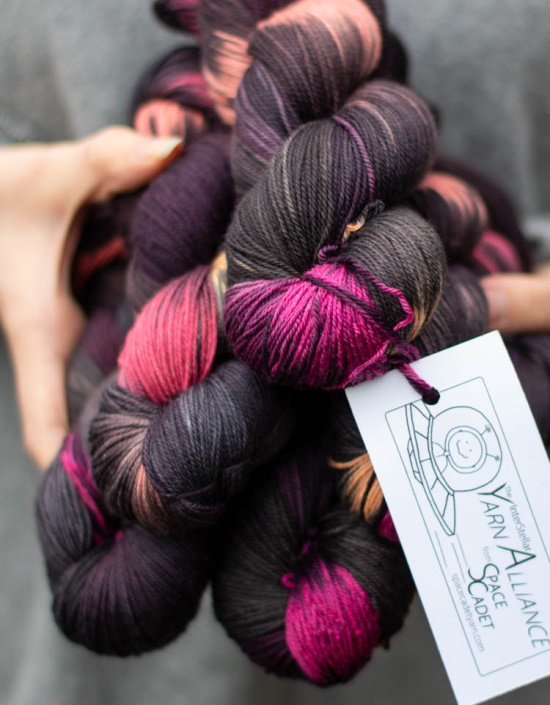 The Yarn Alliance coordinating colourway for Sept 2020
And the more I reflected on that, the more it all started to make sense, like jigsaw puzzle pieces coming together to form a bigger picture.  We dye from only the primary colours, using only five hues of dye (cyan, magenta, yellow, red, and black) to hand-mix all of our beautiful standard colourways, and then we create over 144 unique new colourways each year (yes, really!) for our clubs alone, and even more besides for our Small Batches and Limited Editions.  It takes extra work to dye from primaries, and a lot of extra work to create all those new colourways, but doing it that way is the essence of who we are: we are colour adventurers!
And so are the people who get us: our club members, our customers, everyone who embraces what we do…  they're all on this journey with us because they are adventurers too.  They may not know exactly what will be in the next club parcel but they approach colour with confidence and are ready to explore their creativity with us!  So when we pour our hearts into our colourways, when we go all out and create colours that we are just crazy about, those are the people we really want to dye for.  You guys know who you are — and we do too.
(If you want to join us on these colour adventures, the Yarn Alliance is open to now members right now, until Monday.  Click here for more)
---

If staying home more has got you thinking about branching out your crafting skills, I really enjoyed this quick run down of what you need to get started sewing. Starting with ideas for your workstation, your sewing machine, and a pressing station, it moves onto the gadgets you need and how to find work-arounds if you don't have them. Useful stuff!
This is fascinating: a recent study has found that the ancient indigenous people of the Pacific Northwest bred dogs for their "wool"! Used mostly for blankets, they also made robes and belts from dog fur, and the study was able to distinguish between smaller domesticated "wool" dogs and larger dogs probably used for hunting and security.  I've tried spinning dog fur before with decidedly mixed results(!), so I think this is a really interesting read.
I love the images of this museum in Calais, France, that is covered in a mural depicting the traditional, intricate lace produced in the region.  It was, to my surprised, created with spray paint, of all things, but the result is simply beautiful.  So happy to see traditional textiles celebrated like this!
If you'd like a gentler way to wake up, I love that the Dawn Chorus app (in the iPhone App Store and on GooglePlay) lets you customise an alarm with birdsong of your choosing.  Developed right here in Pittsburgh (yayyyy!) by the Carnegie Museums, you can choose up to six North American birds to wake you up with a chorus of natural sounds.  I use it every day and it makes mornings so much nicer.
---

Join Now: The Yarn Alliance Closes on Monday!
Open until Nov 16
It's almost time to close the Yarn Alliance so, if you've been thinking about joining our awesome yarn club, click here and get in now.  The Yarn Alliance is our premiere yarn club, all about gorgeous dyeing on fingering weight yarns.  Plus coordinating colourways, great gifts, and a ton of fun!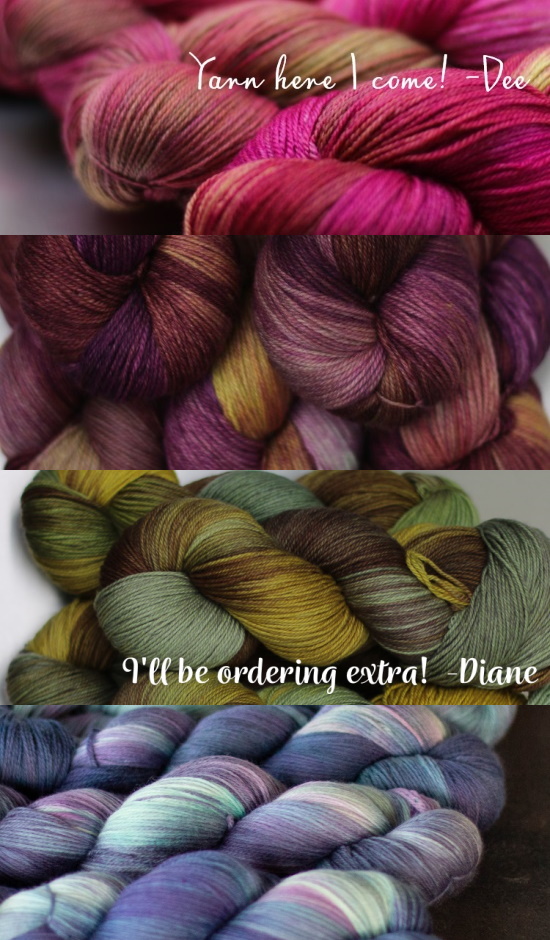 So, what do you get when you join?
…beautiful yarns, colourways you might never have dared try but suddenly realise you love, and some seriously fabulous gifts!
As a member of the InterStellar Yarn Alliance, you'll receive a fabulous parcel delivered to their door every other month, containing:
SpaceCadet  yarn (light to medium weight) in an exclusive Yarn Alliance colourway (guaranteed not to be offered on the SpaceCadet® website for at least 6 months)
A great Yarn Alliance gift tucked into every parcel!
The SpaceCadet's Log exploring the inspiration for each colourway.
The InterStellar Yarn Alliance newsletter with periodic special offers exclusively for members.
A 15% off coupon every six months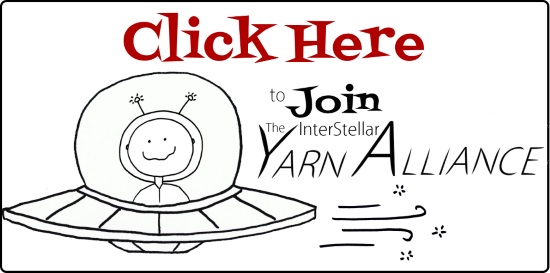 Upcoming Shows
We did our first live session virtual show last month (:waves wildly at everyone who attended:) and had so much fun that we're doing another one this weekend!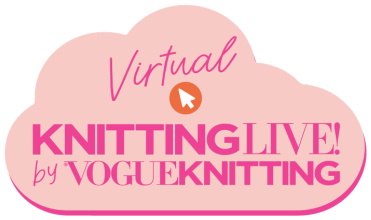 Vogue Knitting Live, Nov 12-15
Join us at VKL for live session with me, a gorgeous show special colourway (below), inspiring samples, and tons of fun!  The show starts Thursday and our live sessions are Friday at 4pm and Saturday at 4pm eastern.  Tickets start at just $3.99 — get yours by clicking here!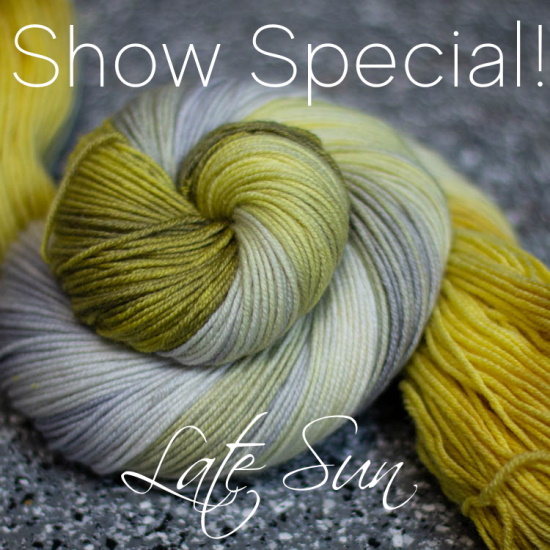 The Blues Collection
Our Inaugural Dyeing Day for the SpaceCadet's new Blues Collection happened last week and the result was just gorgeous — so much stunning colour all in one glorious pile!
If you missed out on getting in on the first batch of these beautiful blues, you'll be glad to know they are now listed in the shop for regular order on (almost) all of our yarns.  Click here to see all the colours!
---

Woodlands Wrap by Knitting Expat Designs
(Ravelry link)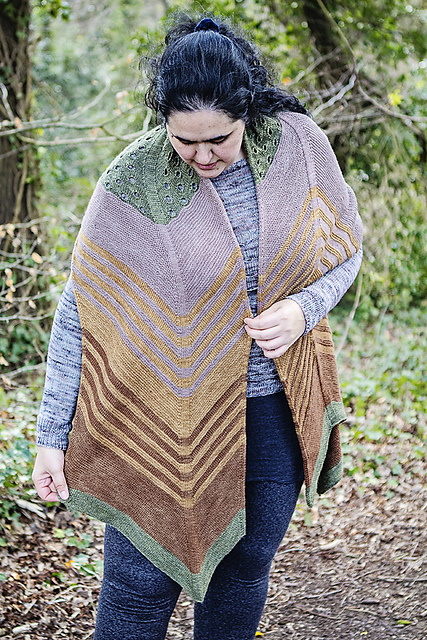 With the cold weather on its way, I'm itching to cast on this warm wrap! I love its changing colours and textures. Designed to use four skeins of fingering, the pattern also includes a percentage system so you can adapt the shawl and each section to suit your yardage amounts. It's perfect for the small batch and one-of-a-kind yarns we'll be sharing at Vogue Knitting Live this weekend!
White Calm Hat by Mary Renji
(Ravelry link)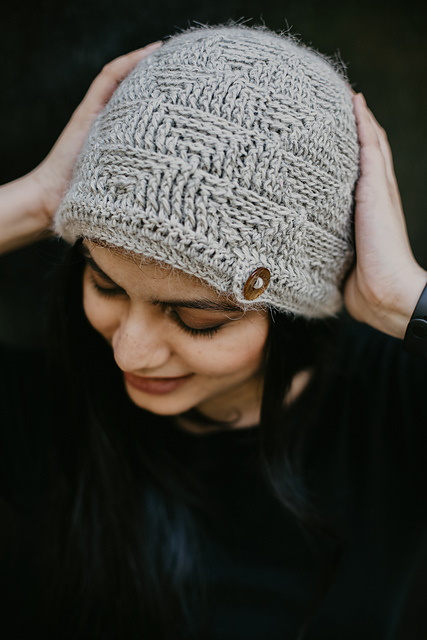 For me, this hat is all about that intriguing texture, but the close fit and the button detail make it downright adorable! Crocheted in DK, it would make a quick and meditative project that's perfect for holiday gift giving.
Fade Out Socks by Carolyn Lisle
(designer's website)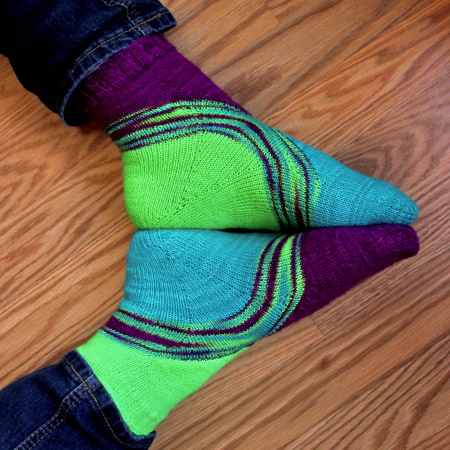 Oh my stars, are these socks fabulous?!? I was smitten as soon as I saw them! Designed specifically for using smaller bits of yarn in different colours their unique construction creates fades going in three directions. Whether you knit yours to match identically or fraternally, I am just dying to see someone dive into their stash of SpaceCadet Mini-Skeins and go wild with colour and this stunning design!
Images © the respective designers, used with permission
Ok, I've got to get a few things finalised for Vogue Knitting, so I'd better get going.  It's going to be a fun weekend!  I hope you've got a great day planned today and, until next time, all my best!