I originally wrote this post last Wednesday morning, just as the glow of the holidays had begun to fade and we all turned to face the reality of managing the pandemic whilst waiting for the relief the vaccine will bring.  I had the odd sensation of feeling both hopeful and also little like  I was holding my breath.  I finished typing the post — a heartfelt message from me to you — a little before noon and then scheduled it to go out the next morning.
That evening I sat in horror with the rest of the nation as we all witnessed a mob attack the Capitol Building and our elected leaders being rushed into lockdown.  It took a while to process what was happening — I'm still processing it, to be honest — but I realised that the gravity of the unfolding events made my scheduled post ridiculously tone-deaf and I logged back in to put the post on hold.
And while this situation is far from over — as a nation, we have weeks and months and years of work to do to recover — I've decided to share the post I wrote before this all unfolded.  I realise its message pales now by comparison but was written sincerely and, though I don't know what other events might occur between now and the time you read it, I hope both the message and the lighthearted fiber-news it contains bring a little respite in these difficult times.
---
One of the strangest things I've experienced during the past year is the way that I've felt I've lost my voice. By which I mean that, despite years of writing the SpaceCadet newsletter and sharing with you our adventures running a dye house, when 2020 turned everyone's lives upside-down, I found myself unable to find any words to say.  It was totally unexpected and, at first, I tried to dismiss it and pretend I was imagining it, but it turned out to be quite real.
It might have been the worry — it might well have been the worry, there have been so many things to think about — or the important issues that all the protests raised, or just how incredibly unsettling it has felt to try to keep everything running safely during a pandemic and the many unexpected challenges that creates. But every time I sat down to start writing, whether in this newsletter or on social media, my mind would just go blank and, the few times you heard from me, let me tell you, it seemed Herculean task to put together enough cohesive thoughts to feel I was sharing anything interesting with you at all.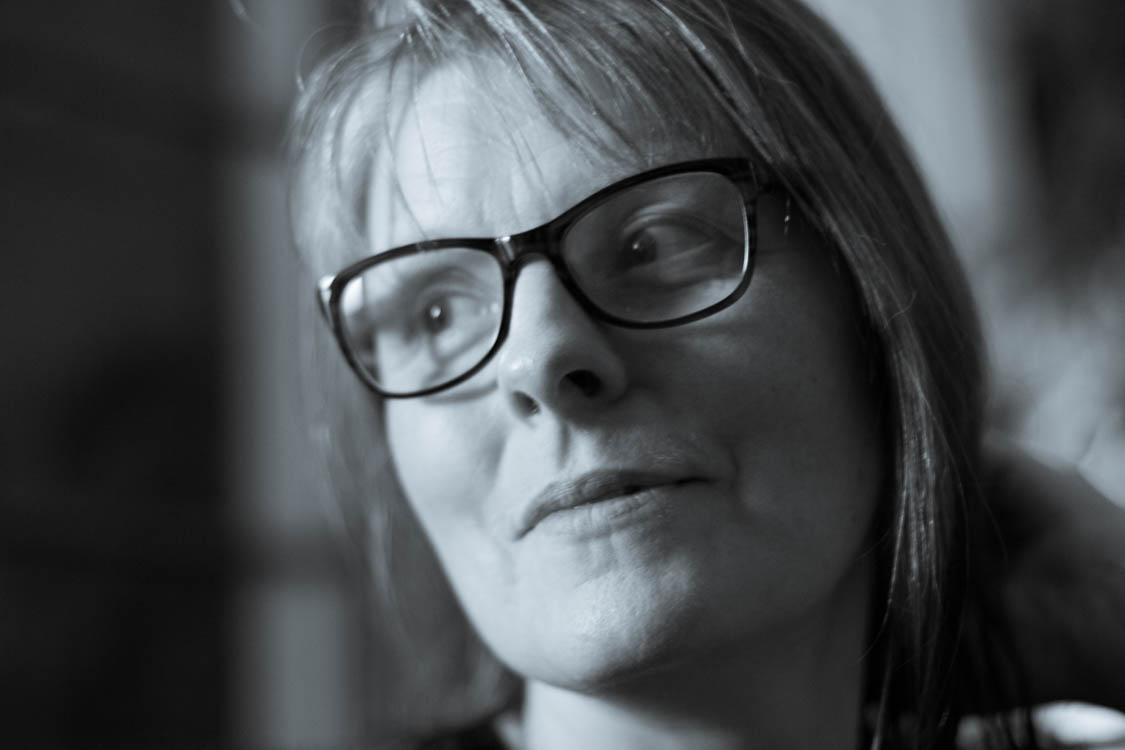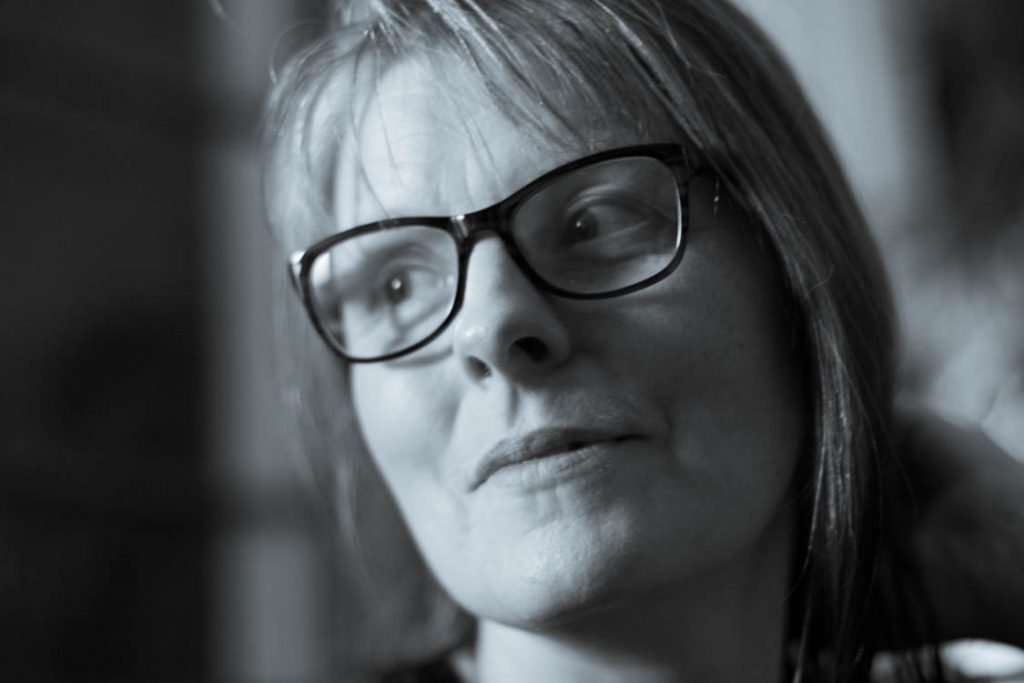 But to be honest, in a year already filled with deep emotions, not being able to share with you made me incredibly downheartened. I haven't liked feeling like I am stuck on mute, and I don't want to feel overwhelmed by something that is truly such a pleasure for me: simply reaching out to say hello and share interesting things with you. And, over time, I've realised that changing the way I write my newsletters might be the key to fixing that.
So I'm going to try something new. Instead of creating one, long email with all the different news and pattern suggestions that I usually include, I'm going to break up these sections and share them with you one at a time. And in that way, I'm hoping that putting together smaller, more bite-sized newsletters helps to free my voice a little. So please don't be concerned when you get these shorter emails from me — everything you're used to seeing in them will be coming, just spread out over time and in a smaller, easier to digest format. And that format may change as I play with what feels comfortable, but I'm feel confident you'll understand.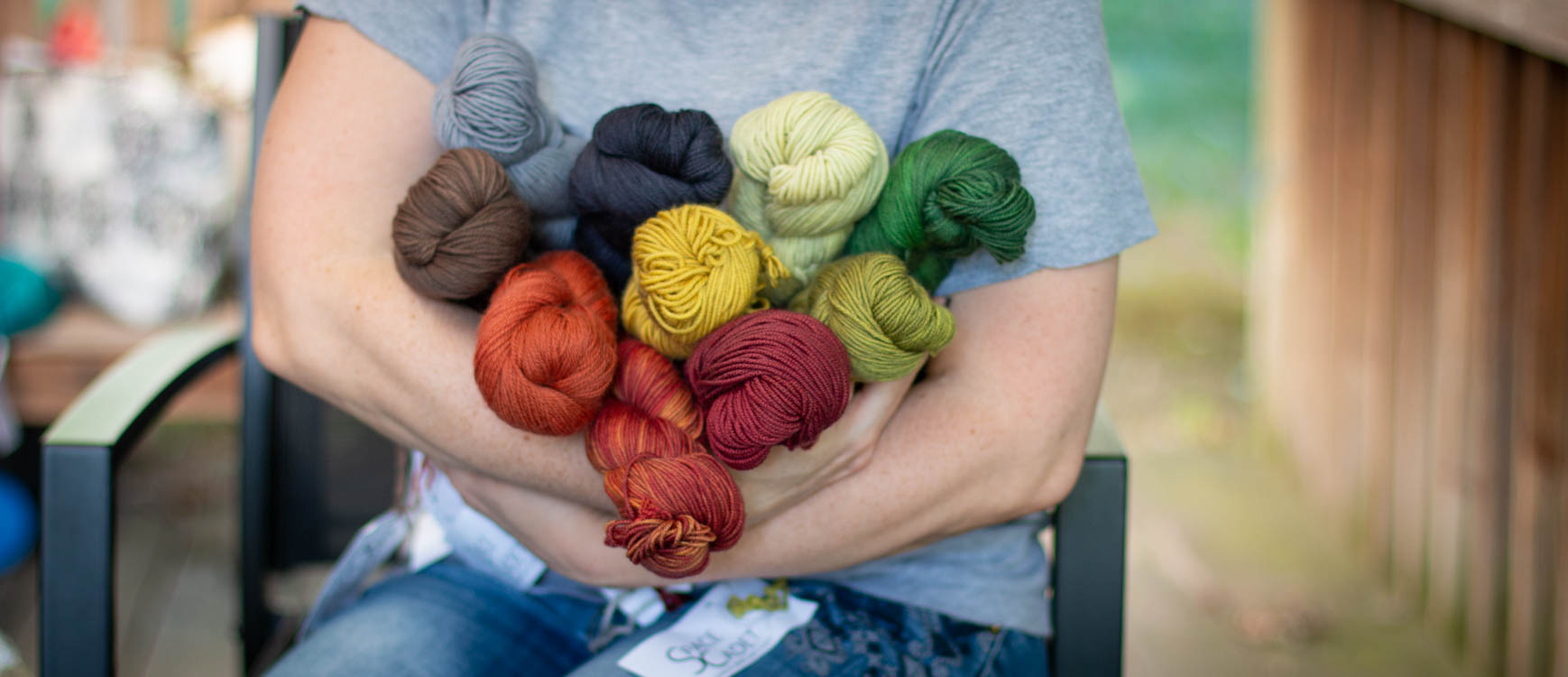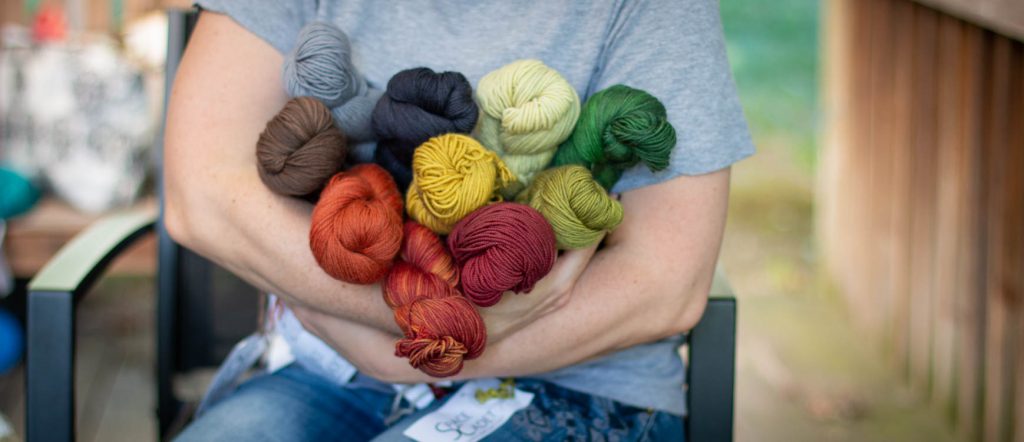 (also, there is yarn-hugging… when all else fails, yarn-hugging makes just about anything better)
Most of all, as we head into what appears to be even more uncharted territory in 2021, I'm excited about the opportunity to reconnect with you. I've missed you! And missed sharing with you. So here's to new ways of doing things in a new year… and the hope that good possibilities lie ahead for all of us.
---

Every year, the folks at Pantone — the world's foremost expert in colour forecasting — choose their colour of the year.  And in a move befitting these unusual times, this year they surprised everyone by choosing not one but two colours for 2021: Ultimate Gray, a lovely mid-tone grey, and Illuminating, a clear and sunny yellow.  Described as a "message of positivity supported by fortitude," the colour combo addresses the "need to feel that everything is going to get brighter."  Oddly enough, after we read about Pantone's colour choice(s), we realised that we've been dyeing a lot of these same colours too.  Certainly we have some lovely greys and yellows in our standard colourways (below), but they pop up again in some beautiful winter Limited Editions that we'd recently developed!  Scroll to the bottom to see them.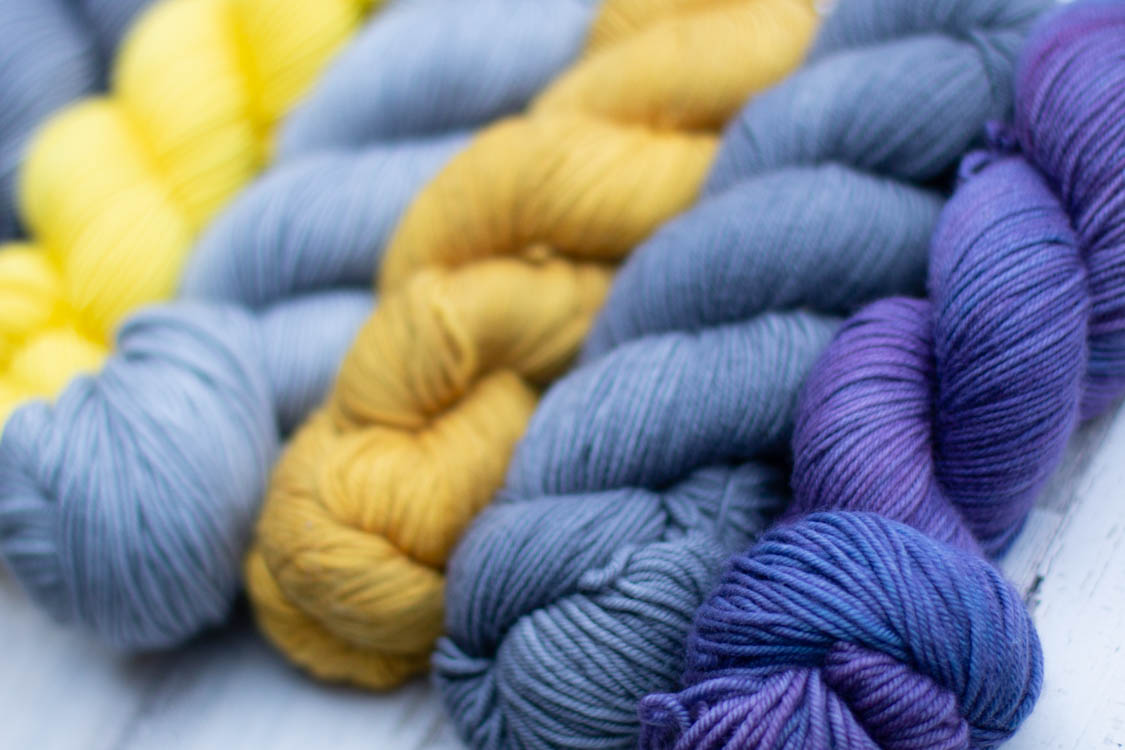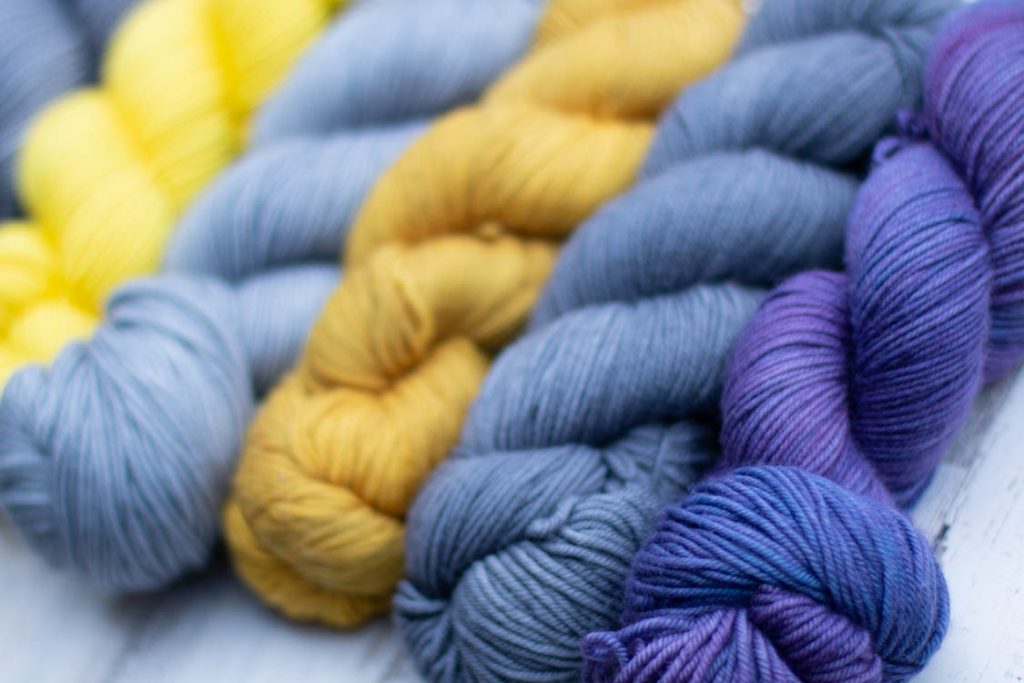 (Ok, I know the purple on the end has nothing to do with Pantone's colour choices but, when I laid out a collection of our yellows and greys together, I couldn't help adding in a little purple…  because, I mean, it looks perfect, right? From l-r: Life Was Better in Black & White, So Life Gave You Lemons, Drizzle, Honey, Dark Skies, and Plume)
I've seen versions of crocheted ribbing before but never one that looked as nice or stretched so beautifully as the one in this video tutorial. The whole thing is in Japanese but, if that's not a language you understand, the subtitles and excellent visual instructions still make it really clear and easy to follow.
There was a time when a life of isolation might sound a little daunting but, after the experience of the past ten months, I've decided that it's really all about the kind of isolation.  And I have to admit, this absolutely beautiful article detailing the lives of a family who look after the sheep that populate three remote islands off the coast of Maine has me deeply intrigued.  Take a moment to read it — just the photos alone are stunning — and tell me if you don't come away feeling the same.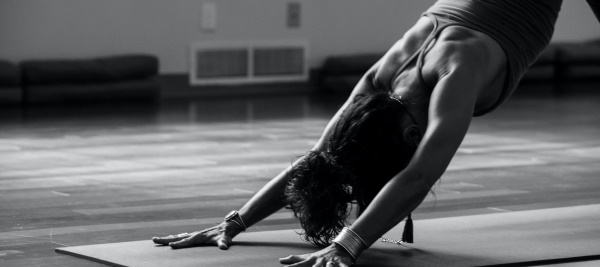 Photo by Ginny Rose Stewart
It's not fiber related and it's not a new year's resolution but one of the things I want to do this year is make sure I move every day: a workout, a long walk outside, or maybe some yoga.  To that end, a friend introduced me to Down Dog, a yoga app that I've realised I love — and so I want to share it with you too.  It's normally priced at $60 per year (which, honestly, gave me pause) but it's free to try until the end of January and, so long as you sign up before the start of February, you'll get it for 75% off.  That's only $15 for the whole year and also gives access to their HIIT, barre, and meditation apps in addition as their yoga app.  Honestly, I think it's well worth it, so please let me know if you try it!
---

The SpaceMonster Club Opens on Jan 15
This time of year is perfect for big, smooshy, extra-thick yarns, and that's what the SpaceMonster Club is all about!  And if these dark winter days have got you in need of a little bright pick-me-up, then I can't think of anything better than a delivery of the lovely exclusive colourways we dye for our SpaceMonster members.
The club opens only twice a year, and we give early access to the folks on our waiting list so, if these lovely smooshy yarns sound intriguing to you, click here to give us your email so you can get first dibs!
Winter Limited Editions — Orders Open Jan 21
In the past few months, we created some colourways that are so beautiful and so delightfully winter-y that we've decided we just have to share them with you as Limited Editions.  "Stillness" and "Late Sun" were first dyed for a couple of virtual shows we attended at the end of last year, and "Quietude" is completely new.  And while each on its own is lovely, I think the three together create a winterscape that is downright stunning.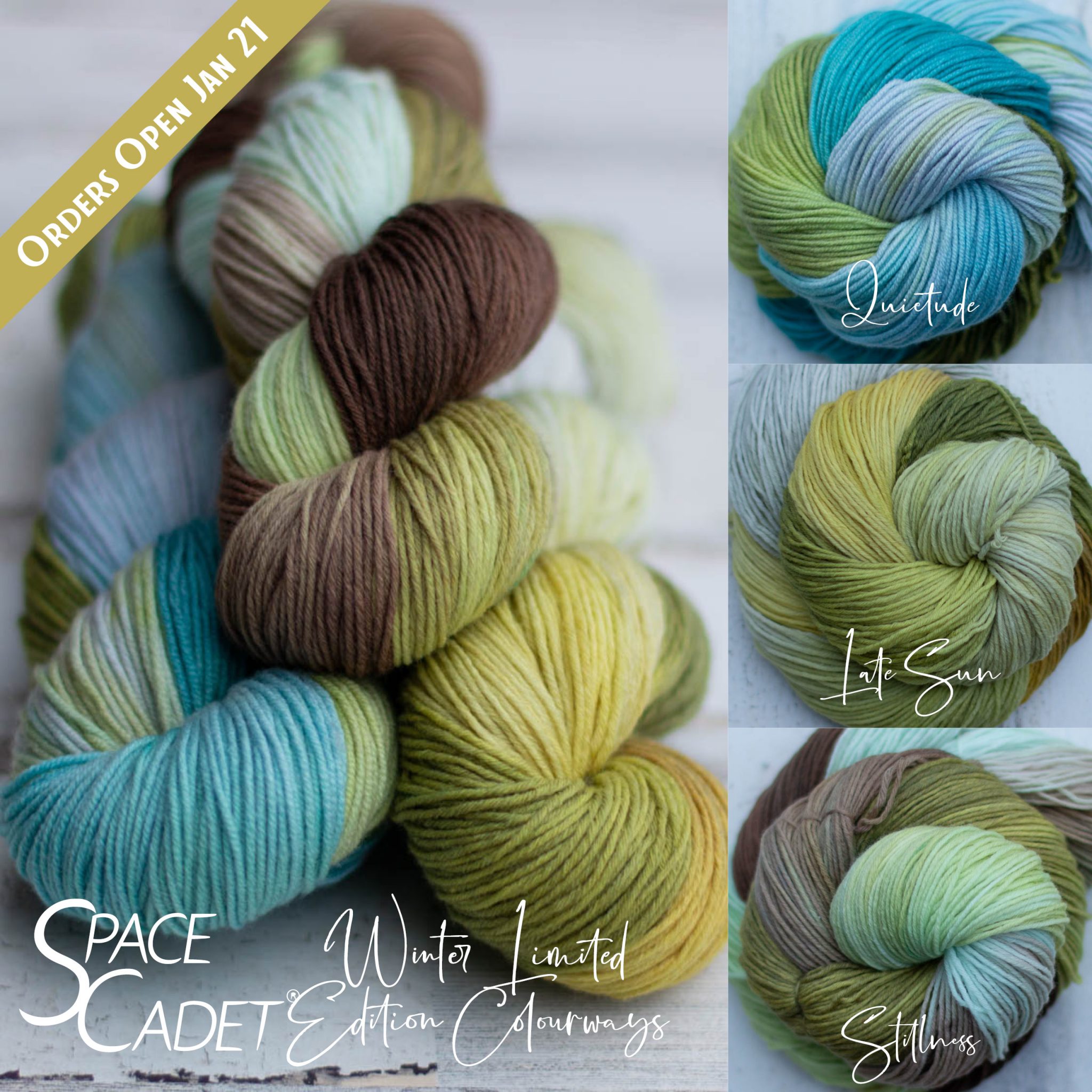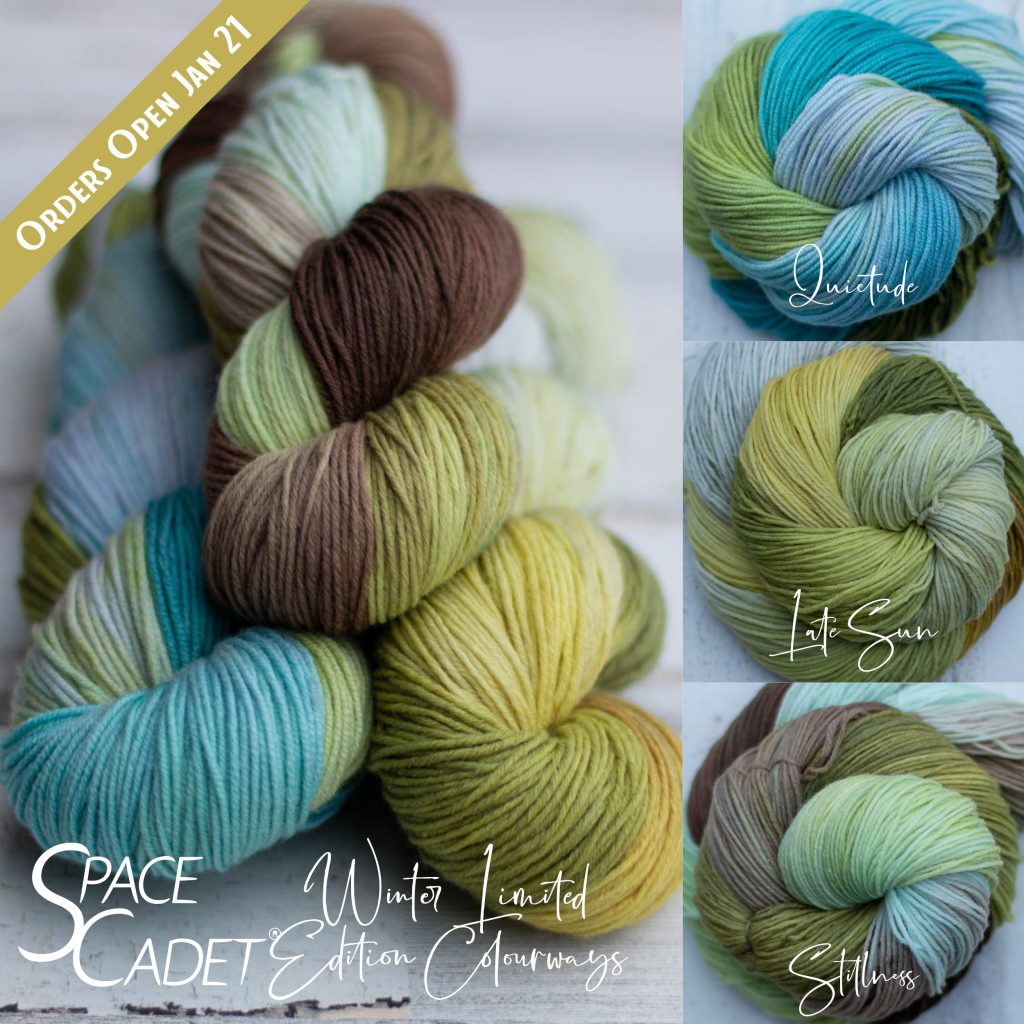 Offered as Limited Editions, these very special colourways will be available to order on Jan 21 with orders closing and their dyeing day happening about two weeks later.  So if you love them as much as I do, be sure to mark the date on your calendar.
---
It's been so nice to spend a little time sharing all of these things with you.  I hope that your 2021 is getting off to a positive start and I'm looking forward to chatting with you again soon.  Until then, all my best!