Last week I received an flood of emails that absolutely warmed my heart — so many people who read my last newsletter about being like I had lost my voice over the past year and then generously shared with me their own struggles or simply offered the warmest encouragement. I cannot tell you how much it meant to read them and to know that so many others have been feeling the same way. To everyone who took the time to reach out, thank you so very much.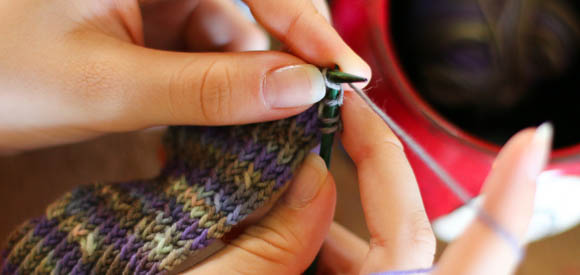 And now it feels like it's time for fresh starts and high hopes. And while a lot of folks in the knitting and crochet community have marked that by starting a new project, I decided instead to dig out a project I'd loved but which, for some reason I now can't recall, I had set aside several years ago. It's a simple shawl that is perfect to work on when things feel a little too complicated or stressful(!) and I just need the gentle meditation of feeling the yarn run through my fingers and hearing the click of the needles. It feels good to go back and pick up where I left off, with a renewed sense of purpose.
And long may that feeling continue.
---

The SpaceMonster Club is Open Now!
One thing that really has amazed me this week is just how quickly memberships to the SpaceMonster Mega Yarn Club have been going! And when I see how many of them are our existing members renewing for another full year, it just makes me so happy, because I know that means they think we're doing something right.
This time of year is perfect for big, smooshy, extra-thick yarns, and that's what the SpaceMonster Club is all about…  And if these dark winter days have got you in need of a little bright pick-me-up, then I can't think of anything better than a delivery of the lovely exclusive colourways we dye for our SpaceMonster members.
The club opens only twice a year, and subscriptions are available for only a short time so, if these lovely smooshy yarns sound intriguing to you, click here and join in the fun!
Winter Limited Editions — Orders Open Today!
In the past few months, we created some colourways that are so beautiful and so delightfully winter-y that we've decided we just have to share them with you as Limited Editions.  "Stillness" and "Late Sun" were first dyed for a couple of virtual shows we attended at the end of last year, and "Quietude" is completely new.  And while each on its own is lovely, I think the three together create a winterscape that is downright stunning.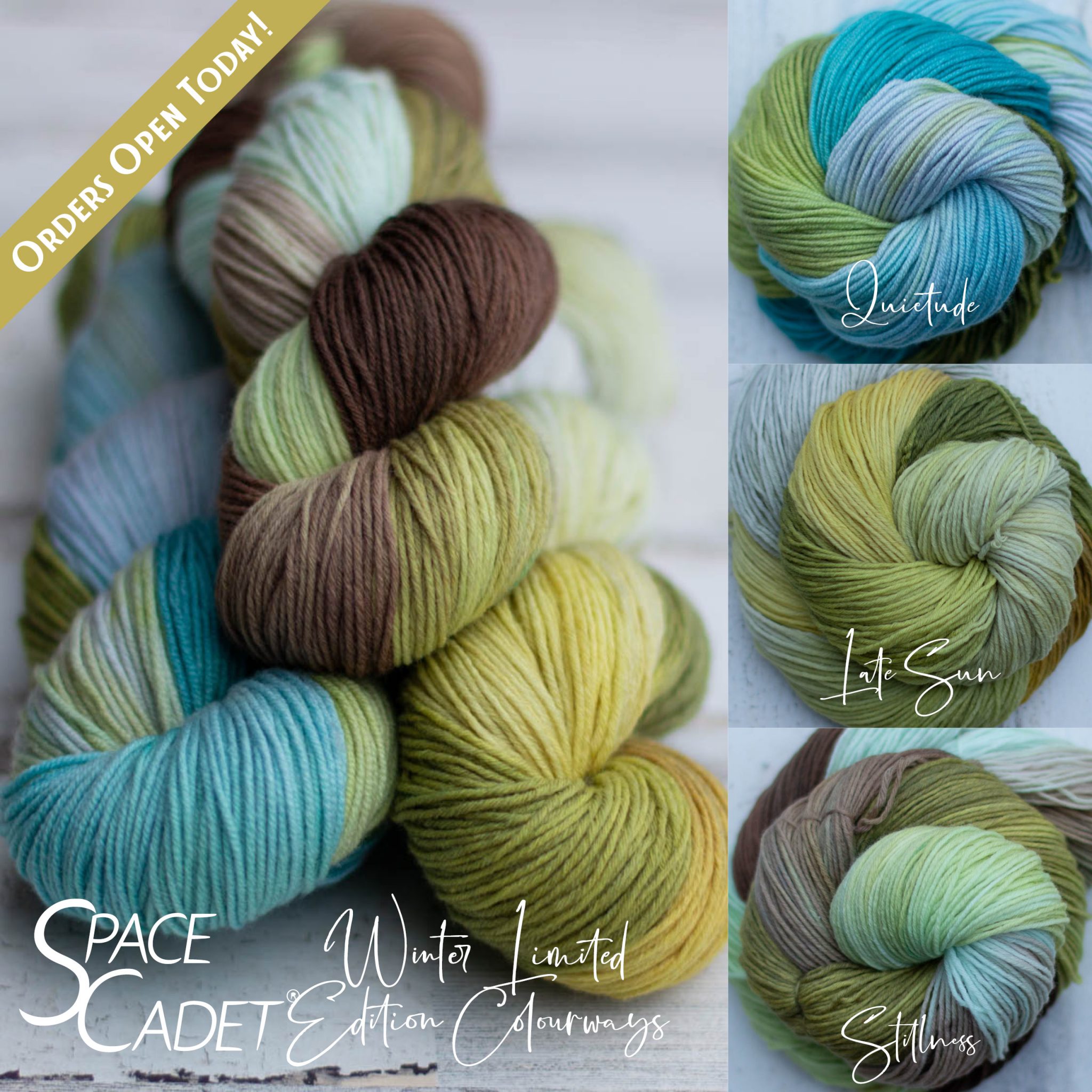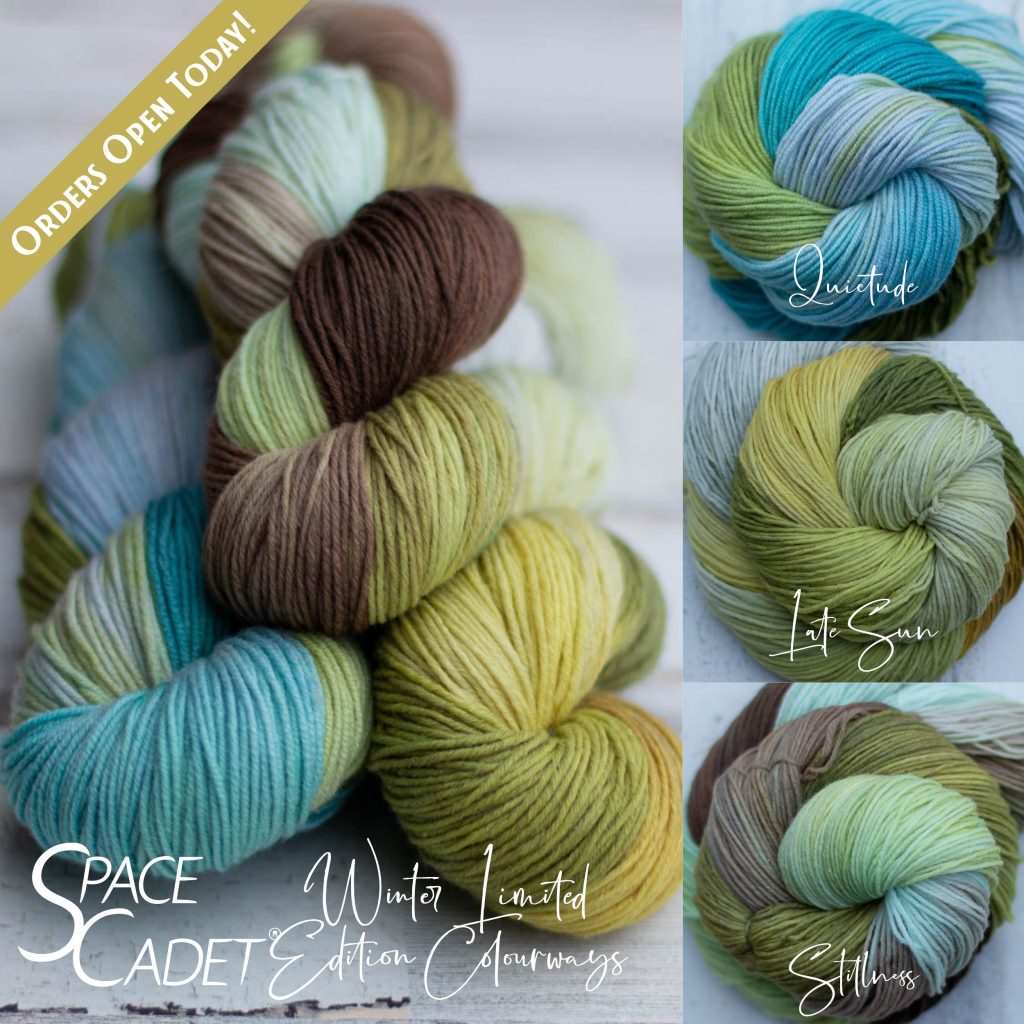 Offered as Limited Editions, these very special colourways are available for pre-order starting today with happening in early February.  Click hereto get your order in before they close!
---

January Cowl by Louise Tilbrook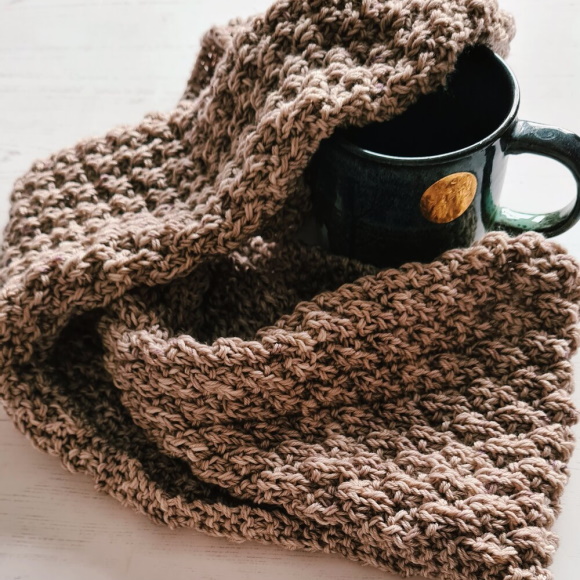 The description with this January-inspired pattern reads, "a cosy knit for darker days," which — honestly — sounds absolutely perfect for such a snuggly project.  Even better, it's designed for fingering weight held either singly or doubly, meaning you can add a delicious marled colour effect to its beautiful texture.  And with options for either a single and a double loop cowl, the end result is delightfully customisable too!
Huldra Sweater by Tatsiana Kupryianchyk
(Ravelry Link)
Beautiful yokes are hard to resist and especially when, as in this design, the colour highlights a gently changing gradient against a contrasting solid.  Crocheted seamlessly from the top down in fingering weight, the pattern works well in either a short- or long-sleeved version and, handily,  is available in both US and UK crochet terms.
Inca Trail by Svetlana Gordon
(Ravelry Link)
This stunning wrap is made for colour and I think it's a fabulous candidate for an epic Mini-Skein project!  And while we dye our Minis in a beautiful month-to-month gradient, I think this project calls for a little more adventure by using the colours out of order — perhaps by alternating the Mini-Skeins from two months' bundles together.  If you've got a stash of our Minis, take inspiration to break those bundles apart and see the different ways they can fit back together (and if you haven't got a stash of Minis, come join our Mini-Skein Club and let us dye some gradient loveliness of your own!)
images © Louise Tilbrook, Vitali Frozen, Svetlana Gordon; used with permission
---
Ok, it's time I got back to work.  Today, I'm planning on doing a little end of year tax stuff and then rewarding myself by photographing some lovely colourways.  I hope your day is filled with colour too and, until next time, all my best!