Do you ever get a feeling of paralysis when you're about to start a new project?  (I do!)  Whether it's casting on a new knitting project, laying paint on a fresh canvas, or writing on the crisp new pages of a notebook, there is just something about starting that can be incredibly intimidating.
And choosing the right pattern for your yarn is absolutely in that category (I think that's the reason so many of us have pattern stashes big enough to rival our yarn stashes!).  A lot of times, we feel like matching yarn and pattern should be intuitive, effortless, something like falling in love at first sight but it's not.  I know from many of my designer friends that they work through swatch after swatch (after swatch) before they find just the right yarn to bring a design-idea to life.
And I know that a lot of our Mini-Skein Club members feel the same way so, as soon as I saw these two breath-taking projects, that I had to share them with you!  Both of these epic projects are made with the full year of 2020's Mini-Skein Club flow and yet I love seeing how the way the each pattern distributes the very same colours makes them come out so differently.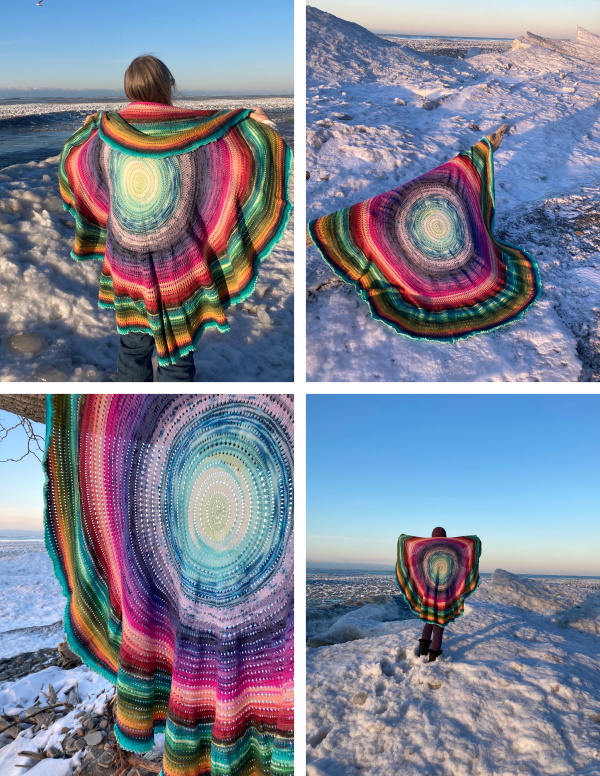 Images used with permission (thank you, Jill!)
The first from Jill, who knit Elizabeth Zimmerman's Pi Shawl (Ravelry link) and I am crazy about the way it takes the colours and stretches them out until they become almost like brushstrokes on a canvas.  And despite the tundra-like background(!), the colours have an almost Southwest feel to them.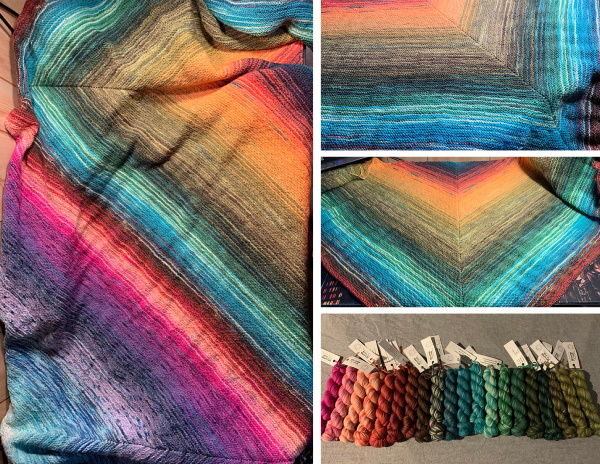 Images used with permission (thank you, Seanae!)
The second project is from Seanae, who knit Ambah O'Brien's ADVENTurous Wrap (Ravelry link).  And here is something really interesting: look at what a difference it makes to the colours in how the pattern spreads them out in some places and then intensifies them where the colour bunches up as the Vs come to a point.
Aren't both those project's amazing?!?  I'm absolutely blown away.  And I think they both show that the key to working with our Mini-Skein Club colours is to keep the pattern simple.  And of course, the fabulous thing about doing a project with a year's worth of the SpaceCadet's Mini-Skeins is that, even though it creates being a really epic finished object, it's not really ever that much effort to produce, because it's broken up from one month to the next, with a slower pace and plenty of downtime between club parcels arriving.
---
Now, can I show you one more project that completely changes the way the colours look?
I'm super-excited to show this to you — and really nervous too — because this is my first ever published pattern!  It's called the D'aeki Wrap and I'll be releasing it on Tuesday but I want you to see how differently the colours come out in it.  These are the same colours as the two projects above but, instead of stretching each Mini-Skein out, it's constructed of of modular blocks that work each yarn back and forth quickly — and that totally changes how the colour behaves!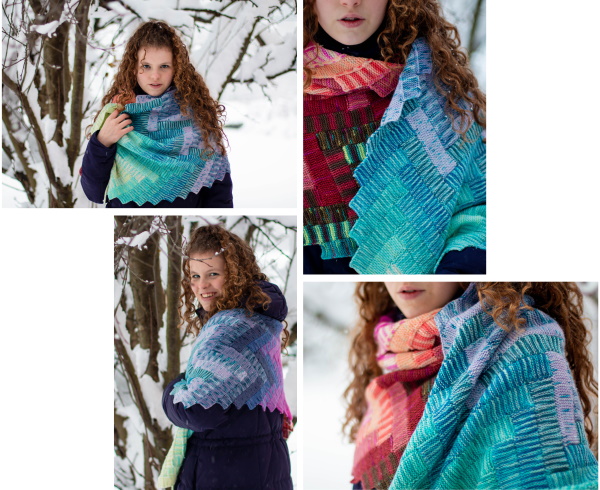 Sample kindly knit by Jade
See what I mean?  With such a small number of stitches, the colours create an almost striping effect that plays beautifully into the herringbone angles. You'd almost never guess it was made using the very same Mini-Skeins as the two projects up above!
(And I'll let you into on a little secret: there's absolutely no sewing up in the entire pattern — none at all.  Intrigued?  I'll share more on Tuesday!)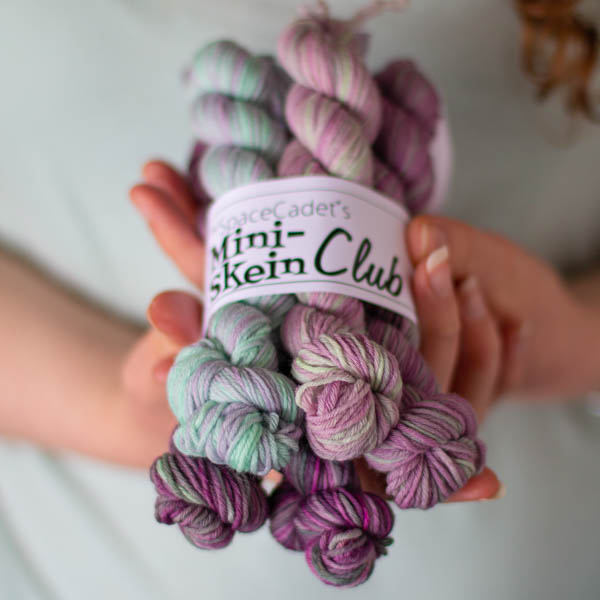 I'm about to cast on a new idea I have with January's Mini-Skeins and, just like last year's, it's going to be another epic project that moves from one month to the next.  If you're inspired by these projects to create an epic project of your own (like perhaps the D'aeki Wrap above?), I'd love for you to join in!  You can read more about how epic Mini-Skein projects work by clicking here and, if you'd like to put together a Mini-Skein collection of your own, you can join the club by clicking here.
---
I want to thank both Jill and Seanae so much for allowing me to share their beautiful projects here.  And so many other folks have written in to show off their own gorgeous SpaceCadet projects that I can't wait to feature in an upcoming newsletter.  So much fabulous creativity — I love to see it!
But for now, it's time I got my day started — I've got a bunch of orders to pack and some lovely skeins to photograph (maybe in the snow…?).  I hope you have a colourful day planned too.  And until next time, all my best!