Do you ever find it hard to find inspiration?  Especially in this last year, when so many of us have stayed home so much, surrounded by the same things we see day in and day out, it can feel as if it's hard to look at things in a new light, to feel creative. I know I've felt that way!
The Striad Wrap, my new pattern releasing today!
And yet, I also know it's not true — inspiration is everywhere, even in the most mundane things.  Like this new design, for instance, which was inspired by…
…wait for it…
…by a lampshade over my dining table!  No, really.
It came to me one winter day, as I sat curled up in a comfy chair in my living room, drinking a cup of tea and gazing absentmindedly toward the dining room.  I'd recently got a new lampshade to hang over the dining table and, to be honest, I was absolutely smitten.  It has a fascinating construction, cleverly incorporating strips of joined-up triangles to form a globe shape. Very hard to describe in words but, I assure you, just delightful to look at.
And as my eyes followed the curve of those triangles, I suddenly found myself itching to pick up my needles and try to use the architecture of knitting to mimic their shapes. And so the Striad Wrap was born, constructed with intriguing series of short row triangles, knit individually in strips and joined together without any seaming up, that combine to beautifully show off the amazing colours of handdyed yarn.
You see?  Proof positive that real inspiration can strike from even the simplest (and most unlikely) of things! So if you've been feeling like the last year has put a dampener on your own creativity, perhaps try looking at your own environment with fresh eyes.
(And in the meantime, grab some yarn from your stash and borrow a bit of my inspiration by casting on the Striad Wrap.  It releases today and I'm so excited to share it with you!)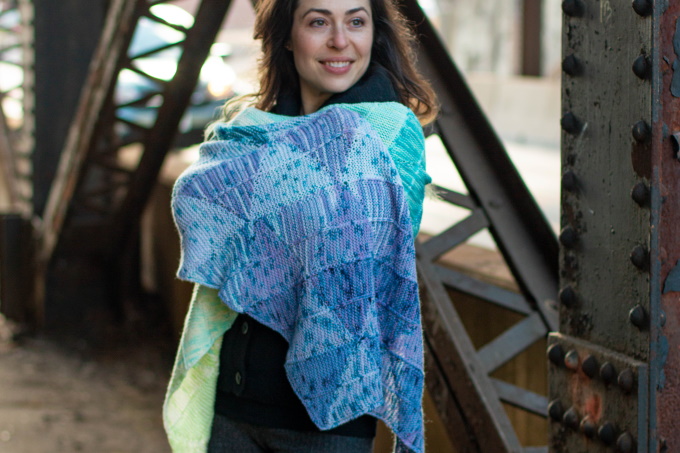 ---

This week, Ravelry introduced a new Dark Mode theme (the link goes to their announcement on Twitter, not directly to Ravelry).
Meanwhile, the fiber community turned to social media with strong reactions to this article in the New Yorker about the recent changes to Ravelry.  Quite a few people who were interviewed for the article were not satisfied with the way their opinions were represented, and a lot of interesting conversation followed.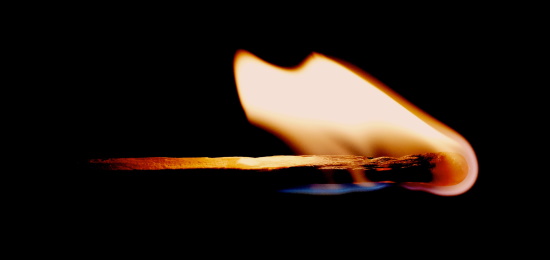 Photo by Yaoqi LAI
Have you ever found a skein of yarn in your stash that had lost its ballband or tag, and wondered how you could possibly figure out its fiber content?  At university, one of my favourite classes was when we burned fabrics (yes, with an open flame!) for this very purpose.  And this interesting article will not only walk you through that process too, it even has a handy flow chart to help you interpret your results.  So snip a little of that yarn off the skein, follow sensible safety protocols(!), and you'll soon have a much better idea of what that mystery yarn is!
This week, the designer Hunter Hammersen tweeted a very interesting and verrrry frank analysis of the true costs that go into one of her patterns. And inspired by her, the former designer Alex Tinsley did the same, breaking down her own costs line by line.  They're both enlightening reading.
---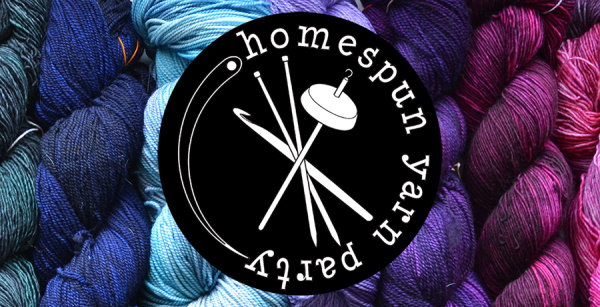 This Weekend: Homespun Virtual Yarn Party
In more normal times, we'd be packing up a ton of yarn and heading to one of our favourite shows, Homespun Yarn Party.  The in-person show isn't happening so we're doing it virtually!  There are lots of great vendors and SpaceCadet has some special and fun things lined up so make sure you click here this weekend to go to our show page and click here to follow the fun on the HomeSpun Facebook page.
Next Month: The Yarn Alliance Opens!
We're getting ready to pack the last Yarn Alliance parcel of the season so do you know what that means?  It's nearly time to open it to new members!
The Yarn Alliance is our premiere yarn club, all about gorgeous dyeing on fingering weight yarns.  Plus coordinating colourways, great gifts, and a ton of fun!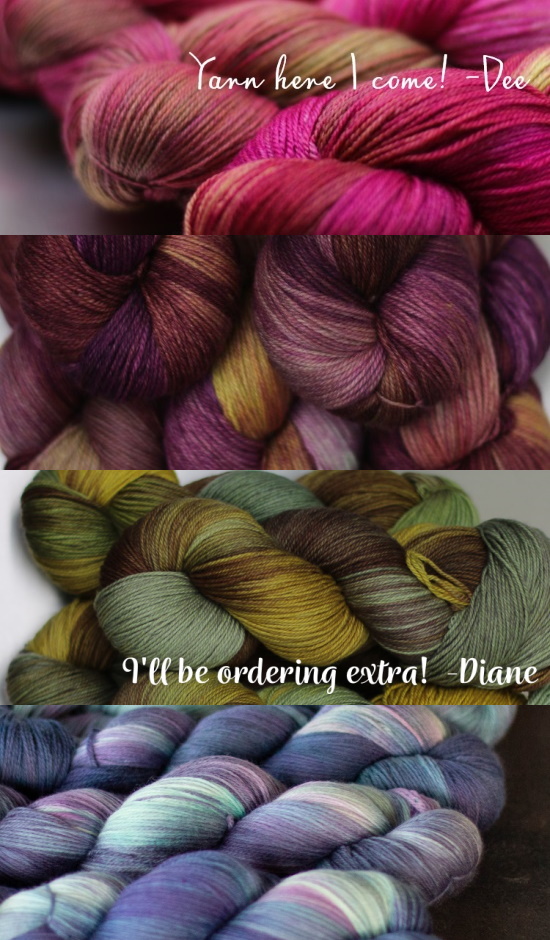 Want to be the first to hear when it opens? Click here and get your name on the waiting list!
---
Ok, I've got a ton to do to get ready for Homespun this weekend, so I'd better get my day started.  I hope you've got a colourful and yarny day ahead of you and, until next time, all my best!