Planning our Mini-Skeins Colourways
A few weeks ago, my assistant Jade and I had a meeting to go over the dyeing plan for the next few months of the Mini-Skein Club.
It was a lovely Spring day — probably the first that was really warm enough to be outdoors, so we met on the porch, in the dappled light coming through the newly sprouted blossoms of the apple tree.
Photo by Kat von Wood
We sat with cups of tea and I spread a huge cloth so we could lay all the Mini-Skeins out and get a good look at the colourways that have come before. We're both very much visual thinkers and can't possibly plan any new colourways without piles of yarn around us — least of all the Ombre&Gradient Mini-Skeins!
But as we started discussing the upcoming colour flow, I was taken aback by how beautiful the yarn looked in the fresh Spring light. "Let me go get my camera!" I said.
And so our dyeing meeting turned into an impromptu photoshoot, right there on the porch, in the soft breeze and gentle birdsong.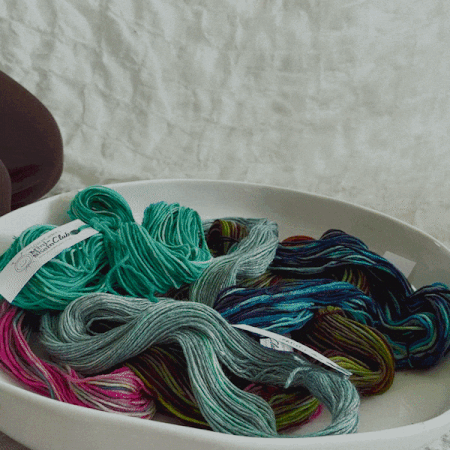 Share Your Thoughts on Mini-Skeins
One of the things that Jade and I were discussing — as we planned our dyeing and took the photos and drank our tea — is the way that Mini-Skeins can sometimes seem a little intimidating to work with.
The truth is, it's really just a matter of laying them out to find the right colour flow for you, and then picking a great stitch and casting on. But I know that can seem tricky at first, so we we've been thinking of ways we can help. And if you have a minute, please click here to share your challenges (and successes!) with Mini-Skeins.
(A quick thought: if you're a real SpaceCadet fan, you may have spotted that the skeins being dropped into the bowl above aren't our Ombre&Gradient skeins. But my gosh, the Multi Mix Minis were just so gorgeous in the spring light that we couldn't help but photo them too!
The thing is, the Multi Mix isn't nearly as popular as the Ombre&Gradient Mix but, honestly, I think folks are crazy not to go for them — they're beautifully complex and incredibly intriguing. I have so much love for the Multi Minis! 💕)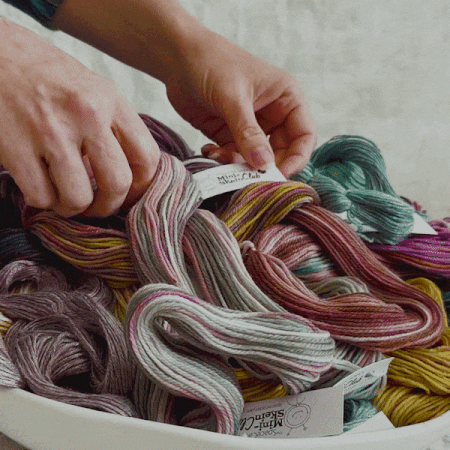 ---

The biggest news of the past week the surprise announcement by Stitches XRX that they have ceased business operations and are entering bankruptcy. As the organiser of some of the biggest yarn shows in the country — including Stitches West, Stitches SoCal, Stitches Midwest, and the Stitches at Home virtual shows — the news has hit hard for knitters, crocheters, and especially their vendors, many of whom are currently trying to recoup their booth fees for now-cancelled shows. You can read Stitches XRX's official statement here and find conversations around the news on Ravelry here and Reddit here.
And then a few days later, publisher Annie's announced the shuttering of Crochet! magazine. You can read the announcement here. (The take away? Oh my stars, these are pretty uncertain times for everyone in the yarn industry and I know your favourite designers and dyers really appreciate your continued support as we all navigate all these changes.)
If you need something soothing after reading the sad news above then this is just the ticket: artist Matt Taylor has created three knitting videos that are utterly mesmerizing. I could watch them for hours! You have to check them out — click here, here, and then here. My favourite is the second one… Which is yours?
My husband came home the other day and said, "Hey, did you hear that piece on NPR about the weaving-thing at Maryland Sheep and Wool?" I'll give him credit for perfectly nailing the name of the show and let slide that he called the Sheep to Shawl competition a weaving-thing…! And then I'll do a happy dance that a sheep to shawl event made it onto a national programme like NPR's Consider This. Click here to read or hear the story.