Sometimes, good things rise up out of bad.  Sometimes, sad events spur us onto something beyond the ordinary.  And when that happens, it is a wonderful thing to see.  Heartwarming.  Hope-restoring.   The knitting community did exactly that last week.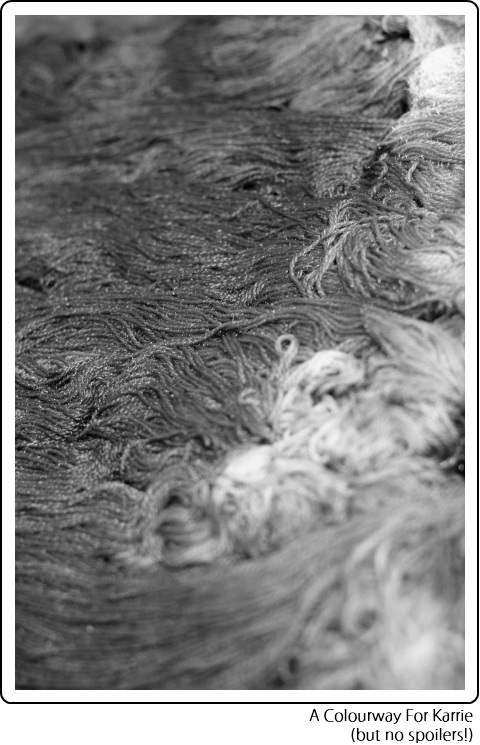 When my friend and colleague Karrie Steinmetz of the KnitPurlGurl podcast passed away suddenly on Nov 26, her husband asked me to create a colourway in her honour.  I knew that the loss of a wife and mother, so suddenly and unexpectedly, would send any family reeling in practical ways as well as emotional, so I decided to use this colourway as a way for the knitting and crochet community to help Karrie's family through this time.  I decided to dye her yarn in Aurora and called it "A Colourway for Karrie", and offered it for pre-orders with 50% of the sales price going to Karrie's family.  Not know what sort a demand there might be, I limited it to an initial run of 24 skeins.
They sold out within 90 minutes.  And I suddenly began getting tons of emails and Rav messages asking for more.  So I ran over to the studio to see if I had any more Aurora in stock…  10 skeins.  I put them up and they sold out almost immediately.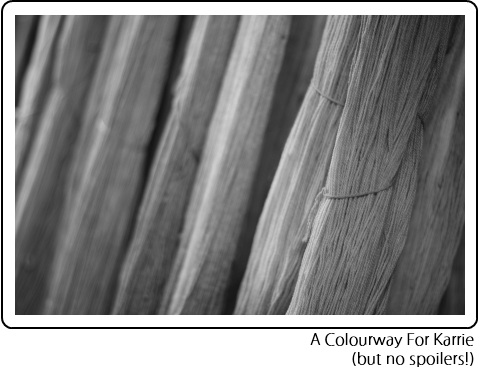 And that was it — that was all the yarn I had.  But the emails and messages kept coming — some offering straight donations –and I realised, by limiting the run, I was also limiting how much we could raise for Karrie's family.  So I opened it up for a second run to be delivered somewhere in January and, this time, I put no limit on the number of orders before the deadline.
The response was phenomenal.  Phenomenal.  And as the orders came flying in and the responses were being posted on Ravelry, I realised what you all are made of.  You are made of compassion, of kindness, and of generosity.  You are made of love for a fellow knitter and crocheter, and of genuine concern for her husband and children.  I watched the orders coming in and I was blown away.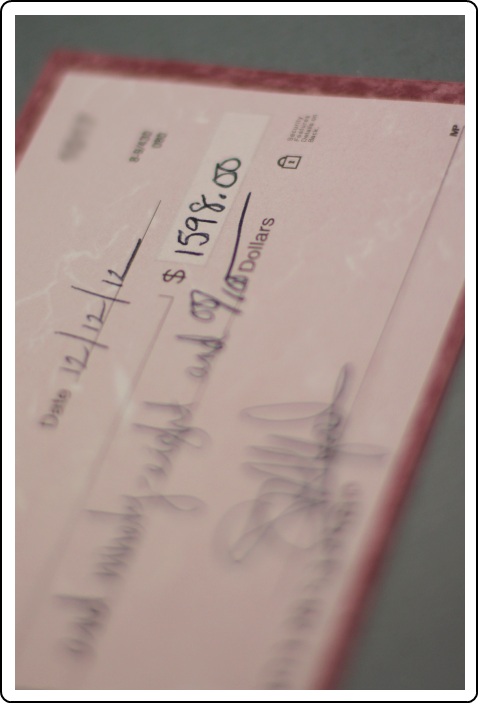 Ninety-four skeins sold.  One thousand, five hundred, and ninety-eight dollars raised.  I am deeply thrilled to write this cheque for Karrie's family.  And humbled because, though it is my name at the bottom, it is all of you who made this happen.  Thank you all so very much.
---
Yarn Update
The first run is all dyed up and currently drying.  If you nabbed one of those 34 skeins, expect your yarn to go in the post sometime next week!  And for those of you who got in on the second run, your yarn is being spun at the moment and is still looking good for a mid-January delivery.
---
The SpaceMonster Club Closes in Three Days!
And, hey, don't  forget that there are only three days left to grab a subscription to the SpaceCadet's newest yarn club, the SpaceMonster Mega Yarn Club!  If you love the fabulous smooshiness of big yarns (not to mention the quick knits they produce!), then this is the club for you.  It's all worsted, chunky, and bulky — and exclusive colourways designed to bring out the best in them.  But subscriptions close on Sun Dec 16, so — quick! — click here to find out more.