We've been super busy lately developing some fab new colourways, but I wanted to quickly pull myself away from the dyepots to give you the news that I know a ton of you have been waiting for…
Last week I announced that Mel of Singlehanded Knits had generously given me seven copies of her gorgeous new pattern, Hana Hou (perfect for SpaceCadet Lyra!) to give away to seven lucky readers.  So, without further ado, the winners aaaaare…
Andrea  (SeCoWi13 on Ravelry)
Dianne (cdccj on Ravelry)
Grace (tully on Ravelry)
Laura (tastefldiversns on Ravelry)
Dawn (Knithemiptera on Ravlery)
Dvora (dvorag on Ravelry)
Robin (pookiemonk on Ravelry)
Congratulations!  Mel will be sending each of you your pattern shortly.
So You Didn't Win? No Worries!
Even if your name's not up on there in that list, I've still got a couple of treats for you!  But hurry, they're for today only.
First, if you click here to join the SingleHanded Knits mailing list today, and Mel will give you $2 off your own copy of Hana Hou.  Which is pretty fabulous, and gets you halfway to getting cast on!
And then, to get you the rest of the way to casting on, I'm giving you a coupon code for $5 off SpaceCadet Lyra — the perfect yarn for Hana Hou — which means your Hana Hou pattern is essentially free when you make it in SpaceCadet yarn!
We've got a ton of Lyra tied up and ready to dye, but you have to hurry — this is a spur-of-the-moment thing that I just thought of, so the code is good on orders placed today only.  To get your $5 off, just click here to choose your colours, and enter the code LyraForHanaHou during check out, and the rest of your Hana Hou pattern will be on me!
New Colourways
And you know I said we'd been hard at work in the studio developing new colourways?  It's a really long process — first there's the original colour idea, then the development of the recipe, then dyeing up test batches and checking quality, the photography and image editing, and then finally getting the new colouways up on the website.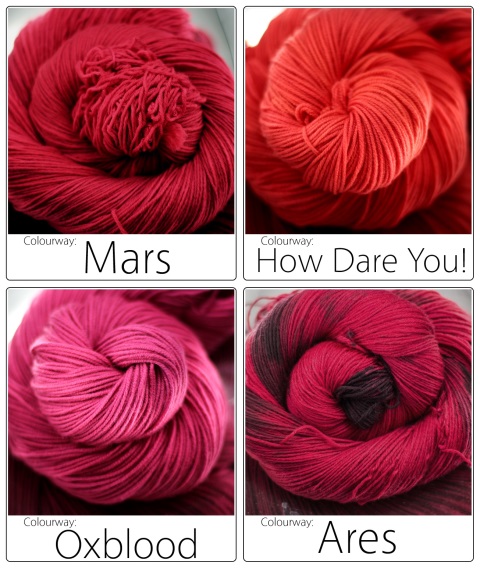 But our new colours are slowly making their way into the shop, one by one — and I'll be working on putting a few more of them in later this week and over the weekend.  But for now, have a look for fabulous four new shades in Lyra.  And, hey, leave a comment and let me know which is your favourite — I'd love to know!
---
The Yarn Alliance Opens in March
Are you signed up for the Yarn Alliance mailing list?  Available to new subscribers only twice a year, the InterStellar Yarn Alliance — the SpaceCadet's premiere yarn club, known for fabulous fingering yarns, gorgeous colourways, and awesome gifts — will be opening again in March for two weeks only.  If you want to be the first to know when it does, click here and get on the Yarn Alliance mailing list!