We are crazy busy at the moment prepping club parcels and getting ready for our upcoming shows (Pittsburgh Knit & Crochet 14-16 March; HomeSpun Yarn Party 23 March; are you coming?), but I just wanted to quickly share this with you…
The Multicolour Mix
These are February's Mini-Skein Club parcels and I think they may be some of favourites ever.  First, let me show you the Multicolour Mix.  Now, when I dyed it, I was just having fun — playing with the kind of wonderfully intense colours that I crave in the depths of winter.   Bright and cheerful, I think they perfectly fit the bill.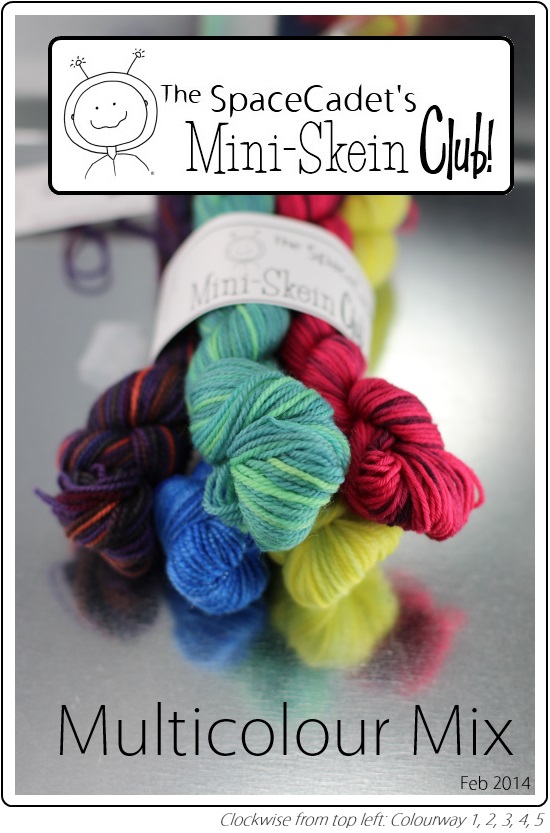 But when Amy saw them, all twisted and gathered into bundles, she picked one up and held it up, so I was looking at it end-on.  "You've dyed the Olympic Rings!" she declared.  And she was right!  Well, sort of.  But there we were, right in the middle of the Olympic Games, and I'd unconsciously dyed a red, a green, a yellow, a blue, and…  well, it's actually a deep purplish colour, but it almost looks black.  The Olympic Rings, in yarn form.
Maybe I'll make it a reoccurring theme, every two years or so.  …But, erm,  in a completely not-copyright-breaching kind of way.  It's just, y'know, yarn.
The Ombre & Gradient Mix
Now let me show you the Mini-Skein Club's Ombre & Gradient Mix, and I'm really excited about this one.  This is a gradient set, meaning that the colours don't fade as in an ombre set, but instead morph gently from one colour to the next across the set.   Do you see how it moves from a lavendar into a gray and into a lemon colour?  Imagine that gentle colour shift across the rows of your project — so lovely!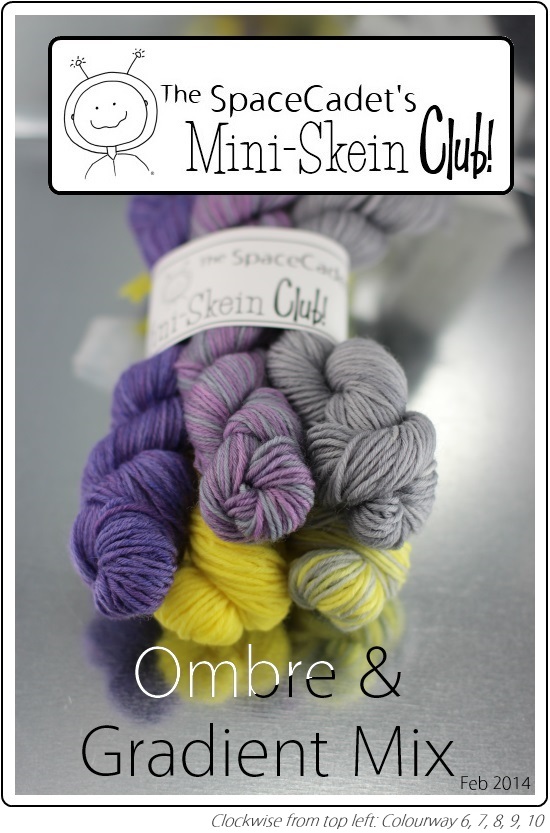 This is the Mini-Skein version of a colourway I'd asked you to help me name a few weeks ago.  Do you remember that?  We had tons of fabulous suggestions in emails, in blog comments, on Facebook…  And my favourite  came via Twitter from Amy at Ross Farm Fibers, who suggested a play on the saying, "When life gives you lemons, make lemonade."  I really loved that idea, and the colourway is called…  When Life Gives You Lavender.
Tell Me Your Favourite!
Now, I would love to hear which of these Mini-Skein colourways is your favourite.  Is there one that you think we should offer as a Limited Edition?  Or maybe as a permanent addition to our shop colourways?  Let me know!  Just  click here to vote in the poll and join the conversation on Ravelry (use the numbers at the bottom of each picture).  I'd love to know what you think!
---
 Join the Yarn Alliance! 1-16 March
Don't forget the Yarn Alliance — the SpaceCadet's fabulous yarn club — is open for subscriptions right now and closes on 16 March.  Spaces have been going fast — click here to learn more and join today!