Ok, it's not actually Monday but, at least here in the US, it feels like a Monday, so let's brighten the morning up with some great Mini-Skein ideas!
Y'know, as I was scrolling through Mini-Skein ideas this week for the SpaceCadet's Mini-Skein Ideas board on Pinterest, the thing that struck me was how versatile they actually are.  I mean, when the Mini-Skein craze started, it was all about hexipuffs — tiny little six-sided pillows that give instant gratification and are eventually all put together into the stunning Beekeeper's Quilt.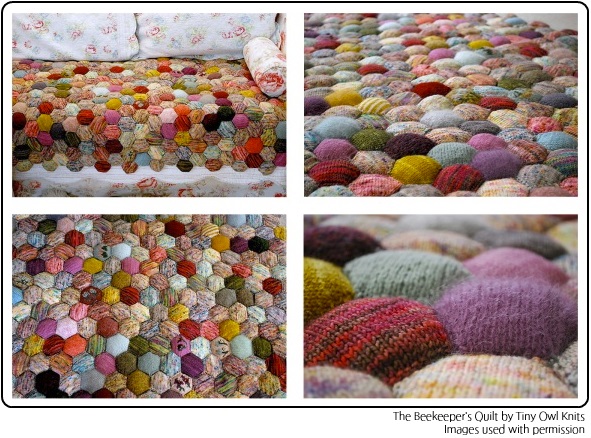 And those little puffs get us thinking about using Mini-Skeins for mini-sized projects.  Two of my favourites that I spotted on Pinterest this week are the Itty Bitty Stripes hat, knit by deliknits from a pattern by Susan B. Anderson, and the Luxury Holiday Garland, knit by harleagh from a pattern by  Kristen Ashbaugh-Helmreich.  Both of patterns use small amounts of yarn highlight colour in a whimsical (and delightful way).  Who can look at that sweet little hat and not smile?  Or resist that garland of happy stars when holiday-time rolls round?  Yes, Mini-Skeins really lend themselves to mini-projects like these.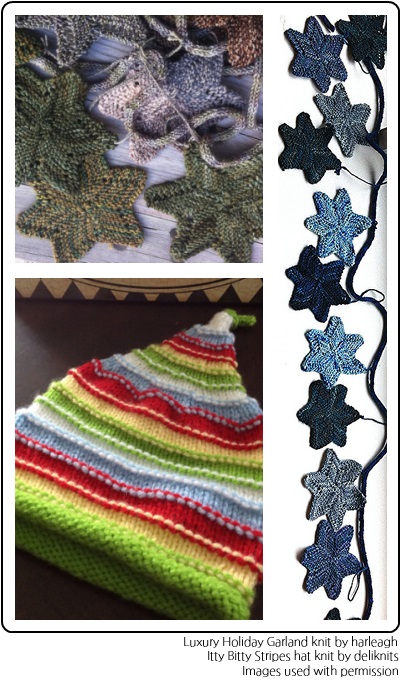 But I think what is really cool is the way people are using Mini-Skeins now to add tiny pops of colour to full-sized projects.  More and more on Pinterest, I see designs that use yarn as if it were a crayon to add colour here there and everywhere…   Sweaters or cardigans with a gorgeous bright edging…  Or maybe a gently contrasting collar or cuffs.  Or… or… something really innovative and exciting — like the Stripes Ahoy! sweater, knit by machamaya and designed by Asa Tricosa.  Isn't it fantastic?!?  I love how she's used colour in a unexpected way to turn a simple design into something really eye-catching.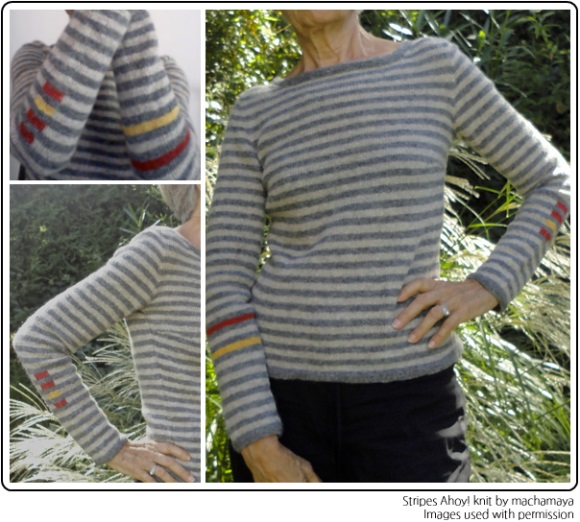 And finally, I want to share Moore, a design by one of my favourite designers, Ruth Garcia-Alcantud of Rock & Purl.  It's eye-catching of course because of its unusual off-center shaping, and side-to-side construction.  But imagine if you took those stripes and, instead of doing the pattern in just two colours, you used Mini-Skeins to add a whole spectrum of colour?  It'd be stunning, right?  No need to imagine — just click here and see how it would look!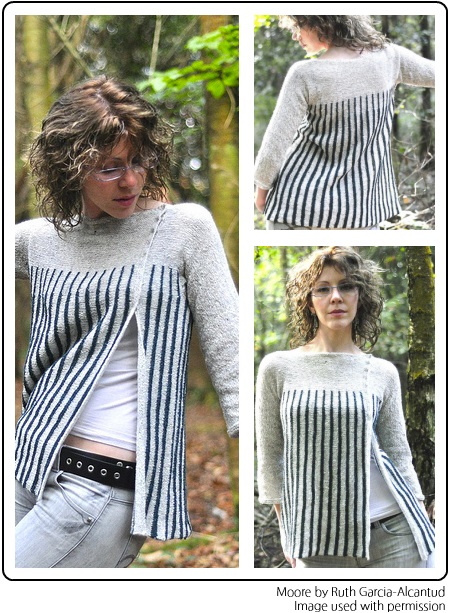 You see what I mean about how versatile Mini-Skeins can be?  The more I go through ideas on Pinterest, the less I think of them as yarn and more as yarn-crayons, to add colour where-ever it's going to add impact to a project.  What more of that?  Follow the SpaceCadet's Mini-Skein Ideas board on Pinterest and get inspired to colour your world too!