Counting from one to five shouldn't be tough, but this month I totally stumped my assistants Jade and Amy, and had them counting…  and then recounting…  and then starting over again.
They were bundling the June Mini-Skeins and, for the Ombre & Gradient Mix, the rule usually is that the most intense skein is number one, working to the gentlest skein at number five.  Easy, right?  But this month, I did something a little different.
But first, let me show you the Multicolour Mix.  June always feels like such a bright, clear month — no snow, bright skies, blazing sun — that it felt right to dye clean, clear, happy colourways.  Don't they make you smile?

Now, which of these do you think I should do as Limited Editions?  The pink and green?  That happy yellow with pops of peach and green? Leave a comment and tell me which ones are calling your name!
But it was the Mini-Skein Club Ombre & Gradient Mix that was giving the SpaceCadet assistants pause…   You see, most months, the Mini-Skeins have a definite start and a definite end, and Amy and Jade know exactly where to start.
But this month, I did something a bit different.  I dyed five skeins that formed a complete circle, and all blended into each other.  So, instead of starting a project at Skein 1 and working through to Skein 5, you could start a project anywhere in the set, and the skeins will still all work together.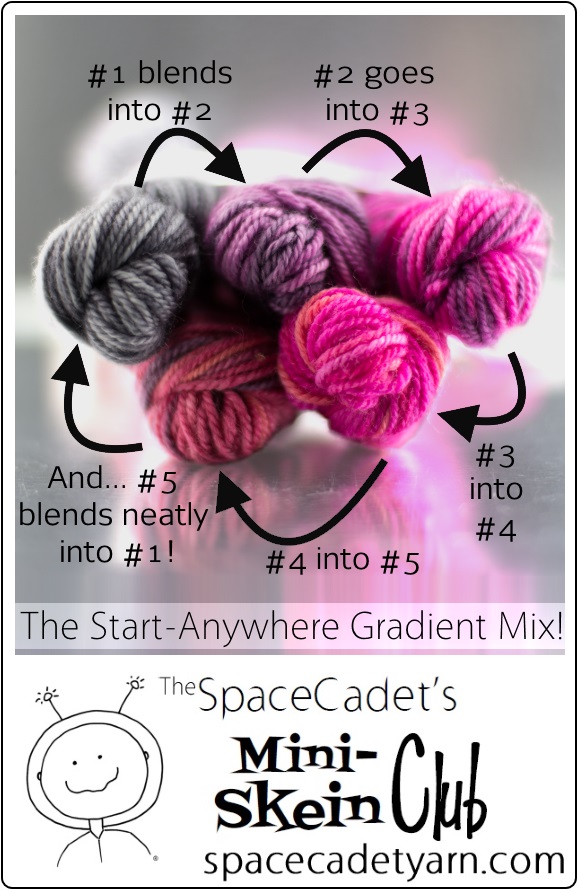 Fancy that gorgeous Skein 3?  Start there!  It will blend into Skein 4, which blends into Skein 5, which blends into…  and here's the trick… Skein 5 blends neatly back into Skein 1.  So you can start anywhere and still work your way right through the full bundle, creating a beautiful gradient effect no matter where you choose to begin.
Such a simple change, and yet it has a really big impact on your project.  And I am so chuffed with the result!  Don't you just love it?  So tell me, which skein would you start with?

Wanna get Mini-Skein bundles delivered straight to your door?  Click here to find out more!