The weather changed suddenly this week.  Last week it was hot (and at SVFF the weekend before, it was roasting!) but this week has brought a chill wind that says it's time to finally say goodbye to the last of summer.  And the thing is, I could be really sad about that except that a change in the weather always brings new inspiration…  I suddenly want to dye new colours, cast on new projects.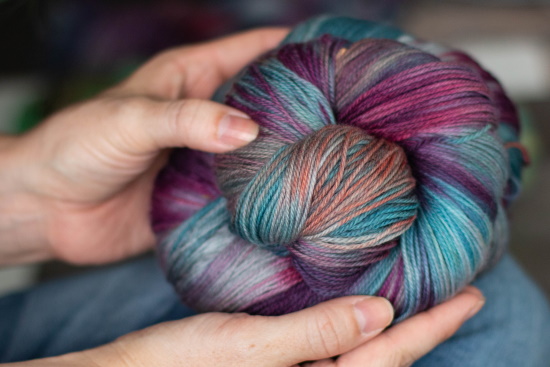 a little something that this autumn weather has inspired… shhhhh, I'll tell you more next week…
And it happens year round.  In the autumn, I'm ready to cast on hats and cowls and sweaters to keep everyone warm.  In January, it's something indulgent for me to celebrate Selfish Knitting Month.  In the spring, I want something light and airy to take me through to summer. And then it's autumn and we're back to warm and cosy again.
And so even though I might be sad to see one season come to an end, knitting always has me eager to cast on the next season.  It's a nice silver lining to the reality that time marches relentlessly on, and I'm so glad of it.  As the weather changes and autumn arrives, are you feeling the say way too?
And you know what the only trouble is…?  Making sure I finish what's on my needles before the new season arrives!
---

Big news in the knitting, crochet, and needlepoint industry: TNNA announced last week that they are cancelling their winter tradeshow in favour of holding a pavilion on the show floor of Creativation, the Association of Creative Industries' trade show.  This decision marks a major change for TNNA, moving the winter focus toward a larger creative industry show beyond the association's traditional crafts while placing more emphasis on TNNA's summer show.  You can read more coverage here, and the announcement from TNNA (including a link to a FAQ sheet about the change) here.
You make your own Halloween costumes every year, don't you?  Well, whether you do or not, this woman's incredible crocheted costumes are a full level up (and then some) from anything I've seen before.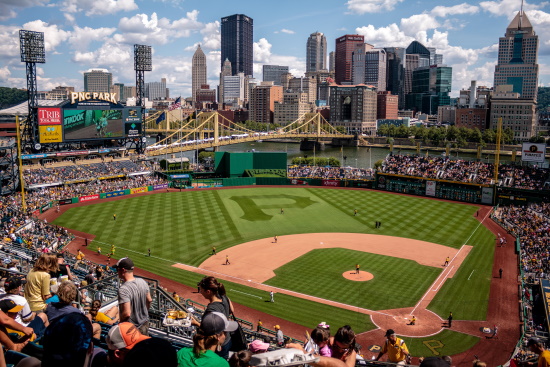 The New York Times has recently discovered(!) that knitters like to knit at baseball games.  And that may be laughably obvious to you and me, I'm still really glad to see it getting such high level coverage.
Maybe you knit or crochet as a creative outlet.  Maybe it's to get a perfect fit.  Or maybe… maybe it's because there's one very specific spot on the face of the Earth where you want to knit something incredible that makes you blend in and completely disappear.  If that's the case, you rock on — I won't judge!
---

Shenandoah Valley Flickering Light Kits
available next week!
We had an amazing time at the Shenandoah Valley Fiber Festival the other week and an incredible response to the gorgeous autumnal colourway we dyed for our popular Flickering Light kits.  And as promised, we're making them available to you too!
Each kit contains:
the pattern (a $7 value)
a full skein of our cashmere-rich Aurora in the main colour (in the Shenandoah Valley colourway, it's this beautiful russet)
and a set of five 20g mini-skeins in amazing, one-of-a-kind colourways that make every kit unique and bring this gorgeous design to life
Now, we're busy counting skeins and putting them together as kits, so we can get them in the shop (most likely on Wednesday of next week).  There's a very limited number available but, if you're on the kit waiting list, I'll make sure you get first dibs! (click here to get your name on it)
September's Mini-Skein Colours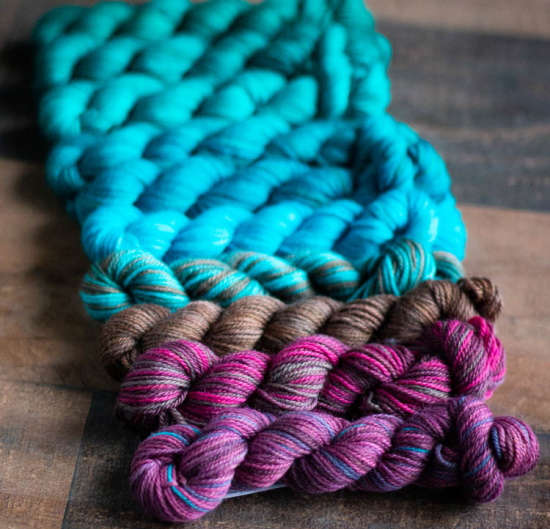 August's (at back) and September's (at front) Minis from the SpaceCadet's Mini-Skein Club⁠
Oh my stars, I'm soooo excited about the change in colour-direction that the Mini-Skein Club is taking!  We've been calling 2019's colours "The Year of Unexpected Neutrals" and I love how those summer blues transitioned through a rich brown and out into a beautiful deep marroon.  And when you see it knit into Jade's Northeasterly, it's just gorgeous!⁠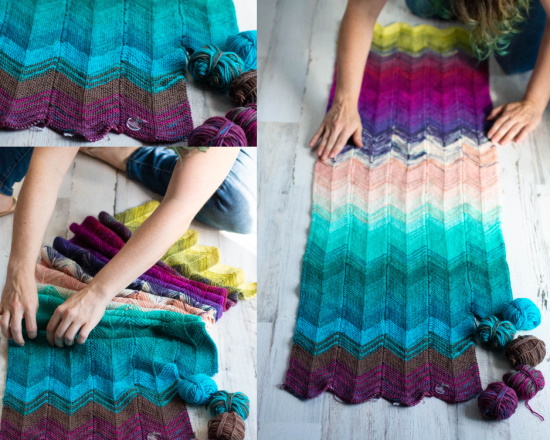 Members of our Mini-Skein Club get a monthly bundle of gorgeous gradient minis that flow from one month to the next and to the next… to form a glorious Never-Ending Gradient.  Use them individually or create an epic project…  either way, it's an awesome colour adventure!

---

Origami by Lone Kjeldsen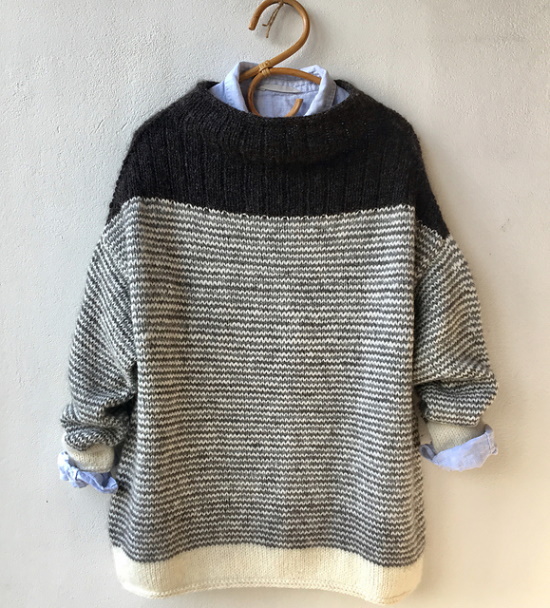 Winter is coming and nothing makes me look forward to those cold days like a really snuggly warm sweater.  And Lone Kjeldsen's beautiful design has the advantage of being both deliciously simple (and unisex!) and wonderfully versitile.  The sample is knit in classic neutrals but see those lovely stripes across the body?  They're perfect for gathering up all your leftover worsted yarns and knitting them into a gorgeous, colourful fade.  (Oh, and I really love the shoulder shaping — click through to see a detail shot).
Fascination Wrap and Cowl by Xandy Peters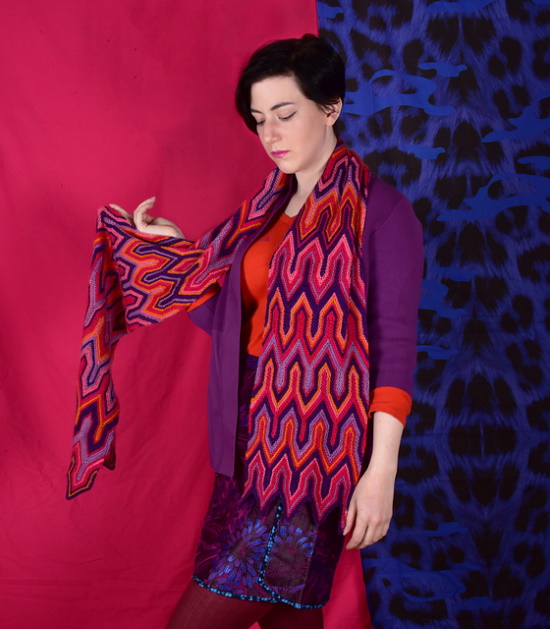 Xandy Peter's Fox Paws pattern is getting all the attention but, if I'm honest, I think I like this gorgeous design even more.  Incorporating her signature stacked stitches with mid-century modern stying, it creates a shawl that's at once both vintage and so very now. You'll need to be absolutely fearless with your colour choices* but the results will be 100% worth it!
*and if you're not feeling all that fearless, email us with your favourite colour — we're happy to help build a colour collection from there!
Ginkgo by Nomad Stitches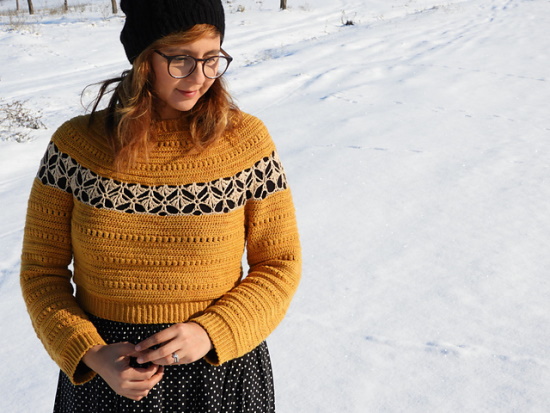 A gorgeous crochet option for a yoked sweater, I love this pattern's texture …and that the visual interest is a simple panel of openwork stitches that let the colour of your t-shirt (or, well, of you) come into play!  Designed in sport weight to work up quickly and feel cozy, the pattern is sized all the way from XS to 4XL, so there's a fit for everyone.
images © the respective designers, used with permission
---
This newsletter has been brought to you by the colourway Time Traveller, named for the iconic landscape of Salisbury Plain, and the SpaceCadet Pinterest board "Knitting Inspiration", where (nearly) every pin links to the pattern.  Go find something gorgeous to make!
Ok, it's time I got down to the studio and got to work.  Today we're checking out some colourways that we hung up to dry (they always look soooo different once they're dry!) and, if the light is right, I might grab some photos as well.  I hope your day is just as colourful and, until next time, all my best!