I'm pretty excited about today!  Let me tell you why…  For a while now, I've felt like we needed to develop more blues.  I mean, it's kind of crazy that we don't have a better palette of blues: it's one of my favourite colours and look beautiful with so many other hues.  So a couple of months ago, we developed a series of blues that I just love, six gorgeous new shades of blue that work together and with the lots of other SpaceCadet colours.  I couldn't wait to share them with you!
The plan was to release them in January, a palette of blues during that icy-cold month seemed perfect.  All I had to do was take each colourway's "glamour" shot to go on the yarn page, so I set up the lights, picked up my camera, and grabbed the photos.
But when I looked at the images a few days later on my computer, they looked off.  There was a deep, electric turquoise that looked… weirdly baby blue.  And the navy was so pale it almost looked… well, nothing like navy.  I made an attempt to fix them in Lightroom… and then in Photoshop…  but there was simply no way.
Now, probably the most important thing I do is make sure that the yarn colours on our website are as true to life as I can possibly make them, so I decided to ditch those images and start over.  I set everything up again, double-checked all the settings on my camera and adjusted the lights, and began snapping photos.  But when I imported them into my computer, the results were just the same.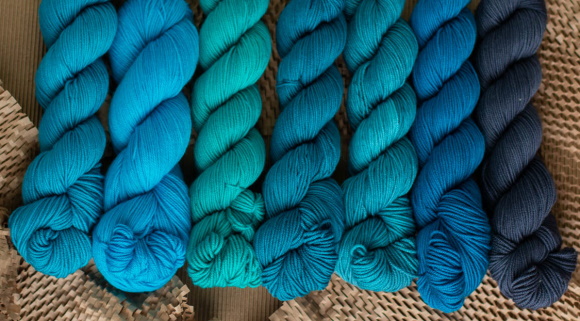 this is not what these blues look like!
I tried again, this time moving the whole set up from room to room, to try to get differing light effects: sunshine vs shade, studio lights vs natural, direct vs diffused.  I even set them on different backgrounds in case my original background was messing with the camera's white balance.  Still, nothing worked.  And by now, a January release was looking a lot more like mid-February…  Well, I told myself, that will be fine.  February is still icy-cold.
But when the fourth photoshoot produced nothing better (and by now I was trying out every camera I could get my hands on, including my phone which I normally wouldn't dream of using for a image like this), I gave up.  Never once in the history of SpaceCadet have I used a professional photographer (I mean, I'm a maker — I really believe in learning new things and doing stuff myself) but I could tell this was way beyond my skills.  I'd hand the yarn over to a professional, pay them for their time and skill, and get six colour-accurate photos back at the end.  I kind of hated giving up like that, but getting the colour right was worth it.
Now, here's the thing… When I emailed the photographer and explained what had been happening, I asked him for pricing.  And when he emailed back, he said that he thought, since I am also a small business owner, it would probably help me the most if, in addition to taking the photos and colour-correcting the images, he also walked me through what he was doing and gave me pointers on how to improve my own photography for the future.
this is also nothing like what these blues look like!
What?!?  This is how he makes his living and there's no reason for him to help me to do what he does so that I don't need his services in the future.  But he is!  And that's kind of blown me away and warmed my heart all at the same time.
So that's what I've got planned for today, and I am so excited!  For the colour-accurate photos, for some (hopefully) improved photography skills, and to be able to release these beautiful blues at last.  And if you are excited about them too…   watch this space in the next few weeks!
But before I get going, I've got a bunch of fun fiber news to start the day off right.  So go grab a cup of tea and let's jump in!
---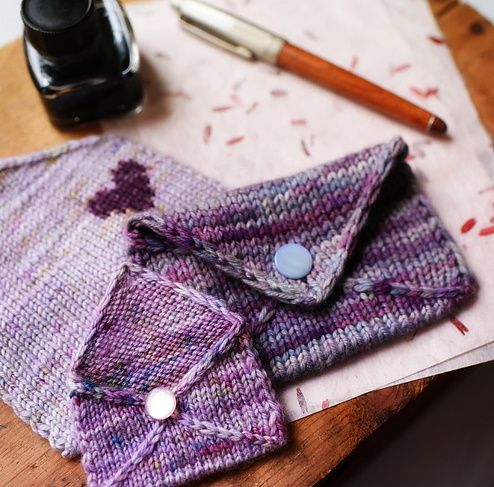 image ©Hunter Hammersen, used with permission
More interesting behind-the-scenes stuff in the life and times of being a knitting pattern designer: Hunter Hammersen reflected on some incredibly harsh feedback she received over the price of her new pattern for a little knitted envelope.  In this age of easy direct communcation, it's an issue faced by almost every designer I've ever worked with (and, to be honest, I know many who have dropped out of the business for this exact reason), so the whole thread makes for interesting reading.  (Side note: I'm delighted to report that SpaceCadet yarn made the cover photo on the pattern — it's the one that's buttoned shut)
Have you always wanted a craft room all of your own?  Well, when you get it (when, not if), you'll want to check out this awesome guide to hacking Ikea furniture to make the most of your craft space. I think the cutting table made from Lack end tables is my favourite!
The whole SpaceCadet crew has been on the hunt for awesome pattern ideas for the folks joining us in making an epic Mini-Skein Project in 2020 (want to join us? click here) and one thing that jumped out at me this week is the idea of using Latvian braids to add mini-skein colour to any project.  It's not something I've tried before, but this colourful tutorial (and this one and this one) have really got me intrigued.  Have you tried Latvian braids before?  What do think of them?
I am absolutely blown away by these crocheted dog patterns.  It took me quite a while realise they really were crocheted (and also, frankly, it took me a moment to realise they weren't actually real dogs!).  I'm not sure I've ever really believed there was a good use for eyelash yarn, but this is one for certain!
---

Upcoming Shows
Trunk Show at A Good Yarn in Sarasota FL — this weekend!

If you live in the central Florida area and would love to smoosh SpaceCadet yarn in person, get yourself to A Good Yarn in Sarasota!  We'll be sending a ton of beautiful colourways, including full sets ready to make the stunning Rey's Cardigan (below).  Don't miss it!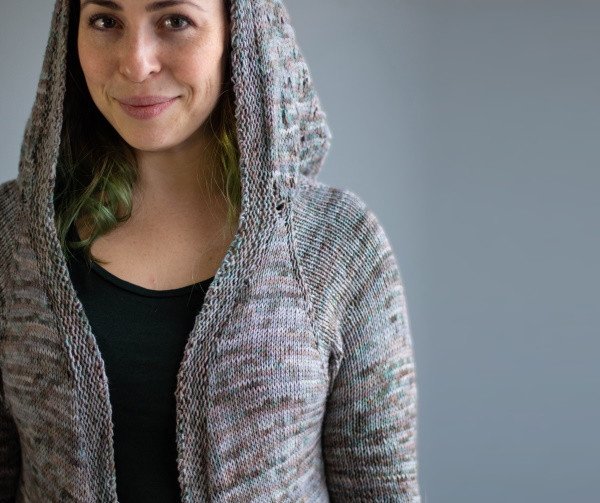 The Pittsburgh Creative Arts Festival in Pittsburgh (Greentree) PA — March 20, 21, & 22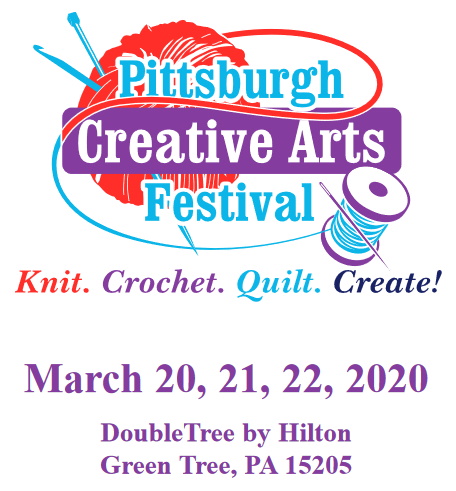 Homespun Yarn Party in Savage MD — March 22
---

Miari by Marie Amelie Designs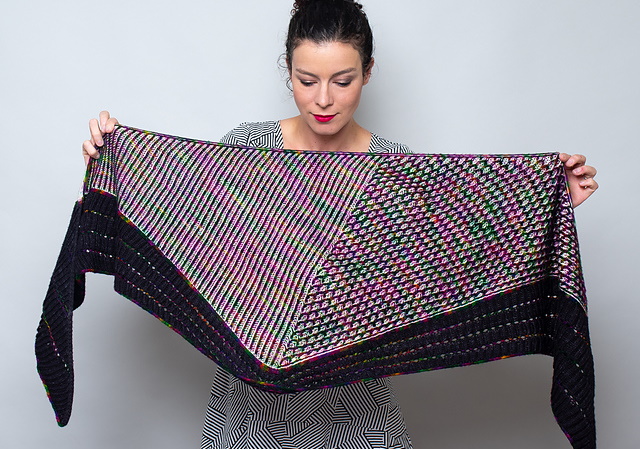 There's something really eye-catching about this take on brioche knitting — just look at the way the texture pops and the colour glows!  The stitchwork is designed to incorporate three colours within two textures in a slightly off-kilter triangle shape that lends movement and interest to the whole design.
The Snuggle is Real by Maxim Cyr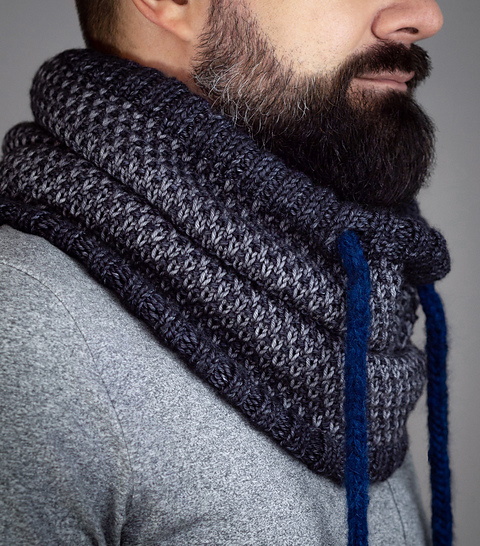 I'm a sucker for a good pun so, quite frankly, this design had me at the name alone.  But beyond that, I can't think of any better time to cast on a snuggly cowl like this than these cold days of winter.  Add in the fact that it's lined and has drawstrings to make it even cosier, and it's an absolute winner!
Valentino Wrap by Toni Lipsey
If you've ever crocheted a granny square/stripes, you know how addicting they are (how addicting? soooooo addicting) and this gorgeous design takes the granny in a fun and modern direction that I absolutely love!  Designed in DK, it's an awesome option for members of the Gradient Explorers or an epic Mini-Skein project (SpaceCadet Minis are fingering, but the weight will be about right if you hold them double and the colour will look all heathered and lovely).
images © the respective designers, used with permission
---
Ok, my tea is all gone and it's time for me to head over to the photographer's.  Wish me luck!  I hope you have a wonderful day planned as well, with lots of colour and a little fibery goodness.  And, until next time, all my best!