Y'know, sometimes I live up to the SpaceCadet moniker just a little too well (…I say "sometimes" mostly because it makes me feel better, but I suspect there are a number of people reading this who are thinking, "Really, Steph? Just sometimes?").
But I digress. Sometimes I live up to the SpaceCadet name just a bit too much, and this week would be one of those times*.  Because early this week I sent out a pretty big announcement to the members of the Mini-Skein Club.  And then I happily went about my week — dyeing, twisting, packing for shows — and I totally forgot that I should probably tell the rest of you about it.
So let me put that to rights right now.  The big news in the Mini-Skein Club is….
Ombré & Gradient Mini-Skeins!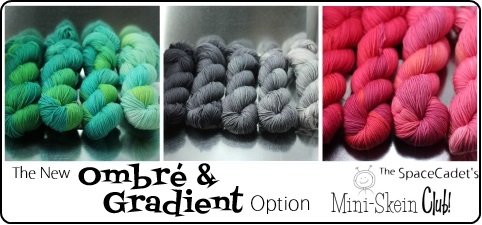 I'm sure you've seen the ombré and gradient kits that have been flying out of the shop lately.  I absolutely adore dyeing ombré kits — not only are the results gorgeous but, as a dyer, the process is endlessly fascinating to me.  But it was when I was looking through Mini-Skein project ideas that I realised how perfect the two would be together.  Projects such as Mercedes Tarasovich-Clark's Sweet Hexigon Cowl (below left) and Emily Ross's Burano (below right) are just begging to be made in ombré and gradient yarns.
And really, so many Mini-Skein patterns would not just work beautifully in ombré and gradient colours but, in many cases, would work so much better, whether the bundles were used individually or as several months' worth combined together.
The more I thought about it, the more I realised that I would be much better serving the members of the Mini-Skein Club (particularly those who prefer a gentle colour mix) if I offered an Ombré & Gradient option.  I put a few feelers out on Twitter and Facebook, and the response was overwhelming: everybody said yes the ombré mix!
So, from the September parcels onwards**, the Mini-Skein Club is going to change.
The Gentle Mix will become the Ombré & Gradient Mix — five Mini-Skeins that morph gently from dark into light or from hue to hue.
And the Wild Mix will become a Multicolour Mix — essentially very similar to what it is now: an assortment of variegated and semi-solid yarns that work together and yet still provide exciting contrasts.
Isn't this exciting?!?  I think it's going to be great fun for all the club members and I can't wait to see the projects they come up with.  I am already searching Ravelry for patterns that will work beautifully with the two new mixes (have you seen something that would be perfect? Do tell!).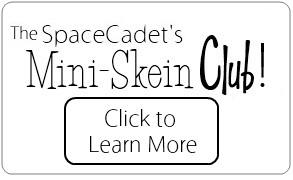 And, maybe most of all, I'm kinda really relieved that I finally remember to tell you guys…
*sigh*   SpaceCadet indeed.
---
*Really, Steph? Just one…?
** Is this a permanent change or temporary?  I'm not sure, but we'll try it for a while and then change it later if that feels right.  The Mini-Skein Club has always been something of an adventure of discovery, so let's just go with it and see!