I have a really special place in my heart for projects made with yarn from the SpaceCadet's Mini-Skein Club.  I think it's because every single month, I develop ten new colourways — some soft and sublime, some screaming and wild — and, after the planning and test runs and dyeing are done, I find myself just itching to see how those gorgeous colours will look in your projects.  The dyeing is just the first chapter and it's almost like I really want to see how the story finishes, y'know?

And as my assistant Jade and I go through patterns on Ravelry to add to our Mini-Skein Ideas Pinterest board, the colours from each bundle are popping into head.  Ooh, this one would be perfect for this month's Gradient skeins!  And Jade is replying with, But wait, wouldn't the Multicolour skeins look amazing in this pattern?
So this month, when I asked Jade to pick her two favourite patterns for October's Mini-Skeins to share with you guys, she jumped at the chance.  This month's Minis are gorgeous — wonderful sea-colours in the Ombre&Gradient mix, and amazing pops of colour in the Multicolour Mix.  Here's what Jade chose for both of them…
 Jade's Mini-Skein Pattern Picks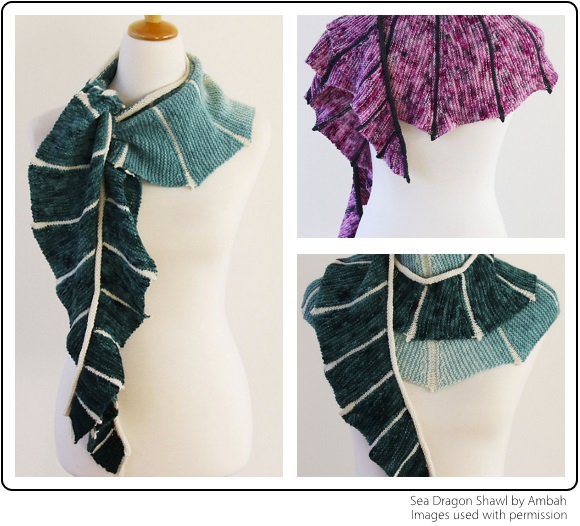 As soon as I saw this month's Gradient Mini-Skein colours, I knew they'd be perfect for this pattern – the blue-gray-greens just scream 'sea monster'! Pair 1 mini-skein bundle (or 2 bundles for the large) and a contrast color to make your very own Sea Dragon. The sea-greens and blues of the Gradient minis would pop against a bright green like Fizz or a glint of gold like Honey, and the pattern would work equally well with bright multis and Dark Skies.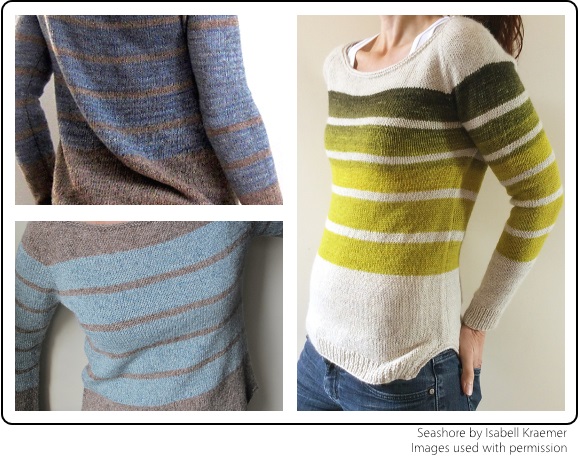 If you're looking for a bigger project, this fingering weight pullover by Isabell Kraemer is a great way to use 2 bundles of Mini Skeins and 2-3 skeins of a contrasting color. It would look stunning with two gradients that flow into each other for the stripes… or for something really exciting, try an ombre effect with the main color as well – maybe choose Dark Skies, Drizzle, and Sliver against some bright minis like the deep purple Gobsmack Ombre from a few months ago or the stunning Autumn Leaves Gradient we dyed in September.
20% off the Sea Dragon Shawl!
And guess what? To make these picks even more exciting, Ambah is offering you  20% off the Sea Dragon Shawl until November 9th!  Download your copy of the pattern from Ravelry and use the code spacecadet to get your discount!

SoCal, Come to the SpaceCadet's Trunk Show!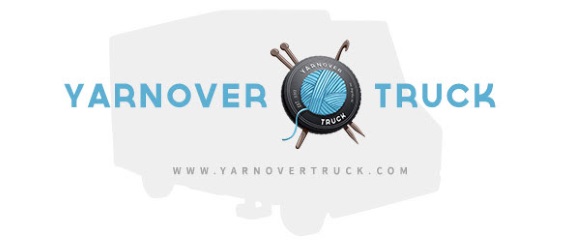 I am so crazy-excited to being doing a SpaceCadet Trunk Show on the YarnOver Truck during the month of November!  We've chosen four yarns — Celeste, Oriana, Maia, and Thebe — that are perfect for SoCal knitting and crocheting, and dyed them in amazing colours.  There are wild brights, sublime semi-solids, warm southwestern spice colours and… a special collection of amazingly gorgeous one-of-a-kind colourways that you may never see again!
Click here to get the YarnOver Truck's schedule and then head over to see the coolest trunk show on wheels!