Driving home the other week from back-to-back trunk shows, I was on an absolute high.  The owner of one of the shops had said to me that she thought that trunk shows were so much fun because her customers really liked making that conection to the dyer.  And as I thought about it, I knew she was right.  We so often think of knitting and crochet as being about projects, being about rows, about yarn and needles and hooks and all that stuff.  But there's one thing that none of that covers, and it's maybe more important than any of it.
It's All About The Connection
So often, what it's really about is connection.  Yes, most days we knit in solitude — but we always make sure we can get away to knit night.  And we upload our WIPs to Ravelry, and check out the projects of others who are making the same pattern or using the same yarn.  And the yarn… yes, the yarn.  There are miles and miles of beautiful, even, predictable commercial yarns to choose from…  but so often we gravitate toward a skein of yarn that has been dyed by hand, by a real person who put as much care into the colours of that skein as we put into every stitch of our projects.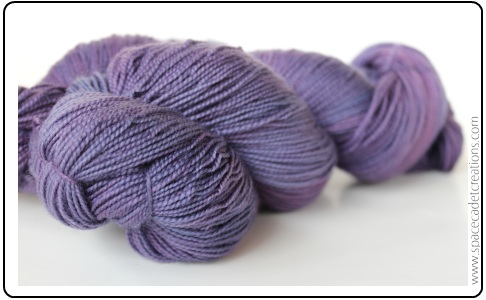 Stella fingering yarn in Plume
And as I drove home, I realised that that connection is just as important to me.  In the same way that you knit or crochet for a someone special — for a friend, for your sister, for a colleague, or even for yourself — when I dye, I'm not thinking of the yarn, I'm thinking of the people who are going to use it.   I can see the projects in my mind, and I know the wonderful fiber-zen that this yarn will carry.  Just as you love knowing your yarn comes from a real person, so I love knowing it will be used by a real person, in a project they will love.  I crave that connection too.
So imagine my excitement this week when I discovered that two of my customers (one new, one long-time) have created their own video-podcasts!  It was such a delight to finally "meet" these lovely, warm, down-to-earth ladies I've been sending my yarns to.  And I began immediately to wish we lived closer, so we could sit down and have a proper natter over a cup of tea and our knitting.
The connection is everything.
---
 The Podcasts
This is Amanda and here's what I love about her podcast, We Are Yarn:  the way she asks for help on the stuff that's stumping her, the lovely things she says about SpaceCadet yarns and her InterStellar Yarn Alliance parcel (at 14:24), her beautiful Tennessee accent, and the cat with the swishy-swishy tail on her couch.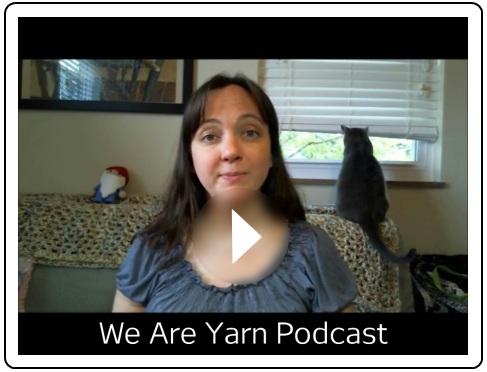 And this is Melissa in her Single-Handed Knits podcast.  I love that I can almost smell the Hawaiian sea breezes blowing through her window, and I love the wonderful things she says about her SpaceCadet Mini-Skein Club parcel (at 13:24).  I love that she actually does knit with one hand, and I love love love her incredibly positive outlook.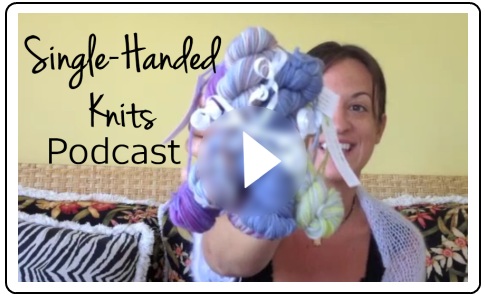 ---
Two More Ways to Connect
Trunk Show in Erie PA
First, don't forget that I'll be doing a trunk show this Saturday, June 2, at The Cultured Purl in Erie PA. If you're anywhere in the area, please do come and meet the yarn — and I'd really love to meet you too!
Send Me a Video-Introduction!
But, better than that, Amanda and Melissa's podcasts gave me an idea.  If we haven't met (or even if we have), I'd love it — love it, love it, loooove it — if you'd video-introduce yourself to me.  Flip on that webcam, grab your SpaceCadet yarn, and for 30 seconds, just record yourself.  Say hello, tell me who you are (and who you are on Ravelry), show me your yarn or — better yet! — your projects, and then fire it off to me in an email or on Twitter.   (I have a little nugget of an idea that, one day — if it's ok with you guys — I could take these little clips and do a video mash up showing off all the great projects you all have made with your SpaceCadet yarn.)
But far more important than that, it would just be so cool for me to be able to meet you guys — to make that connection that means so much to all of us.