2013 has started off with a bang!  We've been so busy getting ready for all the great stuff we've got coming up that I've hardly had a chance to stop and tell you about it.
Which is totally dumb, because what is the point of having all kinds of cool stuff in the pipeline if I don't share it with you?  Let's fix that right now!
SpaceCadet is at the Loopy Ewe!
I've kept quiet about this for a couple of months now because…   ooooh, I was afraid if I said anything, maybe it wouldn't come true.  But it has!  I am so excited to announce that SpaceCadet yarn is now available at The Loopy Ewe.  Sheri is well known for her fantastic customer service, her free shipping on orders over $75, and her ability to create a collection of the most amazing indie dyers out there.  I can't tell you how excited and deeply honoured I am to be part of that collection!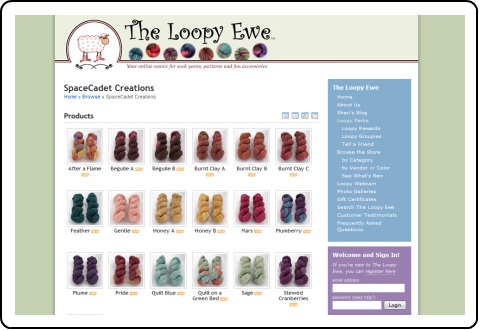 And the most amazing thing about this?  Sheri told me she'd first heard about SpaceCadet from her own customers, who were asking her to start carrying our yarn.  So thank you for that — it's proof positive that I have the most awesome customers a girl could possibly ask for!
Now please, go and buy some SpaceCadet from The Loopy Ewe, and show Sheri and her team that you guys were right!
Exciting Mystery KAL with Laura Nelkin!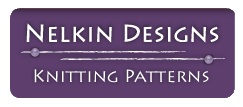 Here's something else to go squeeeeeeee about:  the fabulous knit designer and Craftsy teacher Laura Nelkin has asked me to create the kits for her exciting new mystery knit-along!  Now, I've seen some of the sneak-peeks of her design and it's so gorgeous I wish I tell you all about it but…  well, it is a mystery, so I can't say much right now.  But her last KAL was such a runaway success, I just cannot wait to see this one get started!
What to be the first to hear when it goes live?  Make sure you're on her mailing list, in her Ravelry group, or following her on Twitter or Facebook.  And then…  just you wait, you're going to love it!!!
New Intense Colours on the Way
I don't know what it is about January, but as soon as the holidays ended and the new year began, I was suddenly craving some seriously deep, intense colours.  And even though I have a ton of other dyeing to do, I took a couple of days and just indulged myself in some wonderful, soul-enriching colour experimentation.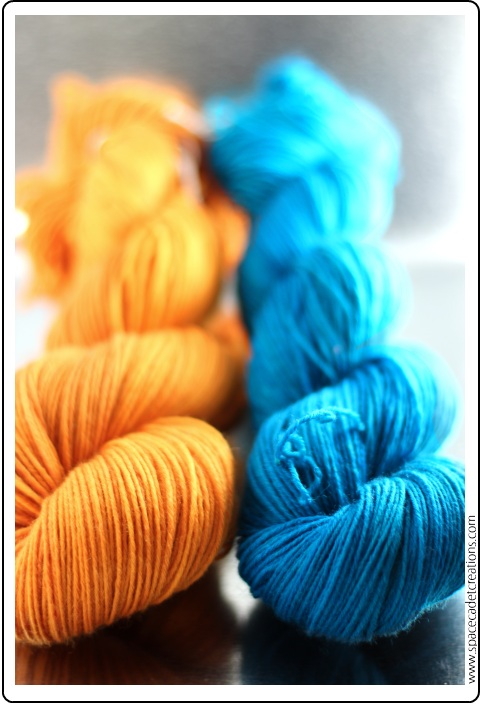 The result is such intense colour that I just cannot stop looking at it.  And honestly, I can't seem take a picture that does it justice.  But believe me, that blue on the right there?  It almost pulsates with colour!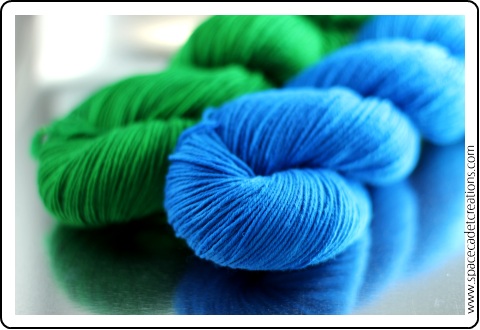 I've never explored colour this intense before and, suddenly, I cannot stop exploring it.  I am totally inspired, and you are going to be seeing the results that inspiration popping up all over the place soon!  Keep your eyes open.
And if you're in the SpaceCadet's Mini-Skein Club, you're going to get some of the first tastes of this experimentation.  Not to spoil anything but…  well, the "wildness" of this month's Wild Mix colourways is less about variegation and more about deep, intense, gorgeous colour.  I know it's a bit of a departure from the norm, but I think you're reallllly going to like it!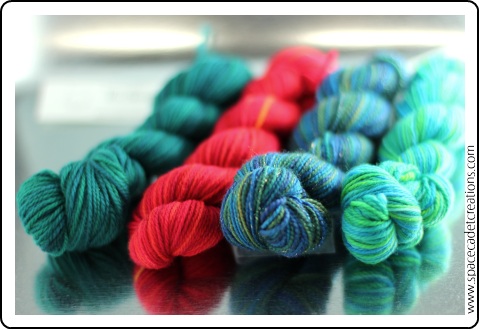 And if you're not in the club but you love these kinds of colours, now is one of the best times to join, because the Mini-Skein Club is the place where I really let my imagination come out to play!  One-of-a-kind colourways, experimental yarns, and a good mix of SpaceCadet favourites too…  all wrapped up in the sweetest little tiny skeins.  It's a great way to see what all the fuss is about!
So tell me…   what do think of them?!?