A couple of weeks ago, we sent out the final parcel of the last Yarn Alliance subscription period, and I was so excited about this colourway that I just have to share it with you!!!  The inspiration struck me like lightening, and I knew not only the colours to dye, but also the perfect yarn to put them on.
(Spoiler Alert! If you are a Yarn Alliance member* and you haven't yet received your parcel, look away now if you don't want to ruin the surprise! In fact, here's a neutral image to act as a buffer…)
Ok, you still with me?  Great! Let me introduce you to…
Storm Clouds, the Yarn Alliance Colourway for Sept 2014
There may be no relief so welcome as that of a thunderstorm that rolls in, fresh and forceful, to push away the heavy heat of summer and replace it with that delightfully cool that always carries the delicious smell of wet earth. Inspired by turbulent summer weather, Storm Clouds captures the majesty of the storm as the clouds move in fast, tumbling over one another – gray and blue and tinged with purple — and the light behind making them almost glow.
But how to capture that amazing glow? I realised it would come from the yarn itself – from Maia, the SpaceCadet's new 80% bamboo, 20% superwash merino yarn — and from the way the light seems to almost float around and through that glorious sheen.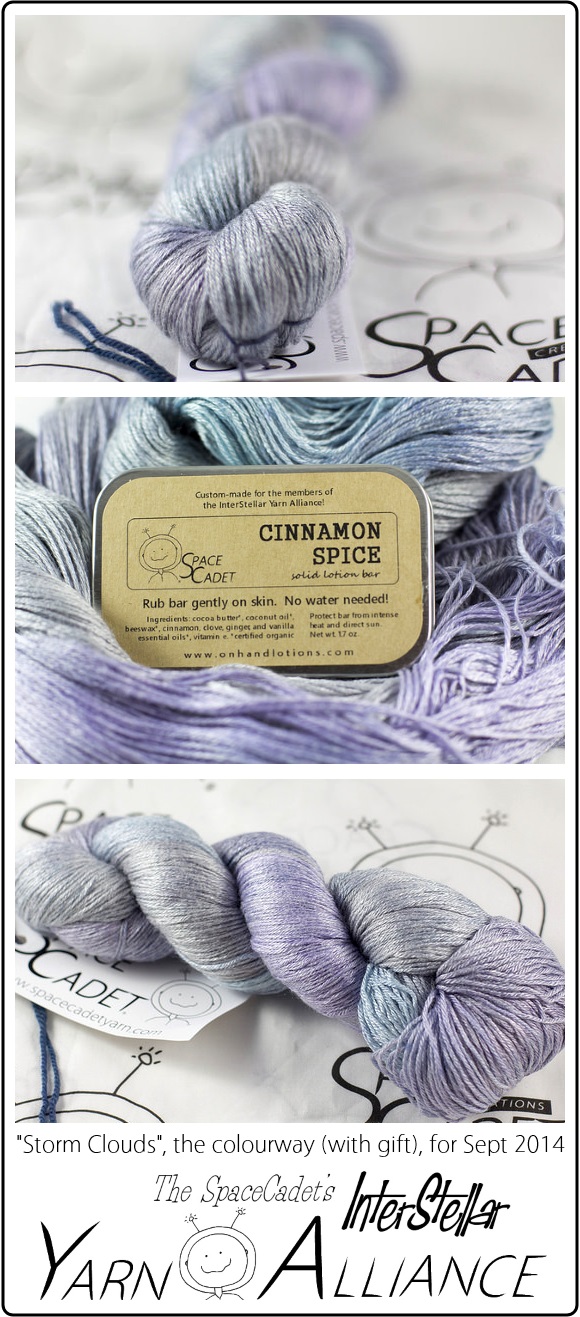 Do you love it as much as I do?  I was over the moon with the result — exactly what I'd hoped for.  Now I just have to see if I can snag a skein for myself before all the extra skeins are sold out!  Mmmmm…   what to make?  What to make?
The Yarn Alliance closes TONIGHT
We've got a few spaces left in the SpaceCadet's InterStellar Yarn Alliance, but the subscription period closes tonight at midnight PST.  We have a ton of fun in this club so if you've been thinking about joining but haven't reserved your spot yet, click here and grab it quick!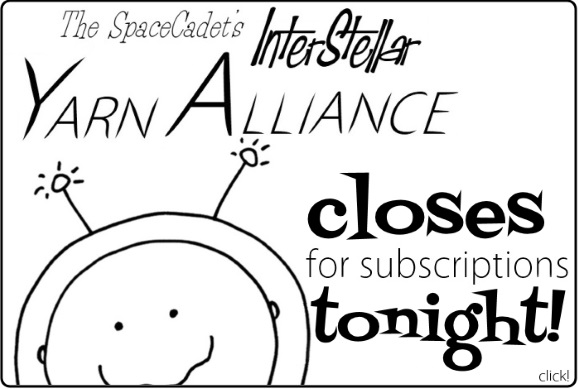 And don't forget the Mauna Kea Giveaway!
Thanks to the incredible generosity of a member of the SpaceCadet community (who purchased a Mauna Kea kit specifically for us to give away!), you've got an awesome chance to win your spot in the Mauna Kea Knit-Together.
To enter, simply click here and leave a comment on last Friday's post, telling us what you like best about the Mauna Kea design.  Entries close on Thursday, and we'll announce the winner here on the blog.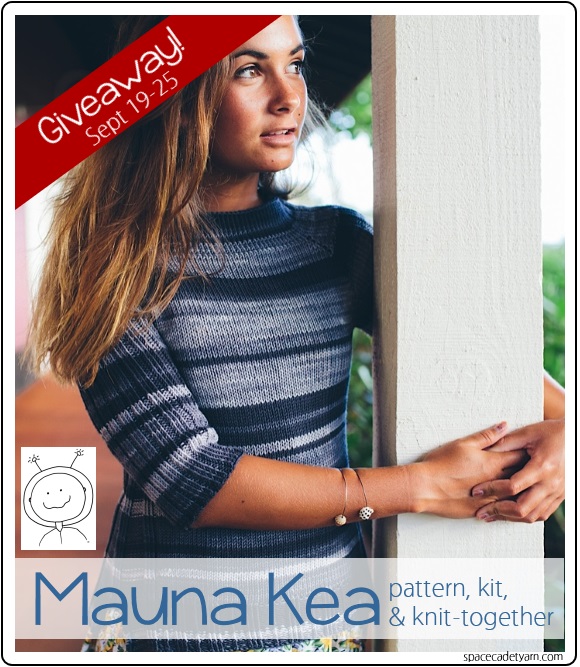 And then once you've done that, won't you please pay it forward by sharing this giveaway on social media?  When one of our community has been this incredibly generous, I think the best way we can show gratitude and share the love is to spread that generosity as far and wide as possible.  Don't you agree?
Share it!
For Twitter: Woot! The SpaceCadet is giving away a Mauna Kea kit! Click for your chance to win: http://wp.me/p1TnPQ-1Ny #MaunaKeaGiveaway
For Facebook: Woot! The SpaceCadet is giving away a Mauna Kea kit! Click for your chance to win: http://wp.me/p1TnPQ-1Ny #MaunaKeaGiveaway
For Ravelry: The SpaceCadet is giving away a Mauna Kea kit! Click here to enter: http://wp.me/p1TnPQ-1Ny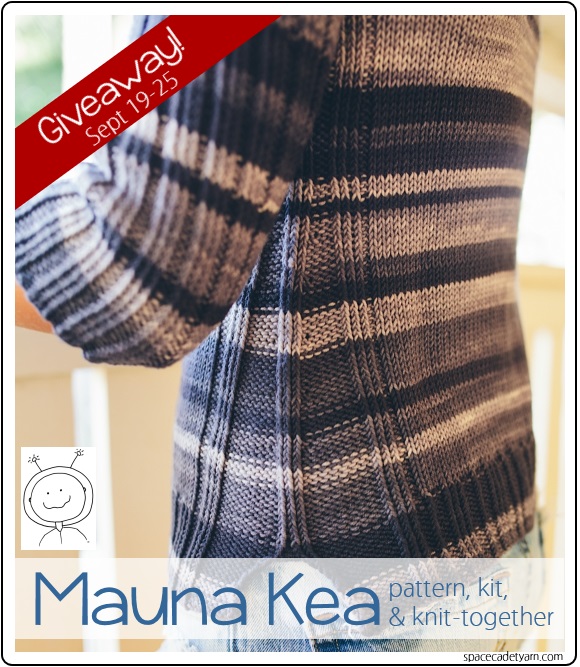 ---
*This can be confusing, I know, so just to clarify: this yarn shown here was the last yarn for existing members of the Yarn Alliance, before the current subscription period opened on Sept 9.  If you have just joined (between Sept 9-22), your first parcel will be in November — and while it won't be this colourway, I promise, it'll be seriously awesome too!