You remember how, last week, I talked about the kindness of knitters and crocheters?  I told you about Mel's request for handmade washcloths for Haiti and about how one member of our SpaceCadet community was so generous as to buy a Mauna Kea kit for us to give away?  I found both of those things so incredibly inspiring — simple reminders that we have the power to use the smallest kindnesses to lift us out of our day-t0-day existence.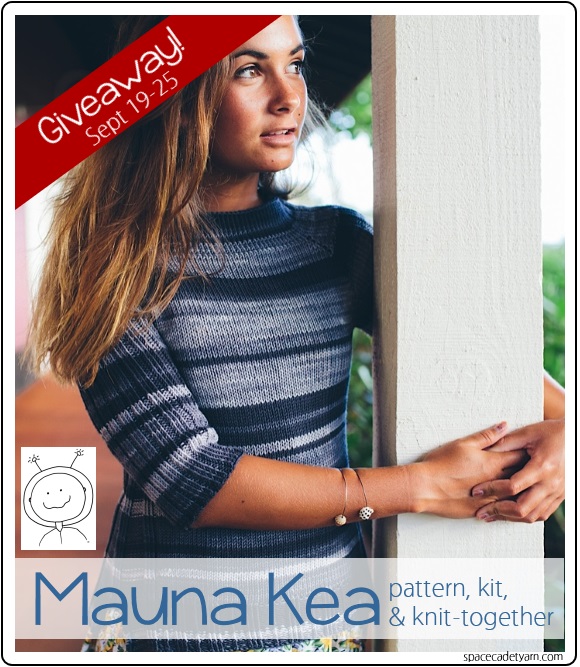 But if last week was inspirational, this week was just plain fun!  I loved the response you guys gave to the washcloth appeal — sharing patterns, encouraging one another, and at least one person was so inspired she immediately knocked out a slew of washclothes (ten of them!).
And as for the Mauna Kea giveaway…  you guys went NUTS!  We had a ton of entries, and reading through your comments on what you like about the pattern was not only incredibly fun but actually really helpful and informative for both Mel and for me.  Thank you all for participating!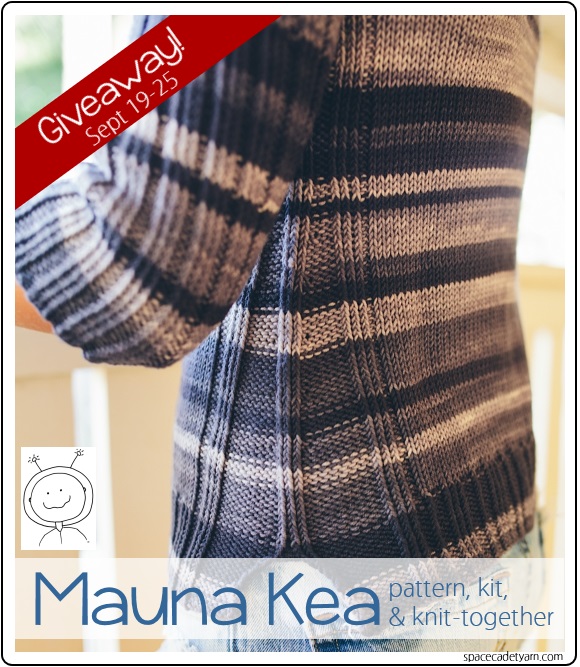 Now I know you're dying to find out who is getting the kit so, without further ado, let's announce the Mauna Kea giveaway winner!  It's…
Luv2CUSmile
And her (or his) comment was,
"Love the story and that there are some people in our community who are just giving because they can and have a heart to do so.

Thx for the chance to you and to your anonymous donor.

This sweater is lovely with the defined sides following the torso shape. Love this and the blues it is shown in. Can wear with jeans, slacks or a skirt!"
I couldn't agree more!  And it's a sentiment that was echoed again and again in the comments, so I think I speak for everyone when I say how grateful we are for the generosity of our wonderful anonymous sponsor.  Really, just such a cool thing to do!
Luv2CUSmile, please send an email with your name and postal address to info(at)spacecadetcreations(dot)com, and we'll get you on the dyeing list for your Mauna Kea kit!
Facebook Update
I just have to share this with you guys.  You remember when I showed you this?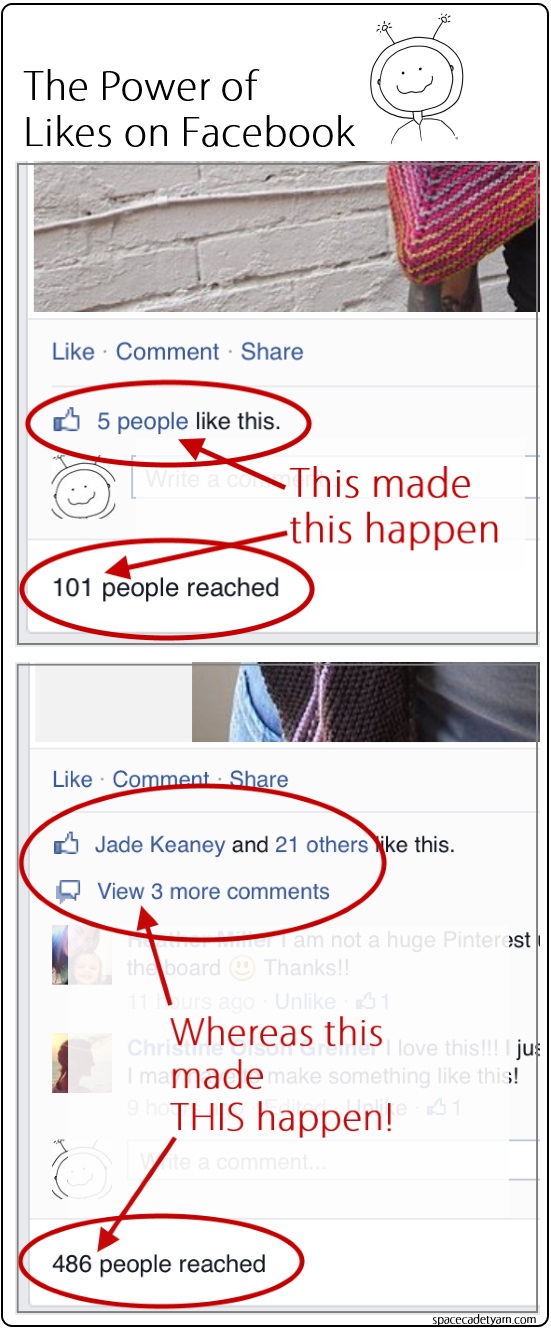 This is the power of likes and comments on Facebook posts.  You can read the full story here, but the long and short is that when you don't regularly like/comment/share someone's Facebook posts, Facebook starts showing you their posts less (and less and less…).  And when you do like/comment/share their posts, Facebook puts their posts more regularly into your timeline — and starts showing their posts to lots of other people too.
And here's the proof…  After that I wrote that blog post, tons of you started clicking like/comment/share a lot more often, and just look at what that did!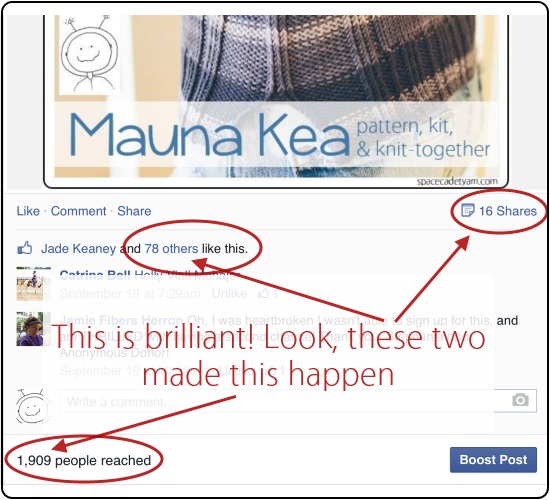 Isn't that awesome?!?  So you guys get to see more SpaceCadet updates in your timeline and, in turn, Facebook then shares SpaceCadet with lots of other people too.  Everyone wins!
And that "share" button?  That's where the real power is.  Check this one out — lots of "likes", lots of comments, but it's the sharing that made the different here: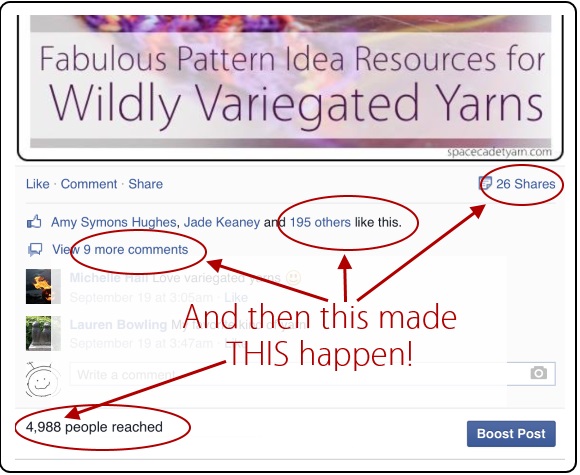 But then…
But then…   if the Knitty blog happens to pick up your post and happens to share it with all of their readers on their Facebook page, THIS happens…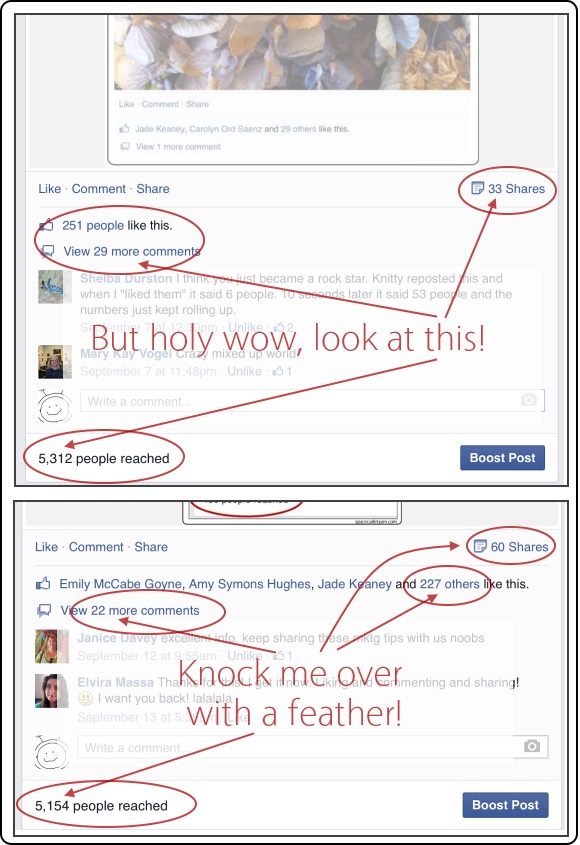 And then your website immediately crashes!  Which is, y'know, kind of awesome too.
But listen, isn't it amazing how powerful those likes/comments/shares actually are?  And there's news this week that Facebook has tweaked its algorithm yet again, so that it pays even more close attention to which posts you interact with, to determine what to show you in your newsfeed… and what to leave out.
So if there are companies (or even friends) that seem to have fallen off your Facebook radar, make sure you take a moment to click something on every post they put out.  It means you'll see more news from the folks you love to hear about  …and they'll suddenly be just as blown away as I've been!