Even though I talk a lot about knitting and crochet, the truth is that I wouldn't be a dyer if I hadn't first become a spinner.  It was spinning that really got me hooked on colour, and spinning that led to me meet all the dyers (both here in the States and in the UK) who inspired and influenced me.  So spinning, and thus spinning fiber, are really very dear to my heart.   So you'd think SpaceCadet would dye a lot of fiber, right?  Well, I've always wanted to but, to be honest, we're so busy with all the yarn we dye that we've never seemed to have the time.
But then I was talking with a friend of mine when I had an idea…  Instead of one braid, what if we dyed three mini-bumps of fiber in separate coordinating colourways that are designed to work together no matter which way you spin them?  Work them one after another for a dramatic gradient fade,  spin them separately to ply into a barberpole, or use bits from each mixed all together for a soft blend with crazy pops of colour.  The more I thought about it, the more excited I got to start dyeing it…  and so the SpaceCadet® Hand-Dyed Fiber Triple Kit was born!
Packaging three separate mini-bumps was a bit of a challenge (how do you keep them together but still tidy?) until I thought of these cool reusable tins.  Your fiber stays clean and neat until you're ready to spin it.  And — bonus! — you can still love all over the colour even when it's safely packed away!
Three Fibers, Five Colourway Trios
We chose three types of fiber (to start with, at least…  we may be adding more soon)
100% Fine Superwash Merino — Soft as clouds, a dream to spin.
50% Merino / 50% Bamboo — The merino takes the dye but the bamboo doesn't, which makes for an incredible sheen as the bamboo "frosts" your yarn with a stunning icy shimmer.
65% Superwash Merino / 35% Silk — There is nothing so special as silk, and this combination of merino and silk creates a yarn just that special.
And these five awesome colourway trios.  Each one is designed to coordinate and still contrast — so much fun to spin!
Order for Tour de Fleece!
And with Tour de Fleece right around the corner, the timing couldn't be more perfect!  The Tour de France starts on July 4th and teams of spinners are forming all over Ravelry in preparation to spin along with the cyclists in the Tour de Fleece.  Click here to place your order for in-stock fiber and we'll get it out straight away — domestic orders go by Priority Mail and should arrive in plenty of time for the start of TdF;  International orders go by first class and, depending on Customs, can be a little more unpredictable.
Look for More Colourways in the Future
It's been tons of fun to dye this fiber — I forgot how much I enjoy it — so we'll be adding more colourways (and more fiber too?) in the coming months.  In  the meantime, I'm just so excited to share this with you.  And I can't wait to see all the creative ways you guys spin up your mini-bumps of fiber!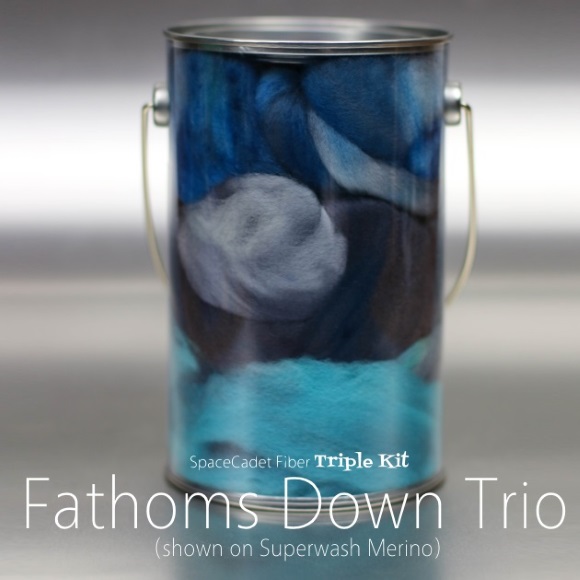 The SpaceMonster Club Closes on Sunday!
If you love big, smooshy Worsted and Bulky yarns, the SpaceMonster Club is the place for you!  It combines gorgeous colourways, delicious yarns, and fabulous gifts, but it's open for subscriptions only until this Sunday, June 21.  Click here for all the details or click below to grab a spot before they're all gone!