You may recall that my sister, who spent the last two decades pshawing my suggestions that she try knitting, has picked up the needles at last  …and discovered that she loves it.   She's on her second garter-knit scarf and carries her WIP with her everywhere.  She's becoming a knitter.  I'm more than a little stunned.
But so far, she's been knitting in isolation.  Occasionally, she's run into a fellow knitter on the bus and they've discussed projects and yarns in the short time before her stop arrives but, for the most part, she's been knitting on her own, without the camaraderie of other knitters.  And that's not right, is it?!?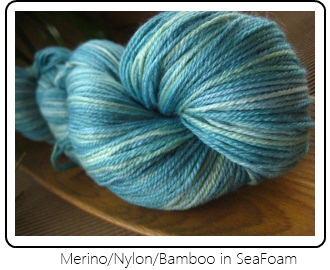 And so I've been encouraging her to check out her local LYS's knit groups.  But it turns out they're on nights that don't work with her schedule.  And joining a new group can be a little intimidating, especially for someone who has just learned to knit.  The one night she did make it there, she wandered around looking at the yarn and peeking at the knitting group from behind the shelves — but never got the nerve to actually sit with them and knit.
I understand.  It's hard to join a new group, knitting or not.  And…  well…  she's seen with her own eyes how crazy knitters get!  So, yeah, I can understand…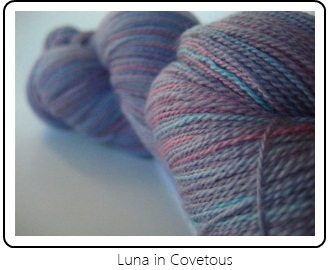 I was on the phone to her this week.  "Oh! Oh! I have to tell you!" she suddenly exclaimed.  "It's about the knitting…"  She'd been chatting to a neighbour who, out of the blue, mentioned something about knitting.   My sister pulled out her WIP.  They discussed projects, yarns…  and then, the neighbour said she wasn't going to the knitting group that week.
"The knitting group?" my sister inquired.
It turns out that there is a knitting group in her apartment building.  What's more, it turns out that there are a lot of knitters in her building.  So many, in fact, that there isn't enough room for all the knitters in the building to join the group.  My sister has been knitting in isolation in her flat whilst, all the while, surrounded by knitters on all sides, and never knew it.  She squealed a little as she told me.
Here was a group she could join!  These were people she already knew, and liked  …and they're knitters too.  It couldn't be more perfect.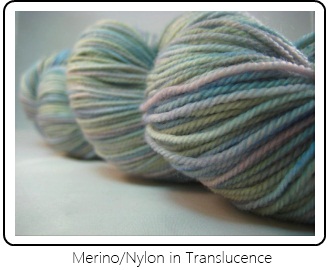 BUT… this group also meets on a day that doesn't work with her schedule.  Ok, I said, so maybe you could open a sort of second "branch" of this knitting group, on a day that works for you.  And people could go to either or both, whichever best fits their schedule.
She laughed out loud at the thought.  "You mean, in a few weeks' time, I could actually belong a knitting group?  That meets in my flat?!?"
Yeah…  I guess she…  well, she really could.
You remember I said up at the beginning that her knitting adventure has me a bit stunned?  Yep, at that moment, you could have knocked me right over with a feather.
---
Oh, hey, listen…  Thursday is Thanksgiving (which has totally taken me by surprise — were you ready for it?!?).  So first, a very Happy Thanksgiving to all of you.
And then, of course, Thanksgiving starts the madness that is the holiday shopping season, so I want to give you a heads up that I will be launching a special Holiday Gift Subscription the the SpaceCadet's yarn club, the InterStellar Yarn Alliance.  It's a fabulous way to give a gift to a knitter or crocheter in your life that will keep them happy all year long.
And be quick, because spaces are limited and the Alliance doesn't open to new members very often at all.  But more than that, I'll be offering a special one-day introductory discount on Black Friday only.  So, enjoy your turkey, have a wonderful wonderful Thanksgiving…  and then, on Black Friday, let everyone else go mad rushing off to the shops, and you can score yourself some great Gifts of Yarny Goodness without even changing out of your PJs!
(Want a reminder on Friday morning?  Do make sure you're on the mailing list!)