SQUEEEEEEE!!!!!  In only a few hours from now, we'll be leaving for TNNA, The National Needlearts Association's summer tradeshow in Columbus Ohio, for some of the very best fun a fiber addict can possibly have!
There will be new yarns to sample, suppliers to talk to, designers to collaborate with.  And the Very Best Knit Night Ever, as all the brightest stars of the knitting world meet up on Saturday night for drinks and knitting in the hotel bar.  I cannot tell you how mind-blowing it is to sit in that room, knitting away happily, and to see every single industry icon you can think of knitting alongside you!  Keep your eyes on my Twitter feed for live updates over the weekend.
---
But before I get back to my packing (what to wear?!? what to wear?!?), I wanted to give you a quick update on the Birdhouse that was Saved by Knitting.  Do you remember that we had a lovely pair of birds who nested in a decorative birdhouse that really wasn't up to the job?  The body of the birdhouse started to come away from the roof, and I had horrible visions of it falling, nest and eggs and all, and smashing into the ground.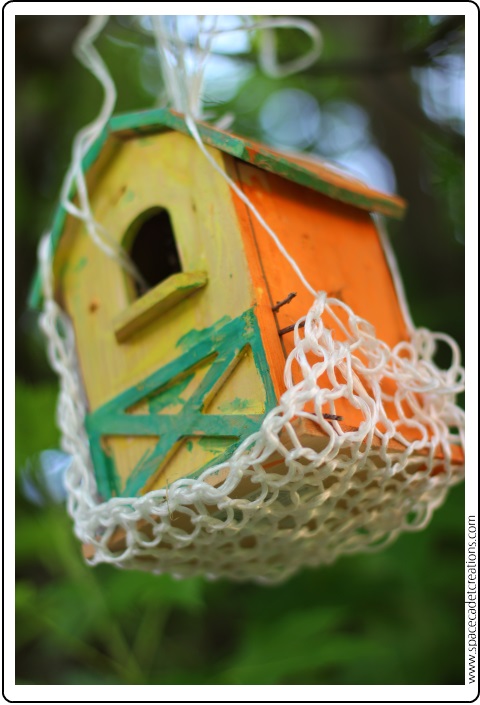 So I whipped out some size 19s and nylon cord and knit a quick safety net to hold the whole thing together.  And I am thrilled to report that knitting really has saved the day: my spur-of-the-minute fix has held through thunderstorms and gusty winds, and I can hear (but haven't yet seen) that there is a nestful of happy (and hungry!) babies inside that little birdhouse.
Want to hear them?  I recorded this little snippet for you.  First, you'll hear my backdoor squeaking, then the babies calling, and then the very irritated mother chastising me for being too close to her nest.
(Can't play it? Click here )
And for those of you who are good at identifying birds, I'd love to know what these guys are.  Here's a photo I was able to snap of the mother leaving the nest.  Any ideas?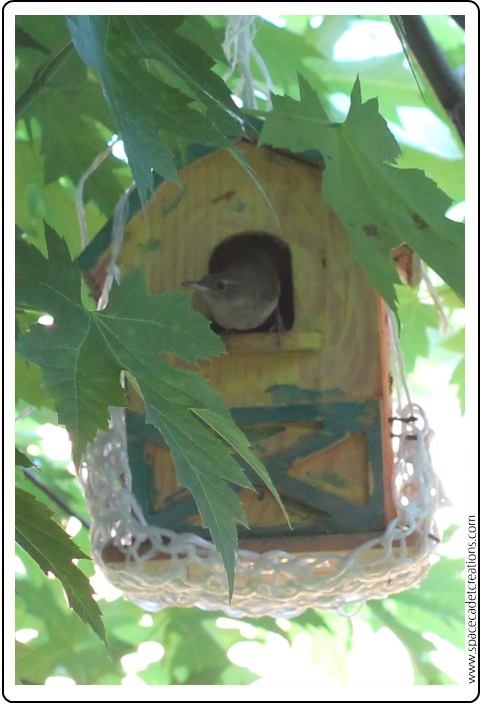 ---
The SpaceMonster Club Closes This Weekend
And wow, time flies! The SpaceMonster Mega Yarn Club will be closing to new subscribers this weekend, so if you love bulkier yarns and fabulous SpaceCadet colours, make sure you sign up!
Want to know more? Click here for all the club details.  Just make sure you do it quickly because, once subscriptions close, this club won't re-open again for another six months — and it's too good to miss!
Ready to join?
Click on one of the buttons below to grab your spot in the SpaceMonsters Mega Yarn Club
Very Important: if you are giving this as a gift, please remember to include the recipient's postal and email addresses in the notes when you check out. We gotta have that to send the recipient their parcels!
---
Six month subscriptions include 3 parcels; twelve month subscriptions include 6 parcels. Parcels will be sent out on or near the first of February, April, June, August, October, and December. Shipping within the United States is included in the price; extra charges apply for shipping outside the US..
Normal subscription openings/renewals will be available in June and December of each year.
Any other questions? Ask us! info (at) spacecadetcreations (dot) com
---