A couple of weeks ago, I showed you the SpaceCadet collections — groups of colourways designed to go together and to make it easier to choose coordinating yarns for your projects.  And one of the groups I showed you was the Submerge collection.  Remember it?…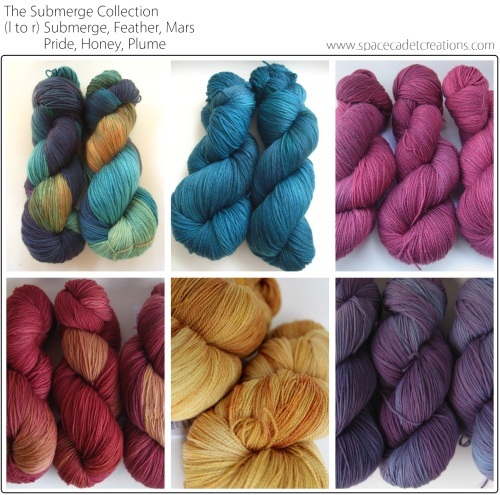 I started this collection by playing with colour, until I created a variegated colourway that just made me gasp as I pulled it out of the dyepot.  That colourway was Submerge, a rich combination of blues, teals, greens, and gold.  I fell completely in love with it, and so I developed an entire collection around the colours in that skein.  And that wonderful gold, I named Honey.  See how well they work together?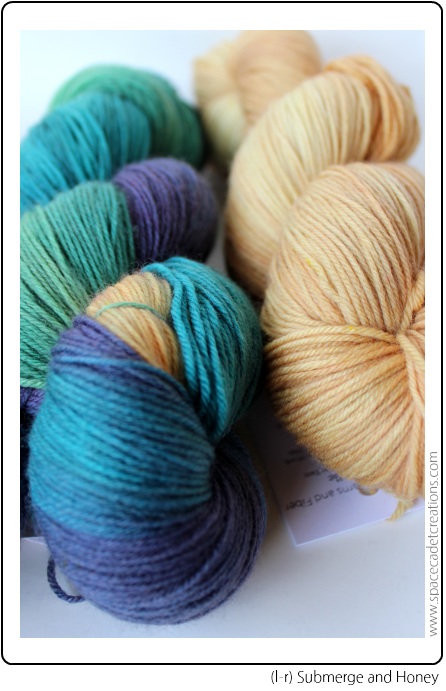 And the it's not just the variegation of Submerge that pulls the collection together.  This lovely rust-red is called Pride.  See how it works with Honey as well?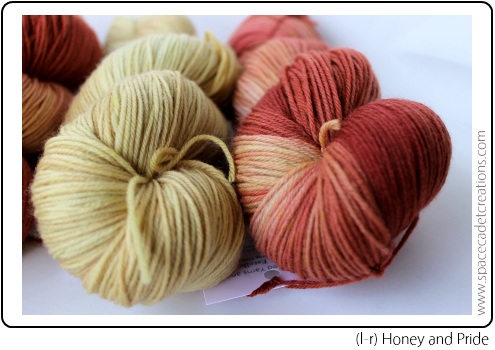 Now, I'm not a yellow person — not at all.  It always makes me look washed out and tired,so I never find myself drawn to yellows or golds much at all.  But there was something about the depth and richness of Honey that I just couldn't pull away from.  I kept going back to again and again, turning it over in my hands, just loving the colour.
And so when I was in studio, I found myself going into every new experimental colourway by starting with the recipe for Honey.  Every single one.  And I thought to myself, This is never going to work.  You can't base every new colourway on Honey!  Not everyone likes yellows.  And everything will come out looking like Submerge…
Just goes to show how much I know.  Because try as I might, I couldn't stop myself from starting with Honey and, as I laid on layer after layer of dye, the whole colourscape began to change, until I finally pulled this out of the dyepot…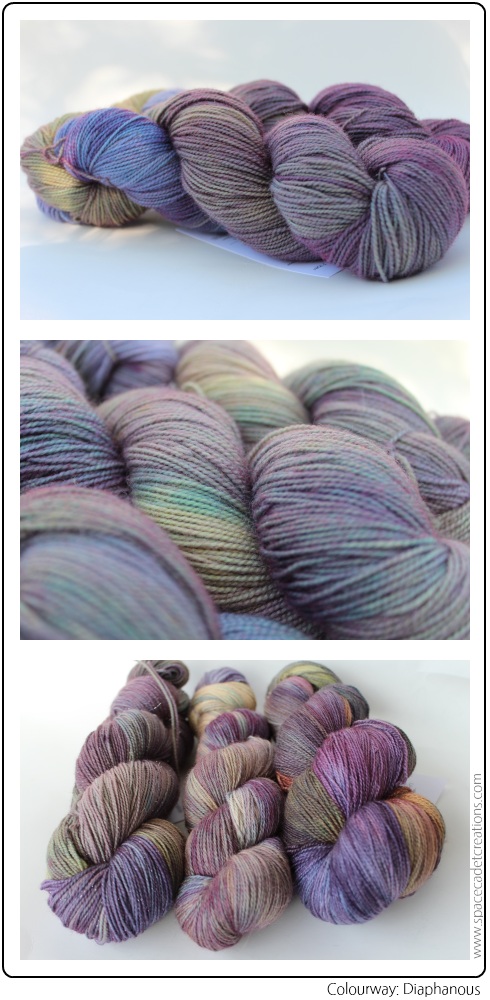 This blew my mind.  This is gorgeous!  And this is nothing like Submerge — it doesn't go with the collection at all.  It looks completely different.  And yet, it started with Honey.  And, looking at it on its own, you might not even think this goes with Honey at all.  Until you put the two of them together…  and you fall in love all over again…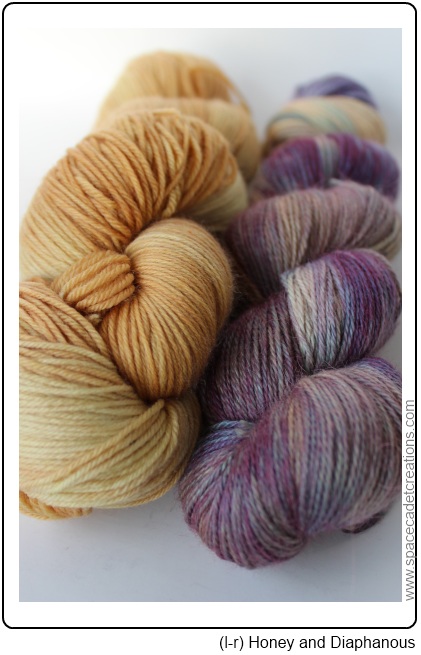 I've called this new colourway Diaphanous.  And I think, if it plays its cards right, it might be the start of a whole new colourway collection come the Autumn.  I'll keep playing with it, and we'll see…  (In fact, I've already started.  Here's what happened when I laid more colour onto Diaphanous.)
In the meantime, there's a whole bunch of gorgeous Diaphanous and Honey that I've just put in the shop.  It's in Izarra, a wonderful BFL-nylon yarn that Ruth Garcia-Alcantud of Rock & Purl used to design her elegant Medianoche gloves. 
Click here to see the new yarns!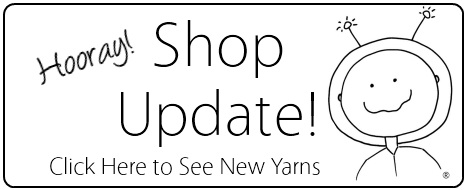 ---
(Oh, and two of those yarns in the Diaphanous photo up there aren't in the shop yet.  One is a lovely delicate laceweight and the other is an exquisite new yarn that is so luxurious it's almost scary.  And because they're so special, I'll be putting them first into a Yarn Adventurer's email — if you're on the Yarn Adventurer's mailing list, look for that in the next few days.  And if you're not, keep an eye on the shop for them in about ten days).