Last week I mentioned to you that I was about to launch a new website.  And I said I was excited but I know well enough that I was probably the only one who was really interested in it.  But now I want to ask you to do me a favour, please — a personal favour.  I thought I was excited, I really did, but the truth is I had no idea how excited I really would be when the site launched.  And here's why: I built it myself!  Myself!!!
Six weeks ago I didn't know CSS from HTML from my elbow (and, truth be told, I probably still don't!) but I found some great resources, got focused, worked my backside off, and…  and…   well, this is the result.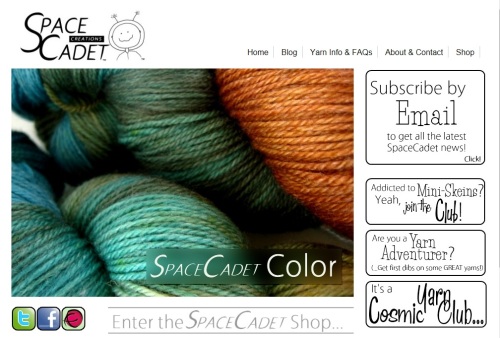 …Can you hear me squeeeeing from there?!?
So will you do me a favour please?  I know website lauches never really matter much to anyone except the launcher (me!), but please get excited with me!  Jump to the comments and give me a WOOT!  — because, seriously, who ever thought I could build a site like this?!?  And I am just so fired up!
---
The SpaceCadet's Mini-Skein Club Goes Live!
Ok, that's enough of the exciting-for-me stuff (and, hey, thanks for getting excited for me too).  Now let's get to the exciting-for-you stuff…
About a month ago, I came across a tweet  that mentioned a word I'd never seen before: hexipuffs.  And I was thinking, "What the heck is a hexipuff?!?"

And then all of a sudden, within a week, it seemed like mini-skein projects were everywhere… The BeeKeeper's Quilt, the Babette Blanket, the Sock Yarn Blanket… (Oh man, I looove that Sock Yarn Blanket!). See what I mean? Mini-Skein projects are hot!
So then I realised, what would make a mini-skein project even more fun? Getting a surprise box of wonderful mini-skein colours each month to add to your project! 
The SpaceCadet's Mini-Skein Club
Join the SpaceCadet's Mini-Skein Club and every month you'll receive an exciting parcel containing a hand-picked selection of gorgeous Mini-Skeins, perfect for adding to (or starting!) your project. You can choose your subscription level: Single (five 20g skeins), Double (ten 20g skeins), or Triple (fifteen 20g skeins). And you can cancel your subscription as soon as you have enough Mini-Skeins for your project.
(But the question is… can you ever have enough Mini-Skeins…?)
And here's the really cool thing: the skeins are a mix of all the SpaceCadet's beautiful yarns. Some are Celeste and Stella, there's a touch of cashmere with Estelle, and the subtle sparkle of Lucina. And perhaps even some of the more unusual yarns from the Dept of Rocket Science — a bit of silk, some alpaca, maybe some bamboo or BFL… If you've ever wanted to try the different SpaceCadet yarns, the Mini-Skein Club is a GREAT way to do it!
Subscriptions are limited — Join Now!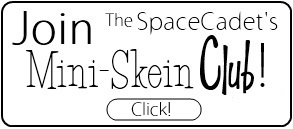 ---
Mini-Skein FAQs
What sorts of colourways can I expect in my parcel?
Each parcel is made up of a selection of SpaceCadet colourways, hand-picked to work together, with at least one contrasting colourway to add some zing! You can choose between
the Gentle Mix, which contains mostly Semi-Solids or Gently Variegated yarns, and
the Wild Mix, which is made up mostly of those exciting Wildly Variegated yarns.
All together, they look terrific and will be a great addition to your project.
What are the different subscription levels?
There are three levels, to cover you for the month no matter how fast you knit!
The Single Mini-Skein Subscription is five 20g skeins for $28
The Double Mini-Skein Subscription is ten 20g skeins for $54
The Triple Mini-Skein Subscription is fifteen 20g skeins for $78
(Shipping costs are exactly the same as in the SpaceCadet shop: $4.49 for the Single subscription level, and $1.49 for each additional level.)
When will my parcel arrive? And when will payment be taken?
All parcels go out on or around the 10th of each month, and the deadline for new subscriptions to be included in that shipment is midnight on the 1st of that month (every Mini-Skein is wound by hand, so we need a bit of notice to get your parcel ready!).
Domestic deliveries are sent by Priority Mail, which usually takes about 2-3 days. International deliveries are sent by USPS First Class mail.
Your payment will be processed on the day you subscribe, and will automatically repeat on the same day each month of your membership.
When does my subscription end?
You can end your subscription whenever you have collected enough Mini-Skeins for your project (or, any time you like). And it's easy to unsubscribe! Just click on the Unsubscribe button on the Mini-Skein Club page.
Anything else I should know?
When you join, you'll be added to the Mini-Skein Club mailing list, which we use only to easily let you know of any important information or changes to the club in the future.
Oh, and once you've joined, please do come over to the SpaceCadet Creations group on Ravelry and tell us all about the project you're making or planning to make. We'd love to hear about it and see your progress!
---
Ready to jump into the Mini-Skein Mania?