We've got some beautiful Mini-Skein Pattern Picks for you this month but, before we get to that, I've just gotta share something with you.  We've had so many awesome changes to the Mini-Skein Club lately (such as the innovative 360° blend of the Start Anywhere™ Ombre&Gradient Mix and the stunning month-to-month flow of the Never Ending™ Gradient) that I really wanted to update the club page to reflect that.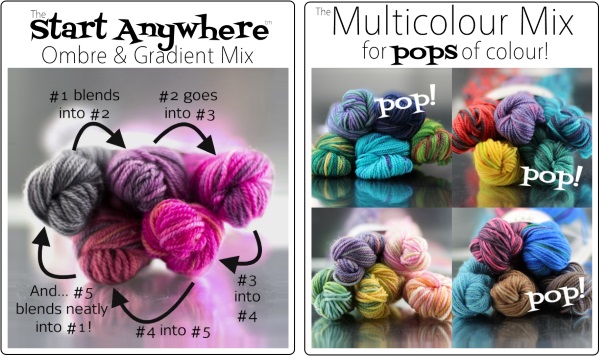 And what I really wanted was to to show it all off in a new video:  something bright, happy, bouncy, and fun — everything that the Mini-Skeins bring to our club members every month.
Now, the trouble was that I really didn't know much at all about creating videos.  But I decided to try to teach myself Premiere Pro and, after a really steep learning curve on and a lot of frustration(!), I finally got the video I was hoping for.  And I've been dying to share it with you ever since!  I hope you'll forgive me just a little showing off, but I'm just so darned proud of it.  Here is our new Mini-Skein Club video:
(Squee with me?)
January's Mini-Skeins
This month, we took our Mini-Skeins in a moodier direction.  Both the Multicolour and the Ombre&Gradient went a little darker and pensive — and I have to tell you, I loooove the way that plays into the Never Ending spectrum.  After all those bright colours, a little depth looks really amazing.  Where do you think we'll take it next month?

(click here for a larger image)
Jade's Mini-Skein Pattern Picks
Ok, you've waited long enough!  So, without further ado, let's turn it over to Jade for her Pattern Picks for this month's Mini-Skeins…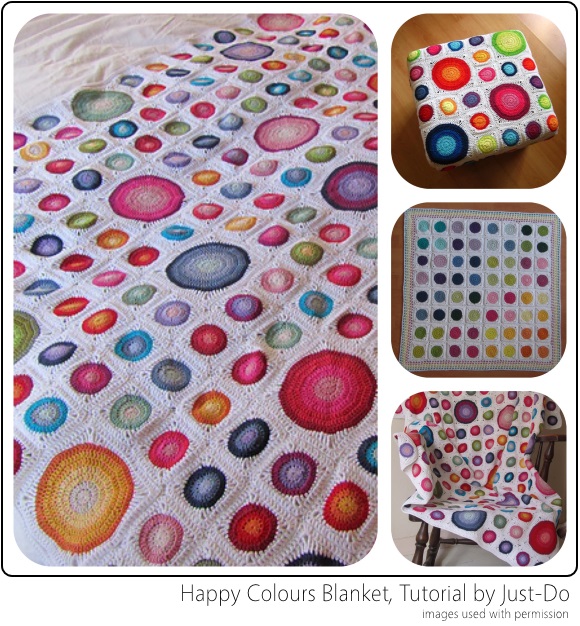 Maybe it's the shorter days, or that everything outside has gone gray, but I've been craving bright pops of colour lately – and this crocheted blanket has plenty!  With options for large and small circles, varying yarn weights, and adjustable dimensions, it's an extremely versatile way to use 3 (or more!) bundles of minis and a contrast colour.  The colours (either the new never-ending ombres or bright multis would be stunning) will pop against a white or pale shade (like Sliver) or dazzle against a black or dark shade (like Dark Skies).  And the best bit from our point of view? They look a bit like planets in space!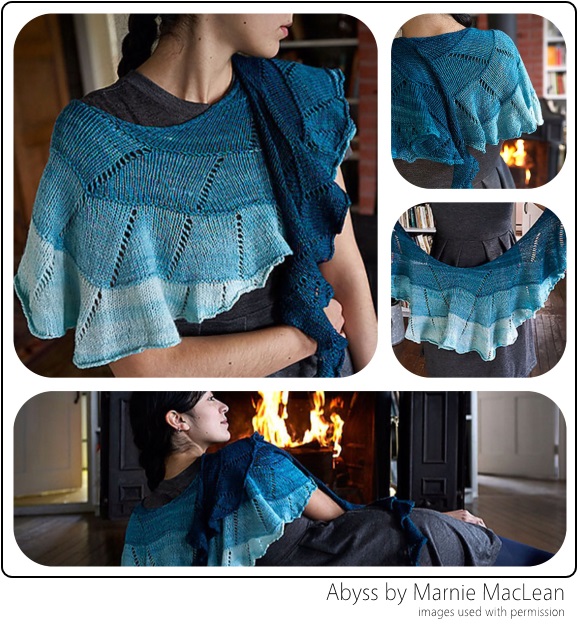 I came across this shawl in early November, and knew it would be perfect for ombre or gradient minis, if it just didn't require so much yardage (960 yards, which would be at least a double subscription!)  That very problem, though, is exactly what makes it so perfect for the never-ending ombres – the delicate drape and smooth stockinette stitch would showcase all the subtle shifts in colour, and the size of the shawl ensures that you'll flow through at least two full gradients and into a third!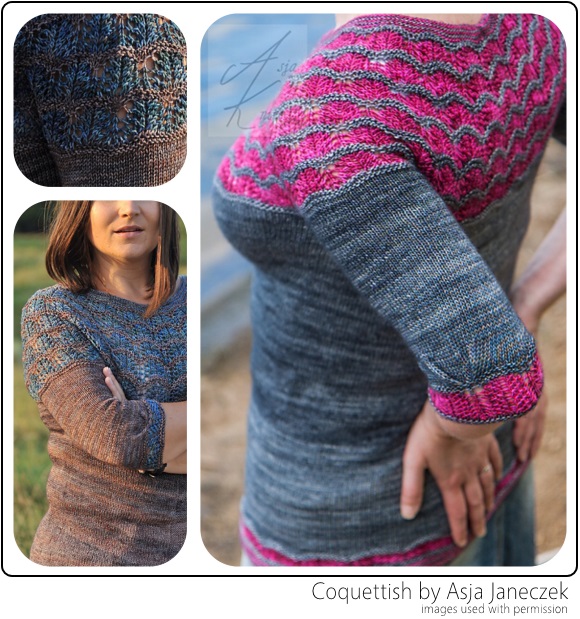 And if you're looking for something for just one bundle of minis, try this gorgeous pullover that features a feather-and-fan accent at the yoke, cuffs, and hem.  It looks great in two contrasting colours, but how much fun would it be with an ombre or gradient bundle against Sliver, Drizzle, or Dark Skies?  You'd only need 1 bundle of mini skeins, and depending on size, 3-4 skeins of a contrast colour.
Last Chance to Enter our Giveaway!
Don't forget to enter our fabulous giveaway for a copy of
Curls
, Hunter Hammersen's stunning new book of patterns, and a skein of SpaceCadet Oriana yarn to cast on with.  All you have to do is
click here and leave a comment
at the bottom of the post, telling us what you love most about Hunter's designs. 
But hurry — the giveaway closes Sunday night!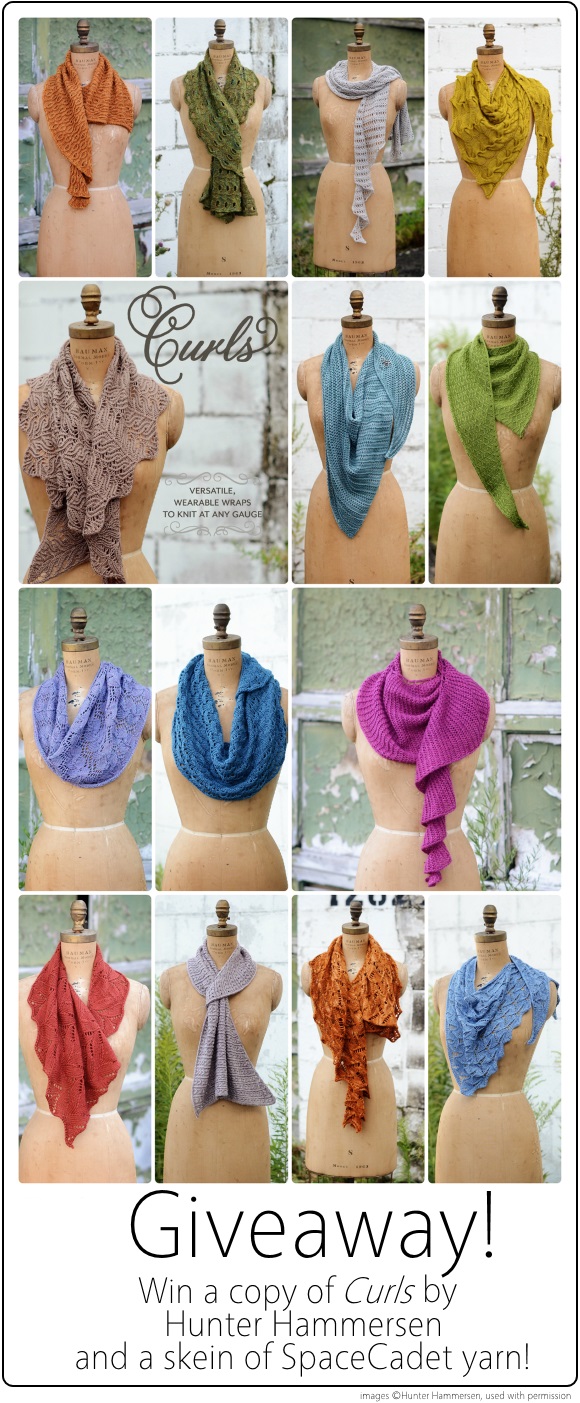 For full official rules, go to http://wp.me/p1TnPQ-1Uf